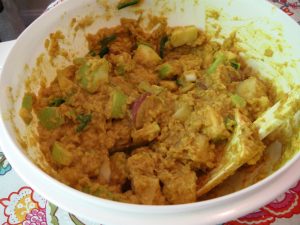 When Marx Foods offered up some petite golden lentils for bloggers to sample, I knew right away I'd use them for Apple Lentil Salad from Simply in Season. What better way to showcase them?
FOR PRINTABLE VERSION CLICK HERE: Apple Lentil Salad
1 cup lentils, rinsed
2 Tbs curry powder
1 tsp salt
2 cups water
2 apples (tart)
1/4 cup lemon juice
2 potatoes (cooked, cooled, peeled, and chopped)
1 small onion (thinly sliced)
1 cup parsley, chopped
1. Soak lentils 15 minutes in hot water.
2. In large saucepan heat 1/4 C olive oil. Add salt and curry powder and heat until bubbly. Drain lentils, add to saucepan, and fry briefly.
3. Add water and cook until absorbed, about 20 minutes. You may need to add more water to cook lentils until they are tender. Drain any excess water and cool.
4. Combine apples and lemon juice to prevent browning, and mix with the cooled lentils.
5. Mix in potatoes, onion, parsley, and salt to taste. Serve warm or at room temperature.
Servings: 6
The Verdict: The lentils cooked up very quickly. The taste was excellent. DH said it was like a collision of two worlds, and wondered if there are apples in India. I have no idea. He said he would have preferred it if I had swapped the apples for some raisin and lamb. I didn't mind the apples, and think it would make a great main dish with the addition of some lamb.
Nutrition Facts
Serving size: 1/6 of a recipe (9 ounces).
Percent daily values based on the Reference Daily Intake (RDI) for a 2000 calorie diet.
Nutrition information calculated from recipe ingredients.
Amount Per Serving
Calories 127.06
Calories From Fat (4%) 5.34
% Daily Value
Total Fat 0.64g <1%
Saturated Fat 0.11g <1%
Cholesterol 0mg 0%
Sodium 402.01mg 17%
Potassium 547.52mg 16%
Total Carbohydrates 27.53g 9%
Fiber 6.33g 25%
Sugar 6.73g
Protein 5.06g 10%
This post shared at Recipe Wednesdays