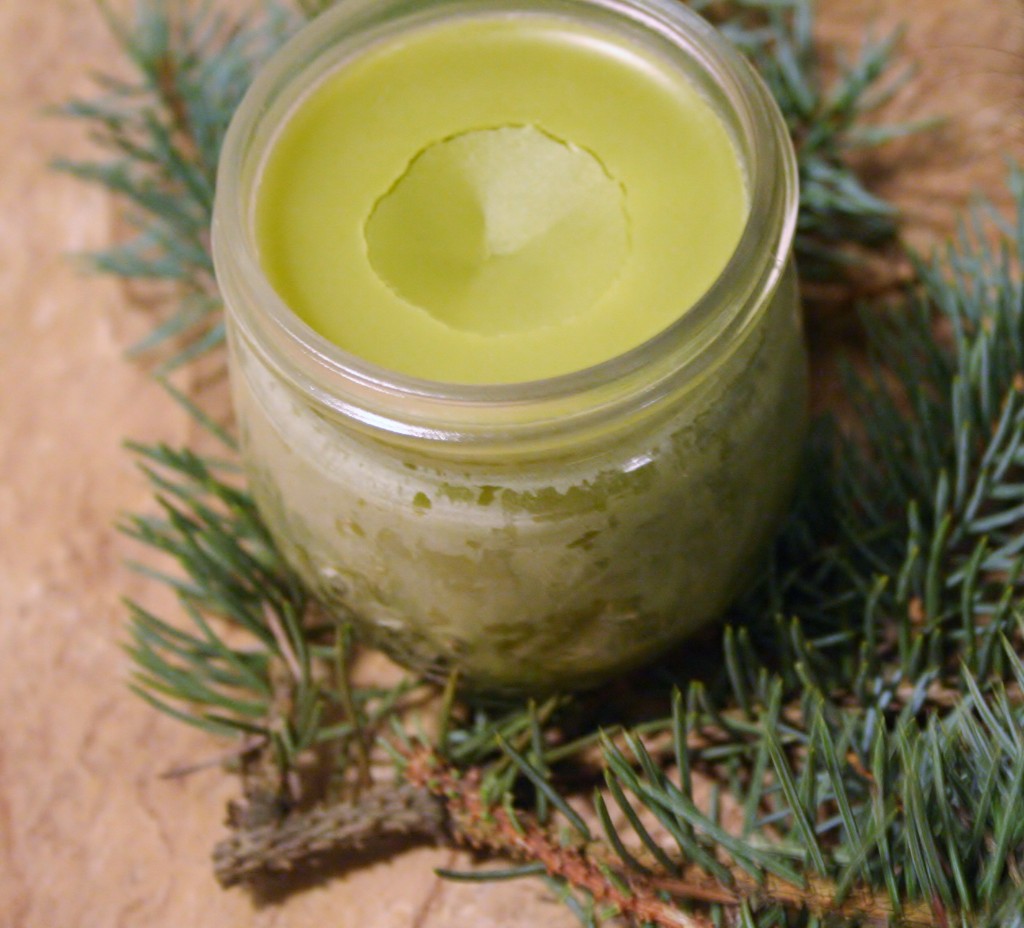 OK so I may need to work on preventing the cracking thing going on, but I'm really proud of myself for making evergreen balm from blue spruce needles that I harvested myself!
I came across the idea in a recent Learning Herbs e-newsletter and knew I had to try it. The list of ingredients is pretty short:
3 cups or so of evergreens (blue spruce, fir, pine, etc.)
organic olive oil
beeswax
So, I went to my mom & dad's house one Sunday afternoon and asked if I could cut some branches from one of their blue spruce trees. My dad thought I was nuts but helped me anyway. I let the branches dry for a couple of days just to make sure the snow had dried up.
Then, I stripped the needles from the branches. It was pretty fun to do sitting in front of the TV. It made the whole house smell like a pine tree! Next I put them in a jar and covered it with oil. The directions said to chop the needles first, or smash them with a cleaver, but blue spruce needles are VERY poky and hard and seemed fragrant enough after being stripped from the branches so I skipped that step. I placed the needles in a canning jar and covered with oil. Where to put it? I needed a warm dark place. I decided our front living room in front of the heat register would do.
Two weeks later, I opened the jar and . . . oh my, VERY sweet smelling! I was a bit worried until I re-read the original directions and said that it would smell sweet. Whew! It also said it could take 2-4 weeks to extract the fragrance but I thought it was plenty strong smelling so I proceeded to the next step . . . straining the needles out of the oil.
Now, you can use a cheesecloth and try to extract the oil from the needles, however as I mentioned before, the blue spruce needles are very hard and I could tell all I would accomplish by squeezing the needles in cheesecloth would be to further poke my hands. So I just used a strainer. It smelled HEAVENLY. In fact for the rest of the day I found myself hovering over the garbage can to catch a whiff of that beautifully infused oil that remained on the needles.
Next up was to add the beeswax. Here's where I differed a bit from the recipe (again). My limited research into making balms said to use one ounce of beeswax per ounce of oil. However, the recipe said to use 3 cups of oil and 4 ounces of beeswax. Since I had 2.5 cups of oil, I decided to use 3.5 ounces of beeswax. It worked fine, but I think 2.5 ounces would have worked even better. As you can see from the photo, it was a little harder than I expected it to be and had a bit of cracking going on.
The procedure is, in a double boiler, bring the water to a boil, place the upper pot over top of the lower pot, add the oil, and then add the beeswax. Stir until the was is nice and melted in. Then pour into containers. Allow to cool before adding the lid.
The Verdict: I love this stuff! Not only does it smell great, but it has really helped my chapped hands (winter is brutal on skin here in Michigan). It's a bit greasy on the initial application but absorbs fairly quickly. It is supposed to be good for chest congestion, sore muscles, and uplift one's spirits. My homemade blue spruce balm definitely makes me happy, although that might be from the satisfaction of making something I never thought I could make (at the fraction of the cost of fancy organic lotion, plus with eco friendly ingredients), and remembering my dad helping me cut the blue spruce branches.
This post shared at Works for Me Wednesday