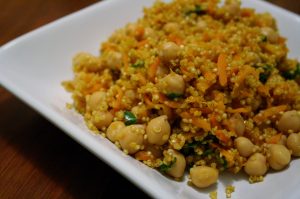 When I saw this recipe in one of my old Clean Eating Magazines (July/August 2010), I thought "aha! What a good way to use up the carrots that have been hiding in my refrigerator." TIP: If you run out of couscous, or if you just want extra nutrition, substitute quinoa.
FOR PRINTABLE VERSION CLICK HERE: Chickpea & Colored-Carrot Couscous
1 Tbs olive oil
4 medium carrots (grated)
1 tsp curry powder
2 Tbs lemon juice
1 cup vegetable broth (I used chicken because that's what I had on hand)
1 cup uncooked couscous
15 ounces chickpeas (1 can)
3 Tbs fresh parsley
1. Heat oil in a large saucepan over medium heat; add carrots and curry, and cook for 2 minutes.
2. Add lemon juice and broth; increase heat to high; bring to a boil; remove from heat; add couscous and stir well. Cover and let stand for 5 minutes.
3. Fluff with fork, then mix in beans and parsley. Can be served warm or chilled.
Note: Will keep in the refrigerator for up to 5 days.
Servings: 4
The Verdict: I didn't have any fancy-schmancy colored carrots, but they were local. I  planned to make it on a night when DH and I didn't have anything going on so that DH could grill something to go with it if he wanted meat, but I forgot he has a new weight loss challenge starting on Monday nights. He just added chicken 🙂 When I was in the middle of making it, I could NOT find my couscous (which I swear I saw when I cleaned out my pantry last week . . . ) So I substituted quinoa (instead of bringing to a boil and taking the pan off the heat, leave it on the burner and lower to a simmer for about 15 minutes). The taste was WONDERFUL. DH thought it was a bit dry but couldn't think of anything to add to it.
Nutrition Facts
Serving size: 1/4 of a recipe (10 ounces).
Percent daily values based on the Reference Daily Intake (RDI) for a 2000 calorie diet.
Nutrition information calculated from recipe ingredients.
Amount Per Serving
Calories 270.46
Calories From Fat (19%) 51.06
% Daily Value
Total Fat 5.85g 9%
Saturated Fat 0.86g 4%
Cholesterol 0.62mg <1%
Sodium 770.44mg 32%
Potassium 530.37mg 15%
Total Carbohydrates 46.7g 16%
Fiber 8.02g 32%
Sugar 3.15g
Protein 8.98g 18%
This post also shared at Tuesday Twister , Works for Me Wednesday, Ultimate Recipe Swap and Fight Back Friday