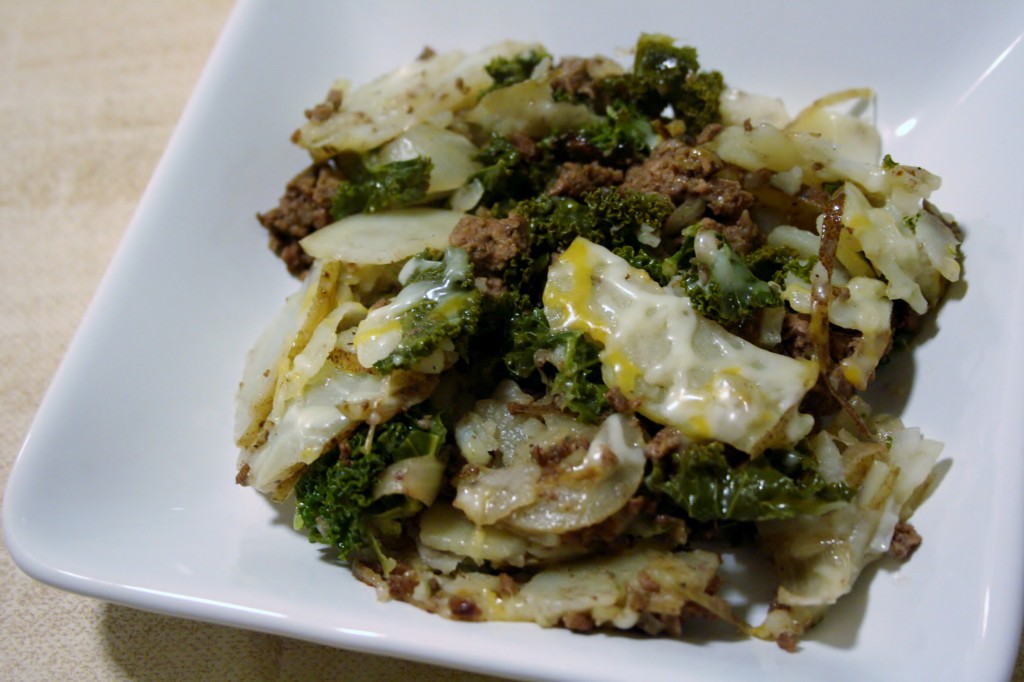 Sometimes people hear "eat local" and they picture expensive, fancy food. I went out to dinner the other night with friends to a burger joint that we like because they source some things locally. "It doesn't have fancy buns, does it?" they asked the waitress. While made on site, I'm not sure one would consider them "fancy." But I digress. This week's Dark Days Challenge entry is  most definitely not fancy, but is fast, easy, and–local.
I received this recipe from my friend Holly as a Hamburger Helper alternative. I made a couple of additions and voila! A fast, easy, weeknight meal that's mostly made from local ingredients.
Ingredients:
 1 lb ground beef (could use sausage or venison; I used ground beef from S&S Lamb)
1 large onion, sliced (believe it or not, I still have some left from last fall's CSA!)
1/2 Tbsp mushroom powder (optional)
4 large potatoes, sliced very thin (from the store, but they are Michigan)
1 bunch kale, chopped (optional; I had some left from the co-op)
1 Tbsp Worcestershire sauce
shredded cheese (I did not use local, note to self pick some cheese up at the farm next time)
salt and pepper to taste
Directions:
In a large skillet, brown the ground beef, onion, and mushroom powder (if using) until cooked through. Remove from pan and drain fat.
Place potatoes and kale and a little water in the skillet; season with salt and pepper; cover and cook until potatoes are soft.
Add meat back in and heat through; add the Worcestershire sauce. Top with cheese and serve.
The Verdict: What's not to love? This is comfort food at its best. While DH probably would have preferred that it not have kale in it, the meat and cheese made up for it.
For more ideas for cooking with local ingredients in winter, check out the Dark Days Challenge at Not Dabbling in Normal. This post also shared at Real Food Wednesday, Simple Lives Thursday, Frugal Friday, Ultimate Recipe Swap