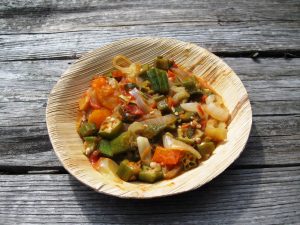 This side dish from Simply in Season is super quick tastes like summer.
Ingredients:
4 C okra (cleaned and trimmed, I sliced mine)
1 large onion (sliced)
2 sweet peppers (chopped)
1 chili pepper (seeded and sliced)
2 large tomatoes (diced)
salt to taste
Directions:
Saute' the okra in 2 T of olive oil in a large frying pan for about 10 minutes.
Add the onions and peppers and saute' until translucent, using medium heat.
Add the tomatoes and cook another 10 minutes (I covered the vegetables at this point). Salt to taste.
The Verdict: DH was at a brewing meeting, so I made this for a light supper. LOVED the flavor. And somehow the okra snot disappeared after adding the tomatoes, which is a good thing. I could imagine this as a main dish served over polenta and topped with cheese. Maybe add some black beans.
For more recipes check out Real Food Wednesday