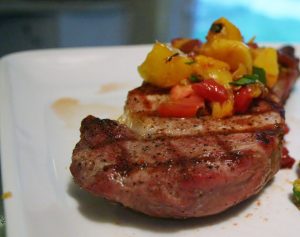 Continuing with the peaches theme, this salsa is nice and sweet.
Source: Simply in Season
Ingredients:
5 large peaches (cut in half, pits removed)
5 tomatoes (chopped)
1 1/2 jalapeno peppers (remove seeds, finely chop)
1/2 C honey
2 Tbsp cinnamon basil (or cilantro, chopped)
Directions:
Grill the peaches face down for several minutes (might want to brush the grill with oil beforehand or you might end up with a mess). Then turn over and grill on the other side until the skin starts to get dark. Allow to cool, remove skins and chop.
Add peaches to remaining ingredients and stir well. Serve with tortilla chips or over pork or chicken.
 The Verdict: We served this over pork and it was sooo good. I wish I had chopped the tomatoes and peaches more finely but it is really hard to finely chop squishy peaches and very ripe heirloom tomatoes. It was equally good the next day with chips.
 This post shared at Fresh Food Friday , Grocery Cart Challenge, Seasonal Sunday