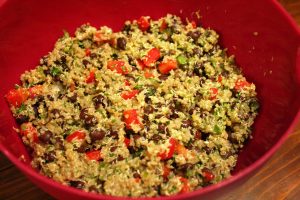 This recipe is based on a  whole bunch that I found online. I had to bring a dish to pass and there was a large bag of quinoa from Costco in my pantry just begging to be used; so I searched for various recipes and cobbled together something based on what sounded good to me.
FOR PRINTABLE VERSION CLICK HERE: Quinoa and Black Bean Salad
1 cup quinoa (well rinsed)
2 cups water
1 tsp oil
1 onion (chopped)
2 cans black beans (15 oz)
1 red pepper (chopped)
1 jalapeno pepper (minced, with seeds)
1/2 Tbs lime juice
salt and cumin to taste
1/2 C cilantro (optional, chopped)
1. In a soup pot, saute' the onion in oil until softened.
2. Rinse the quinoa well and add to soup pot along with 2 C water; bring to a boil and simmer for 15 minutes, or until the little squiggly thing comes out.
3. Rinse and drain the black beans; add the chopped vegetables and lime juice; and season with salt and cumin to taste.
4. Serve warm or cold. Tastes great both ways!
Servings: 8
The Verdict: I realize that peppers aren't in season, but sometimes you just want a little spice.  I loved how this recipe turned out, and it was a big hit at the potluck party.
Nutrition Facts
Serving size: 1/8 of a recipe (7.2 ounces).
Percent daily values based on the Reference Daily Intake (RDI) for a 000 calorie diet.
Nutrition information calculated from recipe ingredients.
Amount Per Serving
Calories 228.47
Calories From Fat (9%) 21.59
% Daily Value
Total Fat 2.45g 4%
Saturated Fat 0.38g 2%
Cholesterol 0mg 0%
Sodium 288.25mg 12%
Potassium 519.98mg 15%
Total Carbohydrates 40.11g 13%
Fiber 10.92g 44%
Sugar 0.73g
Protein 12.49g 25%
This post also shared at Monday Mania and Menu Inspiration Monday