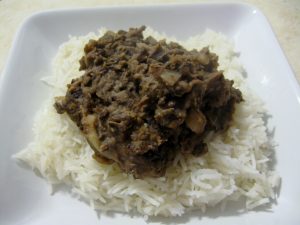 Today was my first day as a "hunter's widow," as they call it when your husband goes to deer camp. It was quite busy; I spoke at two churches and went to my parent's house for Sunday dinner, where I filled up on battered crappie, baked potatoes, corn, green beans, and a giant Amish-made cinnamon roll that my mom had picked up from her trip to Shipshewana. I was sent home full and with a Tupperware of crappie fillets.
When suppertime came around, I was not too hungry but wanted a little something; so I looked through my cookbooks to find something quick, easy, and which would work well for lunch tomorrow. As soon as I saw this recipe in The Food Matters Cookbook: 500 Revolutionary Recipes for Better Living I knew it fit the bill.
Ingredients:
1/3 C olive oil
4 C cooked black beans (I used two cans)
1 onion (chopped)
1 Tbsp cumin
1/4 tsp cayenne
Salt and black pepper
Directions:
Heat oil in the skillet; then add the beans and mash with a potato masher until they're as smooth as you like.
Add remaining ingredients and cook until the beans are pretty well broken up and the onions are softened; if it seems too pasty you can add a bit of water.
Serve over rice.
The Verdict: I realize that the photo isn't particularly appetizing, but it tasted way better than it looked. I wish I had some shredded cheese in the house, as it would be a good addition, but it's quite flavorful and satisfying without it. Who knew that just a few simple ingredients could make such a fast, easy, and frugal supper?
This post shared at Monday Mania