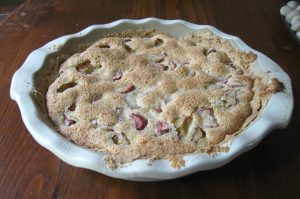 I knew it would be hard to beat my mom & grandma's recipe for rhubarb pie. Would this version from Simply in Season take the cake?
FOR PRINTABLE VERSION CLICK HERE: Rhubarb Pie
2 eggs
1 cup sugar
3 Tbs salt
3 cups rhubarb (chopped)
1 cup flour
1/3 cup butter
2 Tbs powdered sugar
1. Separate yolks from the egg whites. Beat egg whites into stiff peaks (I used a Kitchen Aid). Beat egg yolks separately.
2. Mix sugar, flour, and salt in with the yolks. Add the rhubarb, and fold in the beaten egg whites.
For Crust
1. Mix together flour, butter, and powdered sugar until crumbly, with no pieces larger than a pea.
2. Press into a 9 inch pan or tart pan. Add the rhubarb mixture. Bake in preheated oven at 425F for 10 minutes, then reduce heat to 350F and continue baking for 30 minutes or until set.
Servings: 8
The verdict: This is the last recipe I made for my parents. They rated the appearance and texture a C- and the flavor an A. It wasn't nearly as good as my mom's, but I did like how the crust melted in my mouth and the little pockets of custard.
Nutrition Facts
Serving size: 1/8 of a recipe (4.1 ounces).
Percent daily values based on the Reference Daily Intake (RDI) for a 2000 calorie diet.
Nutrition information calculated by Living Cookbook Recipe Management Software
Amount Per Serving
Calories 256.7
Calories From Fat (31%) 80.7
% Daily Value
Total Fat 9.16g 14%
Saturated Fat 5.29g 26%
Cholesterol 73.21mg 24%
Sodium 2636.87mg 110%
Potassium 168.58mg 5%
Total Carbohydrates 41.09g 14%
Fiber 1.25g 5%
Sugar 27.58g
Protein 3.68g 7%
This post linked to Woo Hoo Wednesday