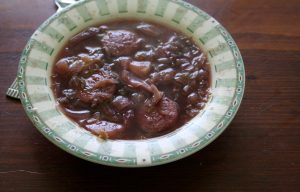 I had my doubts about this recipe. Sauerkraut? In soup? But I had all the ingredients, and Mark Bittman hasn't steered me wrong yet. So I gave it a try.

Source:


Shop Indie Bookstores


FOR PRINTABLE VERSION CLICK HERE: Sauerkraut and Sausage Soup

2 Tbsp oil
1 lb smoked link sausage cut into 1″ to 2″ lengths
1 large onion (chopped)
2 Granny Smith apples, peeled, cored, thinly sliced
1 Tbsp garlic (minced)
salt and pepper to taste
1 lb sauerkraut (drained and rinsed)
1/2 cup white wine
6 cups chicken stock
2 bay leaves
6 cloves
1. Brown sausage in a large Dutch oven or pot over medium-high heat; set aside.
2. Add onion and cook until soft; add the apples and garlic and lower heat; cook 15-20 minutes until well softened and golden.
3. Return heat to medium-high and add the sauerkraut; cook until mixture is dry and starts to stick; add wine and unstick the bits of vegetable; then add stock.
4. Return sausage to soup, add remaining ingredients, bring to a boil, then lower heat until the soup bubbles gently. Cover and cook 20-25 minutes until the kraut is very tender.
Servings: 4

The Verdict: I was kind of scared to try it, as I'm not a huge sauerkraut fan (DH is). But I gave it a taste, and was pleasantly surprised to discover that in a soup sauerkraut isn't nearly as overpowering as it is on its own. The sausage was especially good.
Cooking Times
Preparation Time: 1 hour
Nutrition Facts
Serving size: 1/4 of a recipe (21.8 ounces).
Percent daily values based on the Reference Daily Intake (RDI) for a 2000 calorie diet.
Nutrition information calculated from recipe ingredients.
Amount Per Serving
Calories 225.63
Calories From Fat (41%) 92.09
% Daily Value
Total Fat 10.25g 16%
Saturated Fat 1.97g 10%
Cholesterol 2.32mg <1%
Sodium 1934.38mg 81%
Potassium 653.76mg 19%
Total Carbohydrates 19.67g 7%
Fiber 4.83g 19%
Sugar 11.43g
Protein 9.56g 19%
This post shared at Frugal Food Thursday and Simple Lives Thursday