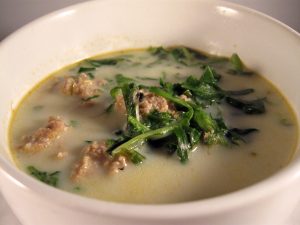 Simply In Season calls this "Weed Soup" in the recipe notes. It's a great way to use up CSA leftovers!
FOR PRINTABLE VERSION CLICK HERE: Sausage and Greens Soup
8 ounces bulk sausage
1 cup green onion (or onion or chives. I used chives since I had some I needed to use up)
4 cups broth (turkey, chicken, or veg)
1 cup potatoes (diced)
1 dash salt and pepper (each)
1 1/2 cups evaporated milk (I substituted raw milk since that's what I had)
3 cups greens (spinach, kale, dandelion, or other) (I used 1 C of frisee and 2 C of kale)
1. Brown sausage in soup pot and drain most of the fat. Remove meat.
2. Saute' the green onions in the reserved fat until soft. Return sausage to the soup pot.
3. Add broth, potatoes, and salt and pepper to taste. Reduce heat and simmer until potatoes are soft, 10-15 minutes.
4. Add remaining ingredients and cook until tender. Garnish each bowl with freshly grated Parmesan cheese.
Servings: 4
The Verdict: This soup was surprisingly yummy. I think the chicken broth and sausage and chives gave it a lot of flavor. The greens were just there for texture. Will definitely make this again! And, DH liked it too. I can tell because there were no leftovers.
Nutrition Facts
Serving size: 1/4 of a recipe (17.5 ounces).
Percent daily values based on the Reference Daily Intake (RDI) for a 2000 calorie diet.
Nutrition information calculated by Living Cookbook Recipe Management Software.
Amount Per Serving
Calories 352.9
Calories From Fat (49%) 172.01
% Daily Value
Total Fat 19.22g 30%
Saturated Fat 7.58g 38%
Cholesterol 68.8mg 23%
Sodium 1176.03mg 49%
Potassium 1057.28mg 30%
Total Carbohydrates 22.97g 8%
Fiber 2.4g 10%
Sugar 11.3g
Protein 22.01g 44%
This post linked to Monday Mania