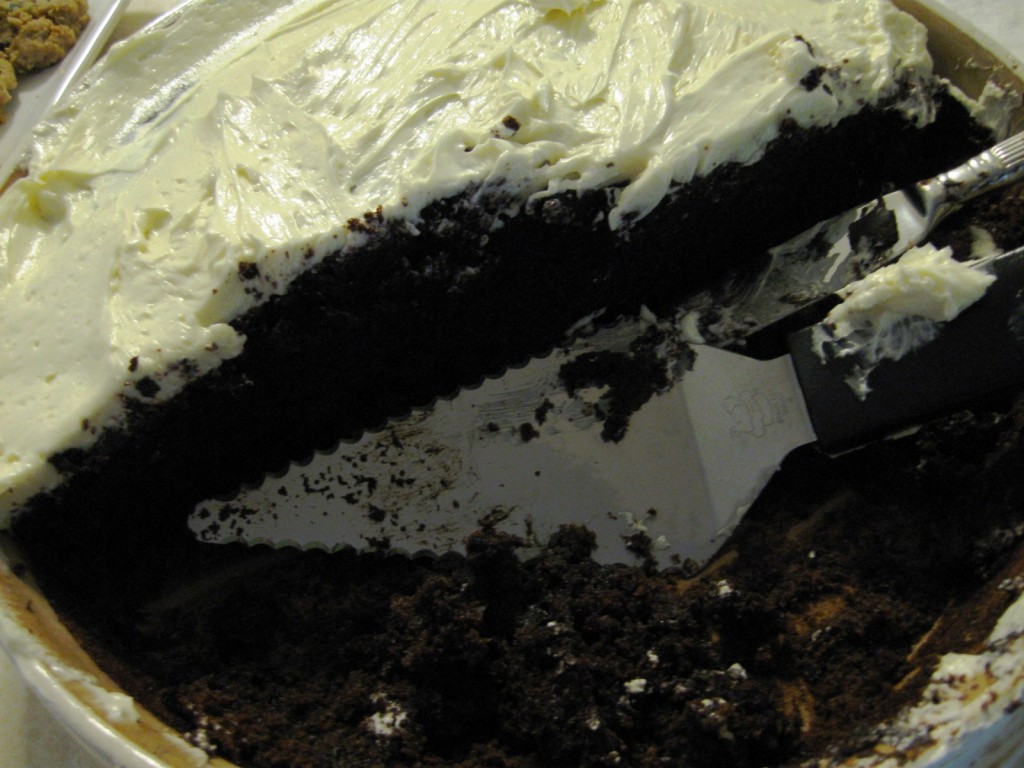 I'll bet you can guess the secret ingredient! In the summer, it's zucchini. In the winter, it can be beets. Because if you add vegetables, it cancels out all the calories, right?
FOR PRINTABLE VERSION CLICK HERE: Secret Chocolate Cake
2 cups zucchini (shredded)
1/2 cup applesauce
1 1/2 cups sugar
1/2 cup oil
1/2 cup plain yogurt
3 eggs
1/2 cup baking cocoa
1 1/2 tsp vanilla
1 1/2 cups flour
1 cup whole wheat flour
1 1/2 tsp baking soda
1/2 tsp salt
1 tsp ground cinnamon
1/2 tsp ground allspice
1/2 cup chocolate chips
1. Puree the zucchini with the applesauce and set aside. (Note: Can also use cooked pureed beets)
2. Combine sugar, oil, yogurt, and eggs in a large mixing bowl and beat with electric mixer for 2 minutes.
3. Add the cocoa along with the vanilla and the zucchini puree and beat another 90 seconds.
4. Gradually sift remaining ingredients (except chocolate chips) into the batter, mixing it in with a spoon but stirring only until blended. Then stir in the chocolate chips.
5. Pour into a greased 9×13 pan and bake in a preheated 350F oven until knife inserted in center comes out clean, 40-50 minutes.
Servings: 24
I used the white frosting from Cook's Illustrated.
The Verdict: I'm not sure why, but this cake was also super rich. Either it's the Fair Trade cocoa or the zucchini. My bet is the cocoa. This too went over well at the family gathering this weekend.
Nutrition Facts

Serving size: 1/24 of a recipe (2.2 ounces).
Percent daily values based on the Reference Daily Intake (RDI) for a 2000 calorie diet.
Nutrition information calculated from recipe ingredients.
Amount Per Serving
Calories 173.54
Calories From Fat (33%) 57.84
% Daily Value
Total Fat 6.65g 10%
Saturated Fat 1.66g 8%
Cholesterol 26.74mg 9%
Sodium 141.74mg 6%
Potassium 94.02mg 3%
Total Carbohydrates 27.1g 9%
Fiber 1.39g 6%
Sugar 13.18g
Protein 3.04g 6%