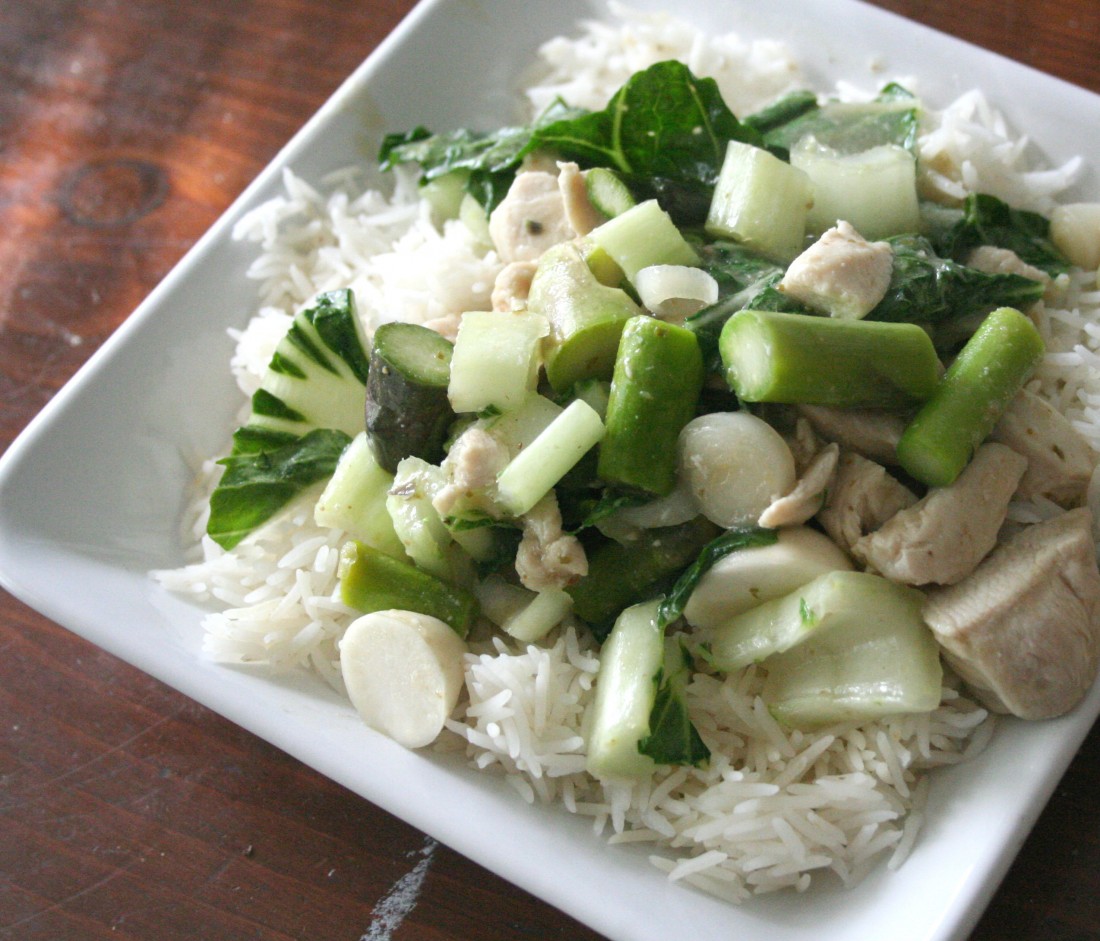 This recipe shows how easy it is to use whatever random vegetables come your way! I threw this together after looking through my refrigerator and realizing I had some farmers market goodies to use up ASAP.
Ingredients:
chicken (I used about 1 1/2 pounds of chicken breast, cubed)
oil (I love to use Asian stir fry oil–it adds some extra flavor)
4 ramps (you can also substitute a couple of cloves of garlic, minced. You'll want to separate the bulbs and the greens)
2 C asparagus (chopped)
2 small bok choy (chopped, greens in a separate pile from the white stalky part. You could substitute cabbage)
1 bunch spring turnips (sliced, greens in the "greens" pile that is now forming. You could substitute radishes)
your favorite stir fry sauce–I used World Fusion green curry sauce. Make your own if you have the time.
rice
Directions:
In a large wok or frying pan, heat a little oil over medium; add the chicken and brown for about five minutes.
Add the ramp bulbs, stalky part of the bok choy, and the bulb of the turnips. Set aside the greens for now. Add the sauce. Bring to a boil, reduce to a simmer and let it cook for about 15 minutes.
When the timer goes off, add as many of the greens pile as your family will tolerate. Stir until they are nicely wilted.
Serve over rice.
The Verdict: LOVE. The bok choy and turnips saved what is usually (for me) a sort of bland chicken and sauce stir fry. If you are not used to greens the flavor might be a bit overwhelming, but in the spring I crave those flavors.