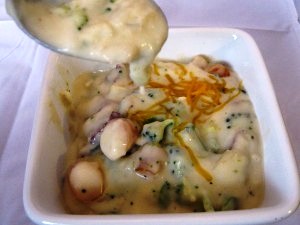 Who would have thought that there was so much to learn about soup? I feel like I barely scratched the surface this week. Yet, next week's bread theme is quickly approaching. So I decided to post today about thickening soups. In the winter, a thicker soup is nice and hardy. Be sure to check back tomorrow to link up your favorite soup recipes and to check out others!
When I first started making soups from Simply in Season, I simply adored how some of our favorite soups were so nice and creamy. Very hearty! Often they had me add a milk and flour mixture to the soup. It wasn't long before I discovered that this thickening method is common and has, you guessed it, a great French name that all chefs understand:
Roux
Mark Bittman's Ratio has a, um, ratio for roux.
Roux = 3 parts flour: 2 parts fat
Thickening Ratio = 10 parts liquid : 1 part roux
If you've ever tried to thicken a soup using a recipe found online (or from a cookbook) that doesn't provide much by way of instruction, such as the Beer Cheese Soup that DH made, you may have ended up with curdled soup and wonder what the heck happened. Keys to Good Cooking, offers the following tips:
when thickening with egg yolk or other uncooked animal protein, take care not to overheat the protein. Begin the process with the soup well below the boiling point, and add small amounts of hot soup gradually to the thickener to dilute and warm it gradually, then mix all together and heat slowly just until the soup starts to thicken.
when thickening with cream, don't go low fat! Light cream, sour cream, yogurt, butter, or olive oil can curdle, so leave these for the last minute and keep temperature well below a boil (this goes for reheating, too.)
choose recipes that include starch or flour as this helps protect fat from coagulating.
to thicken soups with flour or starch, make sure to predisperse the thickener before adding to the soup. Add the thickener and then simmer just until the soup reaches the right consistency. For example, many of the recipes in Simply in Season instruct one to mix the flour in milk before adding to the soup towards the end.
So, what are some of my favorite thickened soups?
Polish Wild Mushroom and Potato Soup
This post shared at Real Food Wednesday and Works for Me Wednesday