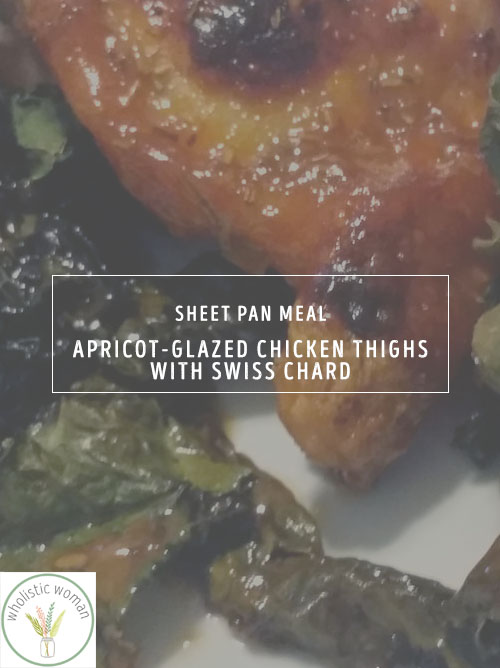 I think it was last year that I heard about the sheet pan supper concept. I'm ALL about making life easier! So when the publisher of 200 Best Sheet Pan Meals: Quick and Easy Oven Recipes One Pan, No Fuss!
 offered to send me a complimentary copy for review, I jumped at the chance.
I had a a half used-up jar of apricot jam in the refrigerator from when I was going to make a similar recipe a couple of months ago. It was still good. So when I came across this recipe for apricot-glazed chicken thighs with Swiss chard, I realized that I also had a bunch of kale that needed to be used. So I gave it a try.
I did alter the recipe slightly because I had garlic infused olive oil on hand. Also I didn't measure out the rosemary, salt and pepper but eyeballed it.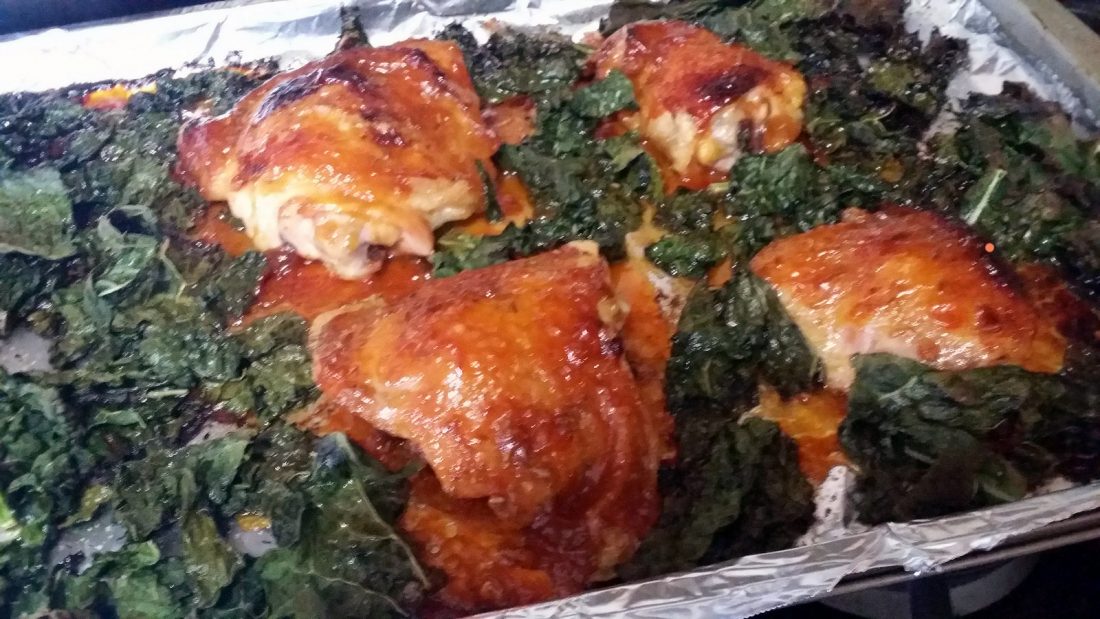 The Verdict: DH and I both loved it, the flavor was great and he even ate the kale! The apricot juice added a bit of sweetness to the kale that was next to the chicken. And the rosemary was just the right herb to add. I loved the quick and easy cleanup, too!
I posted this recipe in a local cooking Facebook group and I had a number of people tell me that they had purchased other sheet pan cookbooks but were disappointed because they use odd ingredients, which kind of defeats the purpose of quick and easy sheet pan meals. I can tell you that the ingredients in this cookbook are simple and things that I keep on hand (although I'm probably not the best judge, since I have a pretty wide repertoire of vegetables).
Here is a list of a few of the other recipes that are in the book:
California Fish Tacos with Cucumber and Pineapple, pg 23, extra simple pantry meal
Pork Chops with Roasted-Apples, Pearl Onions and Thyme, pg 34, extra simple pantry meal
Huevos Rancheros Tortilla Tarts, pg 54, breakfast & brunch
Raspberry Drop Scones, pg 62, breakfast & brunch
Farmers' Market Salad with Goat Cheese Toasts, pg 77, meatless meals
Persian Rice-Stuffed Butternut Squash, pg 92, meatless meals
Spicy Pinto Bean Burgers, pg 99, meatless meals
Roasted Salmon and Root Vegetables with Horseradish Sauce, pg 116, fish & seafood meals
Sheet Pan Clam Bake, pg 126, fish & seafood meals
Weeknight Chicken and Stuffing, pg 138, chicken & turkey meals
Roast Chicken Quarters with Lemon-Dill Spring Vegetables, pg 139, chicken & turkey meals
Italian Sausage and Pepper Supper, pg 188, pork, beef & lamb meals
Roast Beef with Potatoes, Green Beans and Blue Cheese Mayo, pg 194, pork, beef & lamb meals
Lamb Meatballs with Zucchini, Tomatoes and Yogurt Tahini Sauce, pg 206, pork, beef & lamb meals
Roasted Plums with Honey, Walnuts and Greek Yogurt, pg 210, sheet sweets
Berries and Cream Pavlova, pg 211, sheet sweets
Decadent Carrot Cake with Cream Cheese Frosting, pg 220, sheet sweets
Check it out on Amazon! (affiliate link):