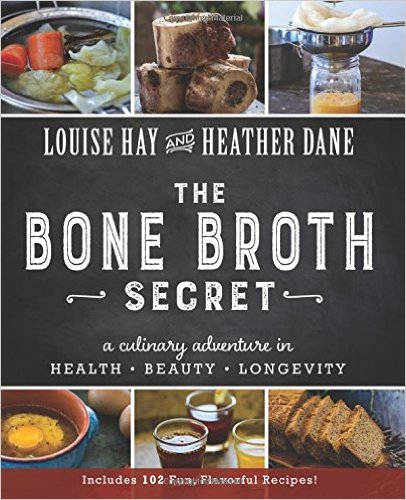 I've written before about bone broth. It is easy to make and super nutritious. But sometimes flexibility can lead to paralysis. If the options are endless, how does one choose?
So when NetGalley offered to let me review Bone Broth Secret: A Culinary Adventure in Health, Beauty, and Longevity
, I jumped at the chance. I was a little worried that it would be a bit militant as it's in the "real food" genre. To my pleasant surprise, it wasn't at all! Rather than a scolding tone, the authors were very informative and included lots of positive affirmations.
In Part 1: The Art and Science of Bone Broth, the authors explain the history of bone broth and what makes it so good for you. It was excellent background information that I wish I'd had back when I first learned about bone broth. It definitely laid the foundation for feeling more confident about freestyling it.
There's no need to "freestyle" though, because Part 2 includes lots of great recipes! Having read the basics, though, I was able to piece together various recipes. I was inspired to go to my local organic food store and buy some beef soup bones, chicken soup bones, oxtails and chicken feet. I decided that my body could really benefit from regular bone broth, especially since it takes a pounding with the marathon training.
I was drawn to the "Balanced and Bright" beef broth recipe because it didn't use vegetables, and I wanted something that was relatively neutral flavored that I could later add more flavor to. Plus I loved the idea of using ginger and star anise. My package of "beef bones" was 3 pounds so I roasted them, threw them in the slow cooker with the ginger and star anise, and let it simmer for about 30 hours.
The Verdict: The flavor was delightful! With a little salt I enjoy drinking it from a mug. I realized after opening the package that there was way more meat than bone, so I did not end up with a lot of fat cap or gel. I did however get a nice batch of cooked beef that I will be making into another meal.
I can't wait to try more recipes from the book! And, I look forward to seeing if I notice any health benefits from drinking it daily.
This post shared at Literacy Musing Mondays and Works for Me Wednesday