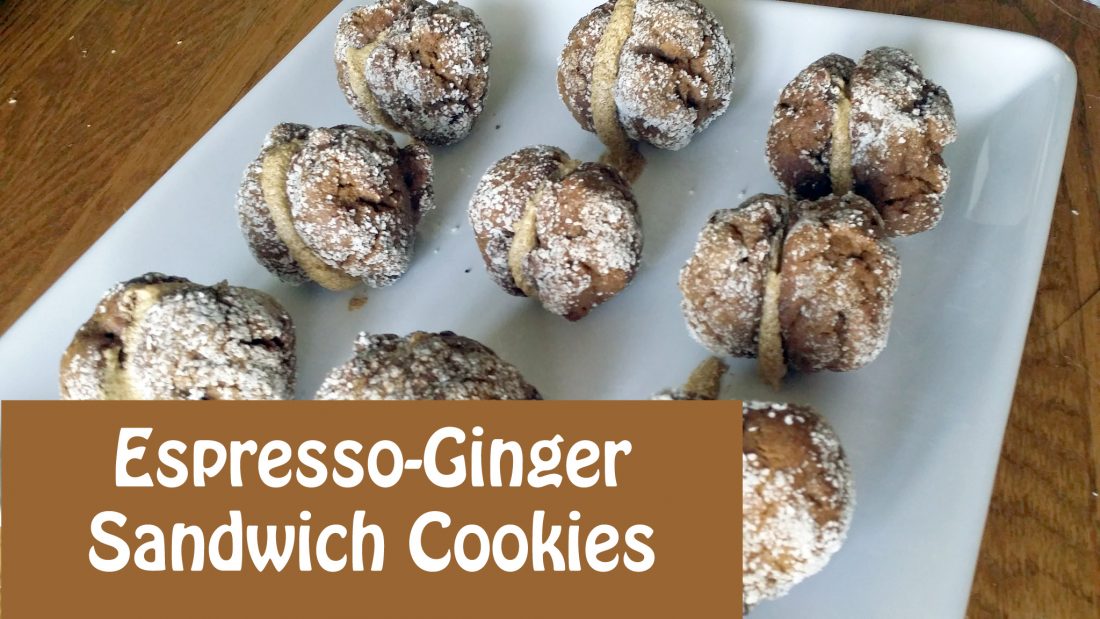 I'm normally not a baker. I'm not that good at it and with just me and DH, we don't need the extra calories of splitting a batch of something between the two of us. However, I USED to be quite the baker. I'd make something every weekend for after church. So I used the Sunday Supper Cookie Exchange as an excuse to try something new. This is not gluten- or sugar-free or vegan. But it is delicious!
Source: Heartland: The Cookbook
Ingredients:
2 1/4 cups unbleached all-purpose flour
2 Tbsp instant espresso powder (note: This is NOT the same as instant espresso for making coffee. I found it at a spice store. You can also find it online)
2 tsp ground ginger
1 tsp ground allspice
1 tsp baking soda
3/4 ( 1 1/2 sticks) unsalted butter, softened
1/2 cup packed dark brown sugar (note: I substituted light brown sugar and it turned out fine)
1 large egg
1/4 cup sorghum syrup or molasses
1/4 cup raw or turbinado sugar crystals
Brown sugar frosting
1/2 cup packed dark brown sugar (again, all I had on hand was light brown and it worked fine)
2 Tbsp sorghum syrup or molasses
4 Tbsp (1/2 stick) unsalted butter, softened
1 1/2 cups confectioners' sugar
2-4 Tbsp half and half or whole milk
Directions:
In a medium bowl, combine the flour, espresso powder, ginger, allspice and baking soda. In the bowl of a stand mixer (could also use a bowl and beaters) cream the butter until light and fluffy; add the brown sugar and beat until light. Beat in the egg and molasses until well blended. Add the flour, slowly, and beat until blended. Cover and refrigerate at least 30 minutes so it's easier to roll into balls.
Preheat the oven to 350F. Line 2 baking sheets with parchment paper. (Note: I ended up using three sheets).
Scoop the dough about a tablespoon at a time, form into balls, and roll in sugar. Place 2 inches apart on the cookie sheets.
Bake for 13-15 minutes or until edges are firm and the tops are cracked. Cool on wire racks while you make the frosting.
For the frosting, beat the grown sugar, molasses, and butter together in a medium bowl until soft and creamy. Add the confectioners' sugar and enough milk to make a spreadable consistency.
Assemble by spreading about a tablespoon of frosting on the bottom of one cookie and place the other cookie's bottom on top of that. The tops will be on the outside.
The Verdict: I had expected the cookies to spread out and be a bit flatter, which would have made them easier to eat, but they were oh, so delicious. I'm glad I took the time to hunt down real espresso powder because the flavor is heavenly.
Want even more cookie recipes? Check out the links below!

Plus, 20 Cookie Baking Tips and Holiday Cookie recipes from Sunday Supper
Join us for a #Cookielicious chat at 7 p.m. ET Tuesday, Dec. 1, on Twitter We will be sharing tips for cooking baking along with stories about our favorite family recipes. Follow the #Cookielicious hashtag and remember to include it in your tweets to join in the chat. To get more great cookies recipes, check out our Cookie Jar Pinterest board.