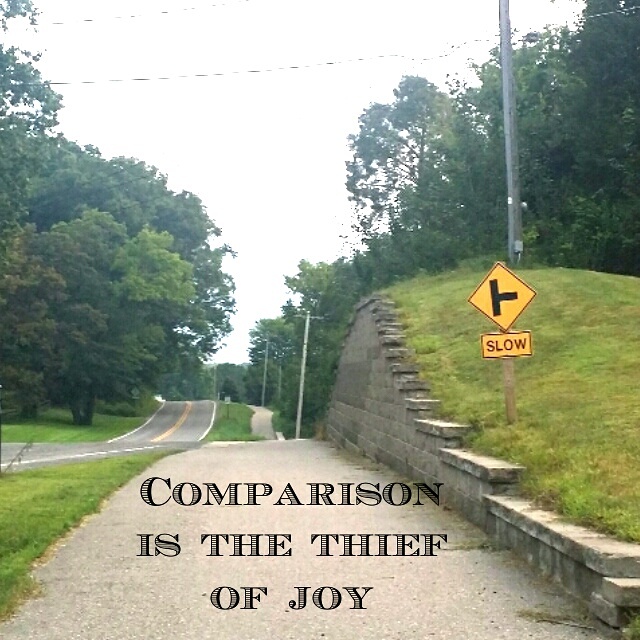 Great news! I was cleared to run again on Friday. As usual, DH was his supportive self when he heard the news: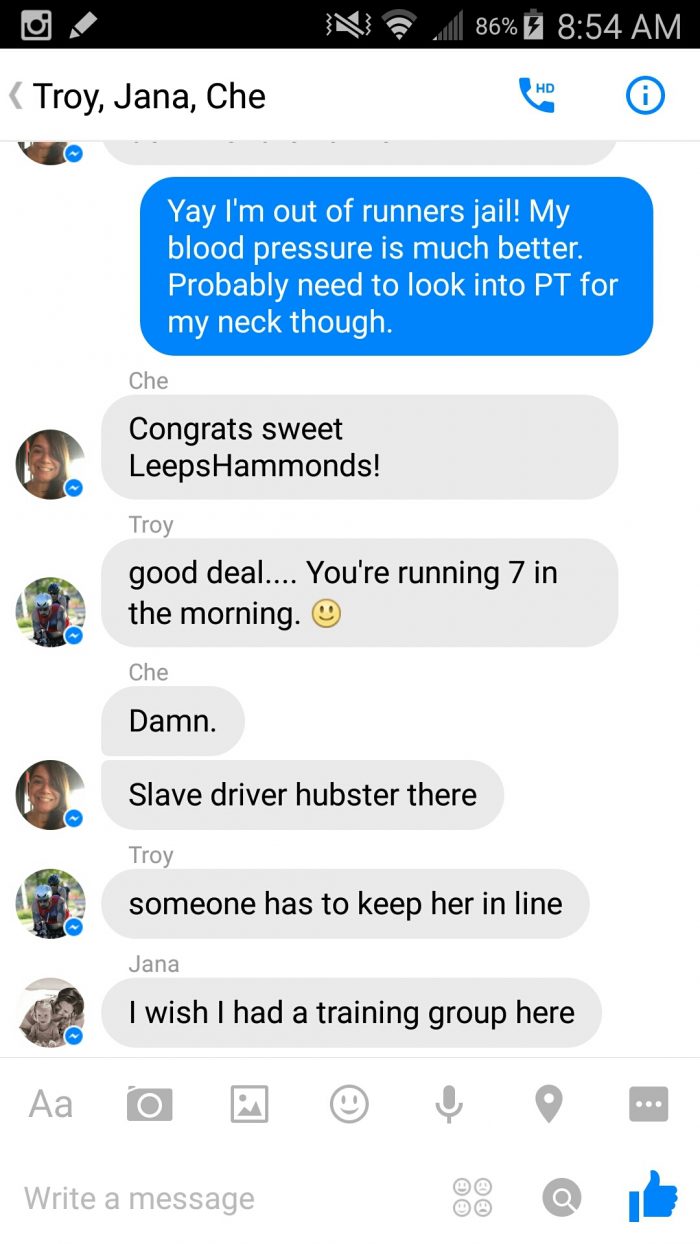 Luckily I only missed a week of training, and the 7 mile long run was the same distance that I was supposed to have done last week. I was feeling great and the weather had cooled considerably. The only problem? I was a little nervous about running alone, just in case I had something happen again, and DH was planning to run with the RunGR group in the morning.
My irrational fear of running in groups
I am TERRIFIED of running in groups. I really don't know why this is. I don't get nervous at races. It's just the idea of running with all these people who have been running for so long, and who are way faster than me, that conjures up all these inferiority complexes stemming from my youth. Earlier this summer DH and I went to the summer kickoff for the running group. "You'll be fine," he said. "They will have pace groups. You are running a 13-14 minute mile but I bet you could easily keep up with the 12:30 pace group. Besides, there will be ice cream at the end. You know how much you love ice cream!"
The ice cream convinced me to give it a try. For some reason my phone didn't charge, so I didn't have my music. I borrowed an extra ipod from DH, but I was nervous because I am TERRIBLE at directions. I felt even more pressure and nervousness about not being able to keep up.
At the introduction, there was a request for volunteers to run with at-risk kids at an upcoming event. "Don't worry, they're not very fast," said the organizer. "Some of them are like, 12 minute miles!"
My heart sank. This was not going to be good. But at least there would be ice cream at the end.
When it was time to run, the pace captains picked up their signs and lined up. I made my way to the back. The slowest one was 12 minutes. Shit.
I screwed up my courage. "Is there a 13?" I asked the person holding the 12 minute sign.
"No, but lots of us are injured so don't worry, I'm sure you can keep up," she said.
Shit.
To my surprise, I did keep up. For the first mile. Then, the group slowly started to pull away from me. We were running in an area I was unfamiliar with. I knew to keep the lake on the left. But then I came to a section where there were a few roads crossing, and I wasn't sure which way to go. The group ahead of me was out of sight. I started to panic. No phone. I didn't want to look stupid by stopping and waiting for DH to realize, possibly hours later, that I hadn't come back. I remembered that there really was someone injured who I thought was behind me. I took a deep breath and retraced the way I'd come, praying that she was still back there somewhere and knew the way.
Luckily she was back there, and when I approached her I explained that I had never run in the area and was lost. She invited me to walk with her. Fighting back tears, I made small talk and ended up walking the rest of the way back. The nice easy 3 mile run had turned into a 1 mile sprint plus a 2 mile walk.
About a half mile from the end, DH appeared.
"I got lost," I said. "No you didn't, you're almost there," he said cheerfully, completely oblivious to the daggers I was sending him telepathically. "Just think, ice cream!" I supposed I should be thankful that he came to check on me. And I was, until he said "Yeah, I was just hanging out and talking with the guys. Then I figured you ought to be coming in any time now. The slow runners were in and I didn't see you."
After what seemed like an eternity I got to the gathering point. I just kept thinking about how at least the ice cream would make me feel better. This whole horrible experience would soon be over. And I would never have to run with this group again. I walked over to the cooler and opened the lid.
The cooler was empty.
All of the faster real runners were happily talking to each other chomping down on ice cream bars and ice cream sandwiches. No ice cream for me. It was all I could do to keep from crying.
"Oh, I guess there isn't any left," said DH.
Fine, I'm fat, I don't need ice cream, I told myself. I went over to the water cooler.
There was no water either.
I looked at DH and said I'm going home. Smart man, he said his goodbyes and we walked to the car. I burst into tears. Not only did I not get a good run in, but I got lost and didn't even get any ice cream. All I was worth was the warm water that had been sitting in my car all day. I vowed to never run in a group again.
Giving it another try
So that's the back story, as to why I was so terrified of running in the group again. However, I was even more terrified of running on my own and having another pseudo stroke and dying in someone's front yard so I decided to screw up my courage and get up early with DH for the Saturday long run. He assured me it was an easy route. He even pulled it up on the computer and showed me. I had my phone charged just in case. I had my own water and NuuN since it was going to be 7 miles and I really need to keep up on my electrolytes.
As we were waiting for everyone to arrive we saw our friend Joyce.
"What pace are you running today?" He asked.
"Oh, 12-13" she said.
I pretended to be setting my MapMyFitness app. This was de ja vu all over again. I felt like a child, with my parent trying to make friends for me.
The group started and I made my way to the very back, as far back as I could. I needed 7 miles. Others were running up to 20, depending on which marathon they were training for.
Every time someone passed me, usually in groups, I found myself subconsciously slowing down so that they would pass me faster. Joyce reached me at mile one and once again I slowed down so that I would again be running on my own.
"You suck, everyone is passing you. Everyone is laughing at you. Why are you even out here?" taunted a voice in my head.
I held back my tears. I tried to reassure myself that I am a new runner, just coming off of heat exhaustion. I was running fewer miles than most of the others so just keep on the trail and keep running a nice easy pace and I should still be back in time to go out for breakfast. At least there was no danger of the breakfast place running out of coffee. There would not be another ice cream disappointment.
As I ran, the voice in my head said "you" when I pushed off on my left foot and "suck" when I pushed off on my right. I realized what I was doing and decided right then and there that this marathon thing is going to be a mental game, not a physical one. As I ran I tried to think of where all this was coming from. Why was it sports that brought this out in me? I am confident in other areas of my life. Just not this one.
Then I realized that all the other runners had pulled out of sight. "Three miles," said MapMyFitness. "Split pace: REALLY slow." Even the road was taunting me.
I pulled out my camera for proof and snapped the picture at the beginning of this post. The giant yellow "SLOW" sign pretty much summed it up.
I reached the aid station and realized that rather than a simple out and back, I was going to have to do some loopty loop in the park to get my mileage. DH was standing there talking to Joyce. I was kind of pissed because not only was I slow, I was going to have to use my terrible sense of direction to figure out how to get in enough miles.
"Where do I go now?" I asked. He and Joyce explained it and I miraculously figured it out without getting lost. I didn't stop to chat, I was still annoyed at myself and the fact that now the "real" runners were looping back around and looking at me wondering who the hell let ME out there. Sure, they were smiling and saying hello, but the voice in my head confirmed what they were REALLY thinking.
After I turned around it was easy enough, even for me, to follow the trail back. DH drove by in his Jeep, I guess to make sure I hadn't passed out or gotten lost. He took this awful photo of me: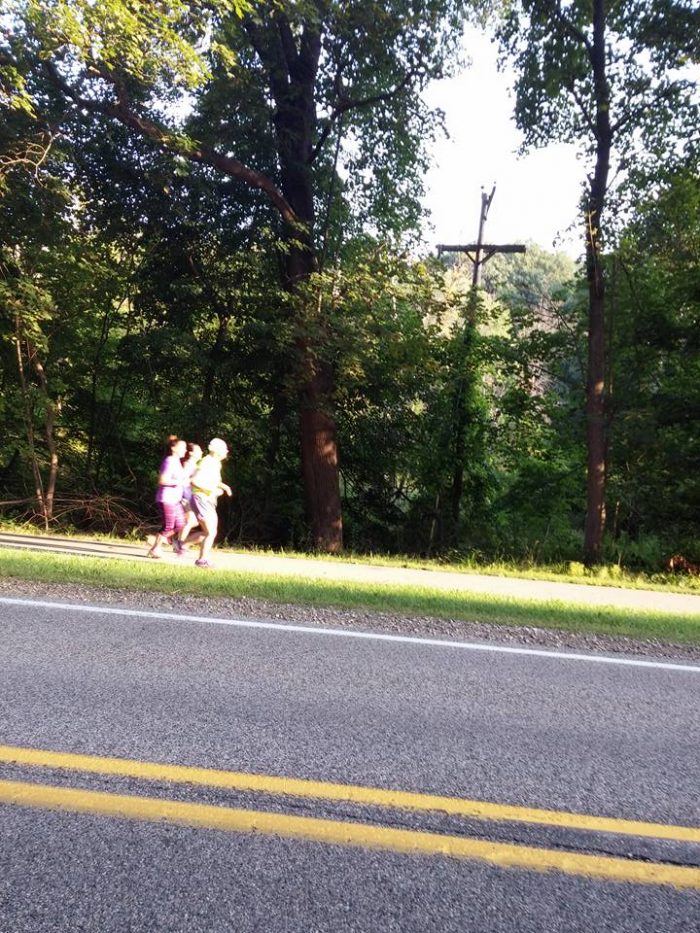 I don't know why but I look seriously fat in that photo. Is it just me or do I look like twice the width of the other two girls put together?
Anyway, I managed to finish all seven miles without any walks. I felt great and that I could have gone even more miles. DH gave me crap that I should be running faster if I still have so much energy at the end of the run. But that would probably mean changing my "slow down when people pass you" strategy.
Running alone
Even after contemplating it for seven miles (and four hours, OK not really but that's what it seemed like) I still don't know where this huge inferiority thing comes from. Maybe it's a good discussion topic for my therapist. The weird thing is that when I'm running alone I LOVE running. I tend to run faster and I don't beat myself up about being slow when I hear the split pace. I don't have any anxiety; in fact I'm very relaxed.
I'm really curious to find out if anyone else has this irrational fear. I know I'm really putting myself out there by writing this, but 1) it's therapeutic and 2) maybe someone else is going through the same thing and can either feel not so alone or realize that hey, runners don't have it all together and maybe it's something they could try too.
It's funny also how differently DH and I are wired. He LOVES competition and running / biking / swimming in groups. I'm much more of a loner and would rather enjoy myself than push myself. I guess when I finally work all of this stuff out I will become a better person and athlete.
The biggest lesson of all? Don't plan on anyone else giving you ice cream. You have to get it yourself.