The small Christian grade school I attended in my youth has an annual wild game dinner. You are invited to bring a dish to pass that features wild game, and my Dad is famous for his squirrel casserole.
I remember when my Dad first started hunting squirrel. He said he got the idea when he was hunting deer and he didn't see any deer, just squirrel. He decided it would be a good way to practice marksmanship – to get a clean head shot on something that small requires skill. The first time he brought them home, I thought my mom was going to flip out. She refused to touch the things and said if he wanted to eat it he was going to have to cook it.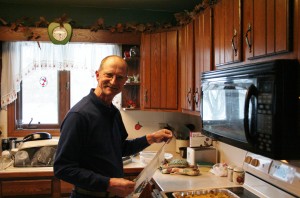 My Dad has always been a good cook (he and my Mom have always shared cooking duties), so he pulled out his copy of Kill It & Grill It: A Guide to Preparing and Cooking Wild Game and Fish by Ted Nugent and soon Squirrel Casserole was on its way to becoming famous at the wild game dinner.
In case you're wondering what squirrel tastes like, it really does taste like chicken. One year my Dad didn't have enough squirrel so he added chicken and no one was the wiser–if you don't have a source of squirrel meat feel free to substitute chicken.
Squirrel Casserole
Ingredients:
2 squirrels (can substitute chicken)
two 10 oz packages frozen broccoli with cheese (can substitute broccoli and cheese)
1 stick butter
1 C chopped onion
1 C chopped celery
one 10 1/2 oz can cream of mushroom soup (can substitute this homemade version of cream of mushroom soup)
1 C cooked rice
dash of garlic powder
salt and pepper to taste
Directions:
Place squirrels in a saucepan and cover with water; boil until meat is tender and falls from bones.
Cook broccoli according to package directions.
In a skillet over medium heat, melt butter and saute' the onion and celery until tender. Add the soup and stir well.
Combine remaining ingredients in a 9×13 baking pan and bake at 350F for one hour.
The Verdict: As I said, this is a family favorite. I think cheese makes just about anything edible, don't you?
This post shared at Monday Mania , Recipe Roundtable, Hearth and Soul, Kitchen Tip Tuesday, Tuesday Twister