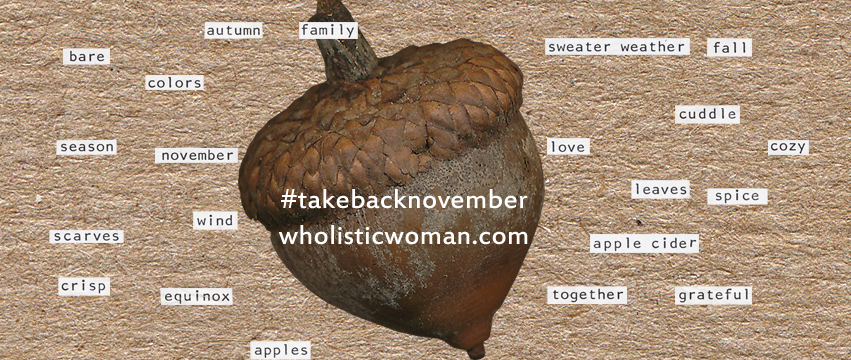 Have you noticed that Christmas seems to come earlier every year? I feel like they put out the Christmas trees in September! Which does sort of make sense from a retailer point of view. After people spend money on back to school, they spend money on Halloween. And then, the payload . . . Christmas!
However, I believe that life is about more than just spending money. In fact, it sort of makes sense that advertisers want to skip over Thanksgiving, since Thanksgiving is the holiday where we are thankful for what we have, as opposed to running out and buying MORE.
It is in that spirit that I invite you to join me to #takebacknovember. It's not a "challenge." Goodness knows there are enough of those out there! Consider this an invitation to notice; to celebrate November; to delay the Christmas madness for just a little while; to cultivate a sense of thanksgiving.
There are a few different ways in which you can participate.
Join the #takebacknovember Facebook group. This will be a place where we can share ideas for cultivating a sense of gratitude and small ways to celebrate November.
Subscribe to daily reminders. Each morning I'll be sending out a short reflection and prompt to encourage you to #takebacknovember. If you'd like to receive these, please fill out the form below.
Use the daily prompts below to inspire Instagram photos, tweets, etc. It's in a Google calendar format so you can easily download it to your phone. When you share your image on social media, please use the hashtag #takebacknovember and tag @wholisticwoman on Instagram and @wholistic_woman on Twitter