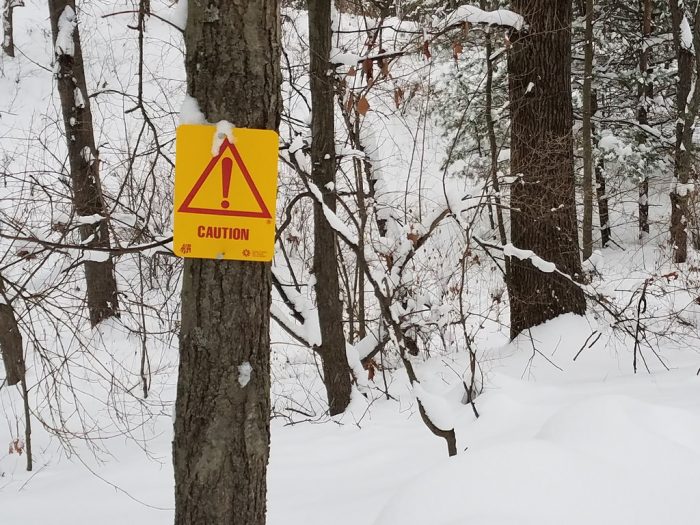 If last week's theme was Dashing through the Snow, this week I trudged through it.
On Wednesday we did the Strider's Sleigh Bell Shuffle, which is a fun run 5K at a local running store. It was quite challenging because it was a snowy day, with lots of cancellations. Many people had not shoveled or snow blown their sidewalks yet, so most of it was on half packed snow. After last weekend's wet feet I had purchased some SmartWool PhD socks, so at least my feet were nice and toasty!
Thursday was a group run at Aman Park, and we were basically breaking the trail as we went. I'm pretty sure that Karen was taking us on places that aren't even actually on the trail, which made slipping into an icy water-filled ravine a definite possibility. Make that a dark, icy water-filled ravine. But you know you have fun running friends when even the prospect of an icy death doesn't stop you from laughing and having fun!
On Saturday I intended to do the 9 mile loop at Luton. But the trails were horrible compared to last week. There was a good 8-10 inches on top of mountain bike trail ruts, which made getting a good pace just about impossible. I was terrified of spraining an ankle. I'd get going along and I'd either come down hard on a packed spot or slip on a fluffy spot. I cut my run/trail blazing short and called it a day at 4. My calves and glutes were fatigued to the max. I really hope my 50K isn't like this in January! If so I will gut it out, but I didn't want to risk injury on a training run.
I've had a lot of questions about what I wear in the winter. So I thought I'd share my current favorite gear. I purchased this at Gazelle Sports, but it's available on Amazon. Note that I get really hot, and individual perceptions of heat/cold may vary:
I wear a long tank as a base layer.
Then, I LOVE this top with convertable mittens on the sleeves!
Fleece lined tights keep me cozy warm
Wool socks – had to go heavier for winter
That's it! For headwear, I tend to wear a fleece cap and buff.
I don't wear spikes and don't really like YakTrax, although some of my running friends swear by them. I also have not tried putting screws in my shoes.
How about you, are you a winter runner? Or do you prefer the treadmill in freezing weather?
For more inspiration, check out The Weekly Wrap hosted by HoHo Runsand MissSippiPiddlin and Tuesdays on the Run