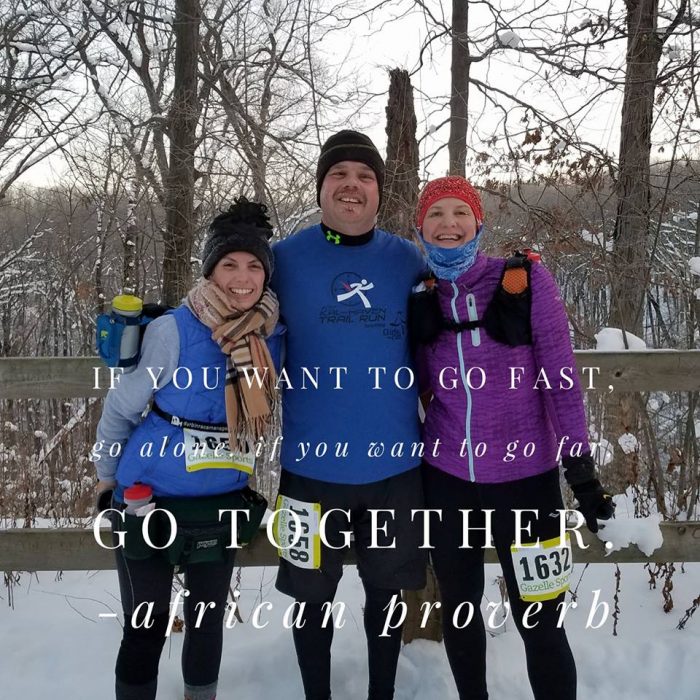 The first week of 2018 was epic, capped off with the most brutal 50K I've ever done. Through it all, I came to appreciate my running community even more. I couldn't do this without them!
On Monday we had our annual Runny Eggs and Pancakes New Year's Day breakfast with RunGR friends. I am always in awe of those who get there early to get in a New Year's run. DH and I are usually too hung over tired from staying up the night before so we just go for the food and fellowship. It was kind of funny because we had seen most of them the day before on our Saturday run.
Tuesday I worked from home in the morning and worked a little late when I got to the office so I could squeeze in an easy run. I had a 50K on Saturday so I didn't want to push anything, but I also have that 2018 miles in 2018 hanging over my head!
After work I went to Gazelle Sports for our RunGR Kickoff Party. We heard about Coach Woj's plan for the club for the year and saw lots of friends.  Great snacks, beer and wine. I do hope to attend more speed sessions during the week this year.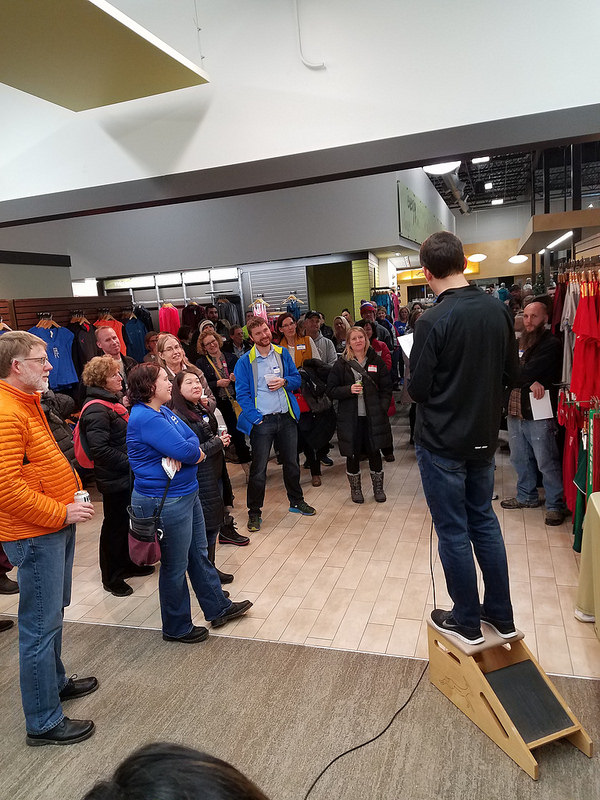 Wednesday night was hills and stairs. Now that the diabetes prevention class I teach on Wednesdays has gone to monthly sessions I hope to make it more often. This is kind of a crazy workout where we start at Founders Brewing, then run to a parking ramp, then run up and down some hills and then drink back all the calories we burned at Founders.
Thursday I did one last run before the big race, another easy four miles. No pictures of that one, just to say it is still really cold and snowy here. It feels like it will never end!
Yankee Springs Winter Challenge 50K Recap
That brings me to Saturday. We awoke to -12 degree Fahrenheit temps. DH had added screws to the bottoms of our shoes because we had been warned that the trail conditions would be difficult. I quickly realized that my foldover mittens on the running jacket would be nowhere warm enough. So DH gave me some warm gloves he had brought for the drop bag that we put together for me to use on the second 25K loop. I also put an extra hat, pickle juice shots, and hand warmers in the bag.
I met my friend Stephanie at the check in area and since we were both doing the 50K we chatted strategy. We were both wondering whether or not to put on a heavier jacket. I didn't want to be too warm and sweat too much, but at the same time, holy cow it was cold out there. I was wearing a tank bra, long sleeve tech shirt, fleecy base layer, and a windbreaker over that. Oh and fleece leggings, Smart Wool PhD socks, a fleece hat and a buff to cover my face. I looked around to see what other people were wearing, and it was all over the map. I asked someone in line for the porta potty what she would recommend, whether I should put on another jacket or not, and she asked what I was wearing. Then she suggested that I remove the tech shirt and I was like huh? I was talking about adding, not taking off.  I decided to save the heavier jacket for my drop bag since we'd probably be doing more walking the second loop.
I debated starting with Stephanie and Scott (another friend) but I couldn't feel my toes so I decided to go out hard for a bit and slow down later assuming they'd catch up.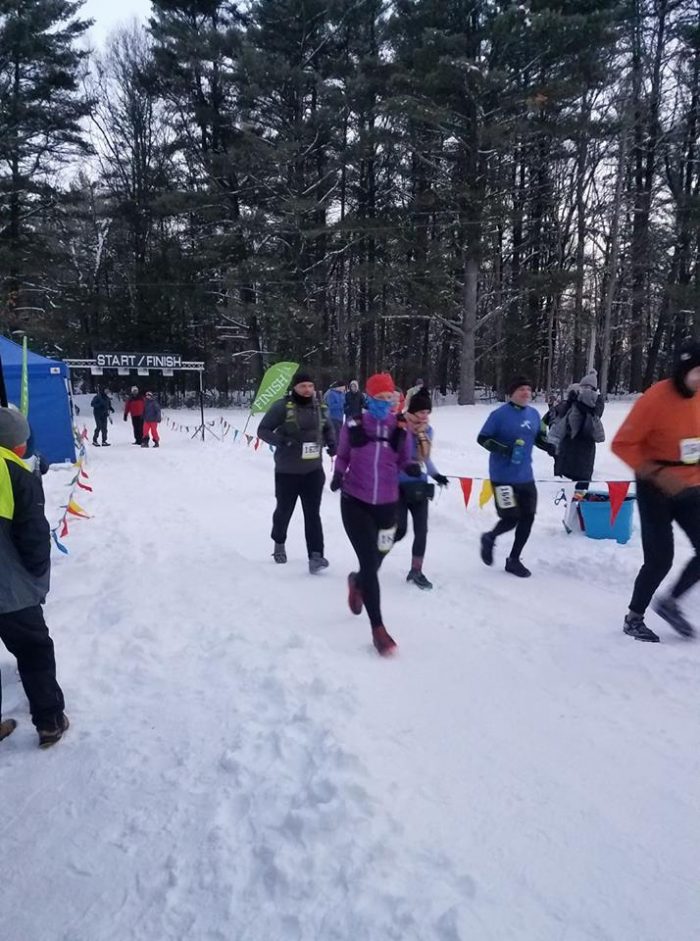 The strategy worked and soon enough my feet were toasty warm and I could feel my toes. I also developed icicles on my eyelashes which was kind of fun. When I got to the Devil's Soup Bowl I decided to take a selfie.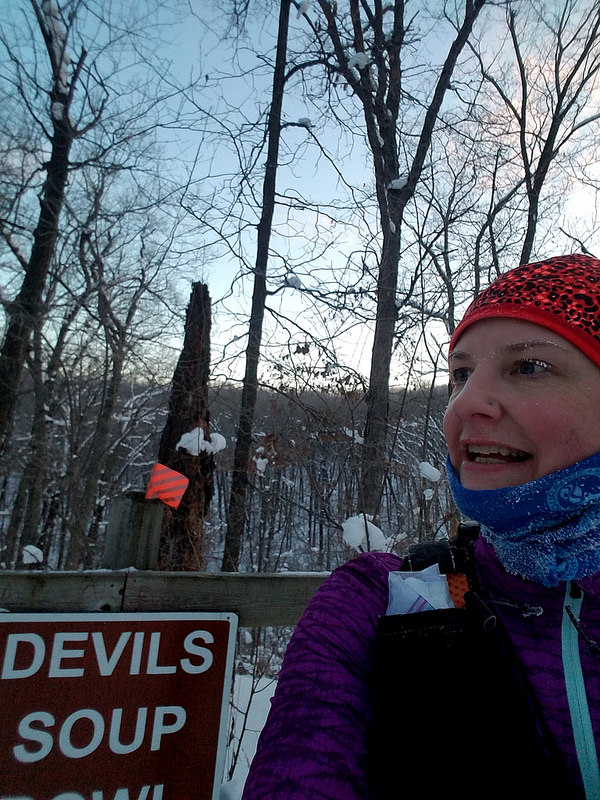 That's when Scott and Stephanie caught up to me and I decided that if I was going to get through today, I would need to stick with them. Otherwise I'd DNF or cut down to the 25K. I ran with Stephanie at The Mummy Marathon and I knew that we were a great match.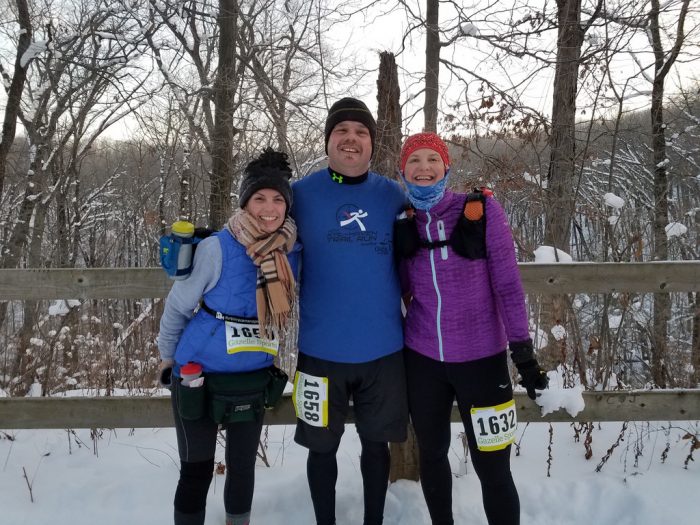 It was four miles to aid station #1, and on the way I discovered that the top of my water bottles had frozen. I was able to chip away at the top with the top of the lid. It was like an Infinit snow cone.
When we got to aid station #1, we were delighted to discover that they had chicken noodle soup! It was delicious. They also had hot water and Gatorade so we could thaw out our bottles somewhat. I grabbed some Oreos (the frozen bananas and olives did not look appealing) and we took off for the two mile loop that would take us back to this aid station. Along the way the soup quickly cooled. There had been some noodles stuck on the bottom of the cup. I took one out to eat and realized it was frozen! A few minutes later the noodles had frozen even more and they flew out of the cup as we were trotting along.
The next aid station (#3) was at mile 9.5 and that's where things started to get interesting. Up until then the snow had been pretty well hard packed. Not much traction so I was thankful for the screws in my shoes, but at least my feet stayed where I put them. Then it started to get a bit rough. The snow was loose and slippery. It was kind of like running on frozen sand dunes.
"No need for leg day!" said Stephanie.
"My legs are on fire," said Scott.
"Great cross training!" I said.
Somehow a week earlier when my friend Jamie said that she considers trail running strength training, I don't think this is what she had in mind. But my glutes, core, and every single leg muscle were working overtime.
DH, who was doing the 25K and had a later start time, came by and said "Sure am glad I'm not doing 50K in this $hit!"
We made it to the aid station (#3) and they had a pot of boiling water in which to thaw the tops of our water bottles, which was nice. Also various sweet and salty items. They said there would be grilled cheese and soup at the next aid station so we took off through the snow. I grabbed a few Oreos for the road.
On the way to the next aid station we were passed by several more of my friends who were doing the 25K. It was great because they were so encouraging and seeing a friendly face broke up the monotony of concentrating on trying to slug through the snowy trail and the fact that I couldn't feel my fingers or nose. I knew some of my friends were doing the 10K and that I probably wouldn't see them, but wondered how they were doing. It was a bit comforting knowing that so many of my friends would be able to relate to this crazy race!
Aid station #4 did have the grilled cheese, and oh my goodness, it was SO delicious. Warm, salty, just . . . wow.
The rough trail continued, and Stephanie said that she had never worked so hard to go so slow. We talked about what we would grab from our drop bags, and agreed to put on an extra coat and also take head lamps, because at the rate we were going we would probably need them. Right before we got to the last aid station/finish line, she said that she wanted to make this a quick aid station stop. I wondered if it was so we weren't tempted to drop to the 25K.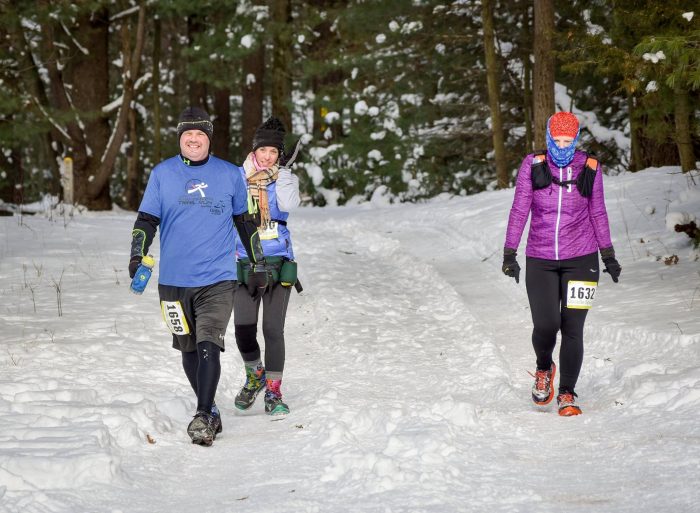 I grabbed some more hot water and took the items from the drop bag. I was really glad for the hand warmers because when we would stop to refill water bottles and eat they would be absolutely frozen when I took my gloves off and even after I put them back on it would take a long time for them to warm back up.
We were glad that we were once again on the hard packed trail. On the way to the aid station I wondered aloud how many people had dropped to the 25K from the 50K. Scott and Stephanie said that they both would have if we had not been running together. I said that I would have too, so it's a good thing no one said anything until we had started the second lap!
At aid station #1 I had to use the restroom, which was a good sign because I was really worried about dehydration. Since my water bottles would freeze in between aid stations I knew I was not getting nearly as much liquid nutrition in as usual. Some of my RunGR friends were volunteering at the aid station and they asked how I was doing, asked about Troy (DH) . . . it was a real encouragement.
On the way to aid station #3, or "climbing Mt Everest," as we called it, we saw a mountain biker and he pulled over to let us pass. "Thank you so much," we said. Now, you should know that there is a bit of tension between runners and bikers in the winter. The fat bikers pay to have trails groomed and hate when runners ruin the trails. But today, they seemed to put that aside and we were so grateful because we realized that their tires had made the terrain MUCH easier to run on. The snow was packed down. They had been asked to keep off the trails until around 2 or 3 PM when the majority of the 25K runners would be done. When we realized how much "easier" the trails would be we wanted to hug them.
When we reached aid station #3, we were feeling a bit down about being so late. My friend Michael was volunteering at the aid station, and he said, "On days like this, it becomes about you vs the course. Are you going to beat the course or is the course going to beat you?" From then on when we started slowing down, we would say, "We are going to BEAT this course."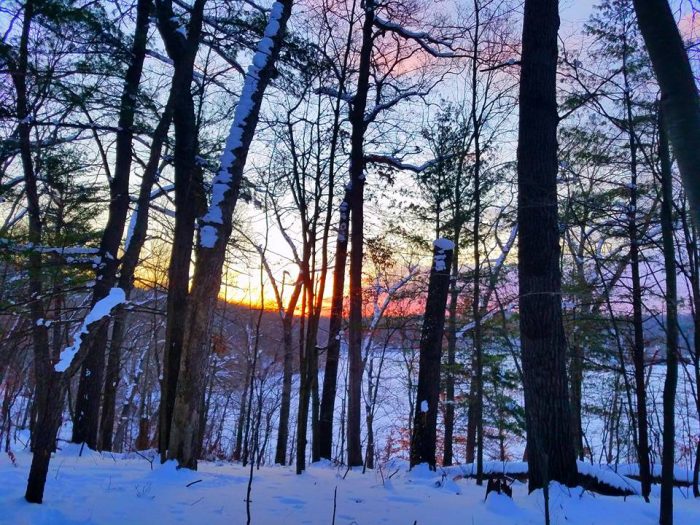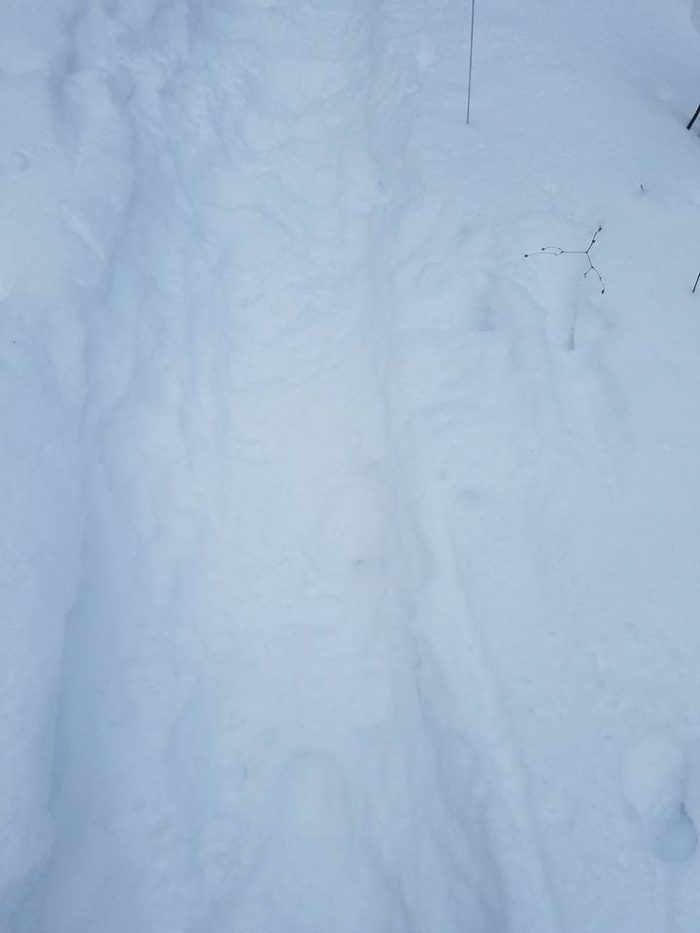 When we got to Aid Station #4 I put on my headlamp because it was DARK. The aid station volunteer had been in his car trying to warm up and he jumped out as soon as he saw us and asked if we wanted grilled cheese, soup, whatever. It was another reminder of how awesome these volunteers are. We were running through this cold weather, they were just standing there. It had to have been even colder for them. After filling up on soup and grilled cheese, we headed off for the last 2.5 miles. He asked if we had lights and we confirmed that we did. We turned them on. He said that there was one more 25K runner out there. We had passed two, so we wondered if the other one had decided to call it quits somewhere along the way. Honestly, we were so exhausted, that I wouldn't have thought twice about asking the nice aid station volunteer for a ride back. But we pressed on.
The head lamps helped tremendously, although it made it difficult to judge where we were. The trail was now off the mountain bike path so we were back to frozen sand dune texture. I developed a pain in the back of my leg just below the knee and at first I thought it was a cramp, but I think I pulled something from all the weird maneuvers I had to do to stay upright and climb the slippery hills. I started to wonder if I would make it. About a mile out we saw two headlamps coming behind us and heard Erika's voice. Yay! She said, "This is really hard!" and we all screamed and hugged. Efrain was with her and I was so impressed because I knew they were doing the 50 miler, which meant that they had been out there since 6 AM (it was now somewhere around 6 PM). They went on ahead and said they would see us soon with beer and chili!
It was just the extra bit of inspiration that I needed to keep going. And then a bit later, I saw a headlamp approaching us.
"You're killing me," said a familiar voice. It was DH! He had spent the past six hours drinking beer and had decided he wanted to go home, haha. "I came to bring you in." He was a great comic relief, saying stuff like, "I can't believe you guys ran in this $hit for so long." It really did take my mind off the pain in my leg and gave me hope that I would actually get through this day.
When we reached the final stretch, he started saying "hup, hup, come on, march it on to the end! Let's pick it up!"
I started making up marching rhymes, such as:
"I don't know what you've been told
but it's really f—– cold"
and
"I have learned a thing or three
don't run a race with Stephanie"
(This was in reference to the realization that every race I've done with Stephanie has turned out to have crazy conditions.)
I actually hugged the guy working the finish line. Scott, Stephanie, and I hugged. I told Stephanie not to cry because her tears would freeze to her face. We were so happy to be done!
I went to the lodge and my RunGR friends and trail friends surrounded me with congratulations, asking if they could get me beer or chili. I said I just wanted something to drink that wasn't frozen.
Turns out I placed 5th in my age group.
My first medal of the New Year, and I earned it with every step. Every finisher got a snow globe.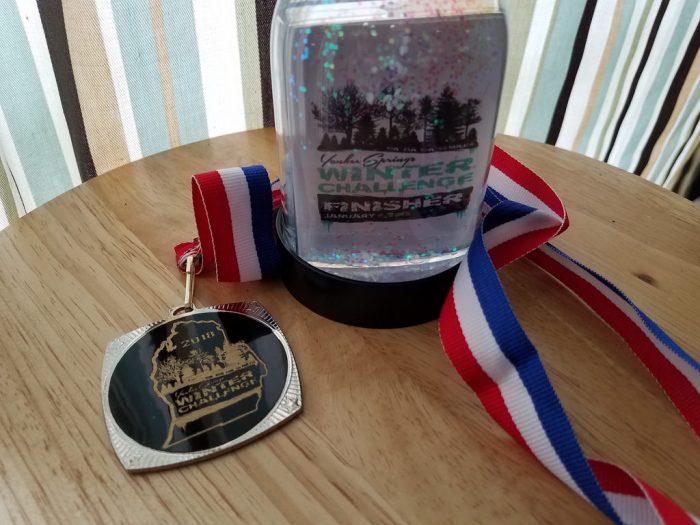 As I sat around the fire sipping hot chocolate, I felt a wave of gratitude come over me. As Scott had said earlier in the day, running is different from many sports. People are nice to each other. Especially with trail runners. I recalled how I had first started running and was at the back of the pack. Some of the fast runners were passing me on the out and back and called out, "Good job!"
I told my husband later that I was like, "What an asshole thing to say!" He assured me that no, they weren't being sarcastic, they actually meant it! Oops.
One of the volunteers at the Yankee Springs Winter Challenge put it this way:
With the folks you generally see in trail running, it's not about the competition with other people, you don't really see "it's me vs you" you see "it's us vs the course" People banded together to get through the tough sections, became friends, became each others crew, and decided they would get through this shitshow of a day together. That magic is why I spent my day outside drinking Phil Stapert's extra strength coffee and thawing out aid station food, with all the people and energy, it just didn't seem that cold. — Jake Blough
I know that I would for sure not have finished if I hadn't run with Scott and Stephanie. I'm reminded of the African proverb: "If you want to go fast, go alone. If you want to go far, go together."
Yesterday's race, crazy and cold as it was, truly reminded me of that truth.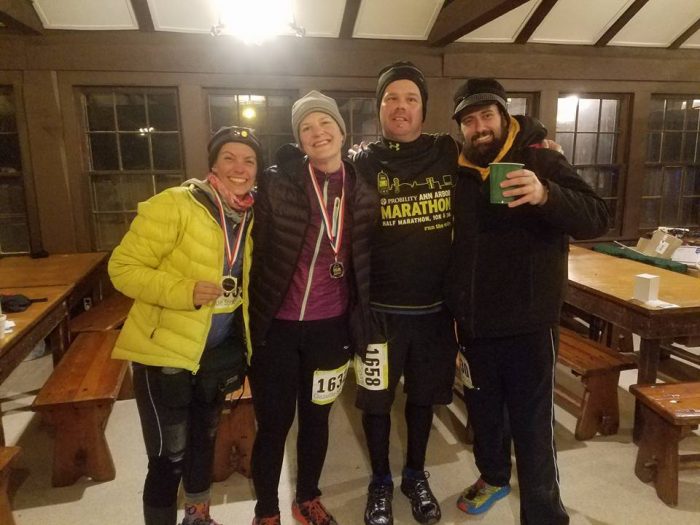 For more inspiration, check out Tuesdays on the Run