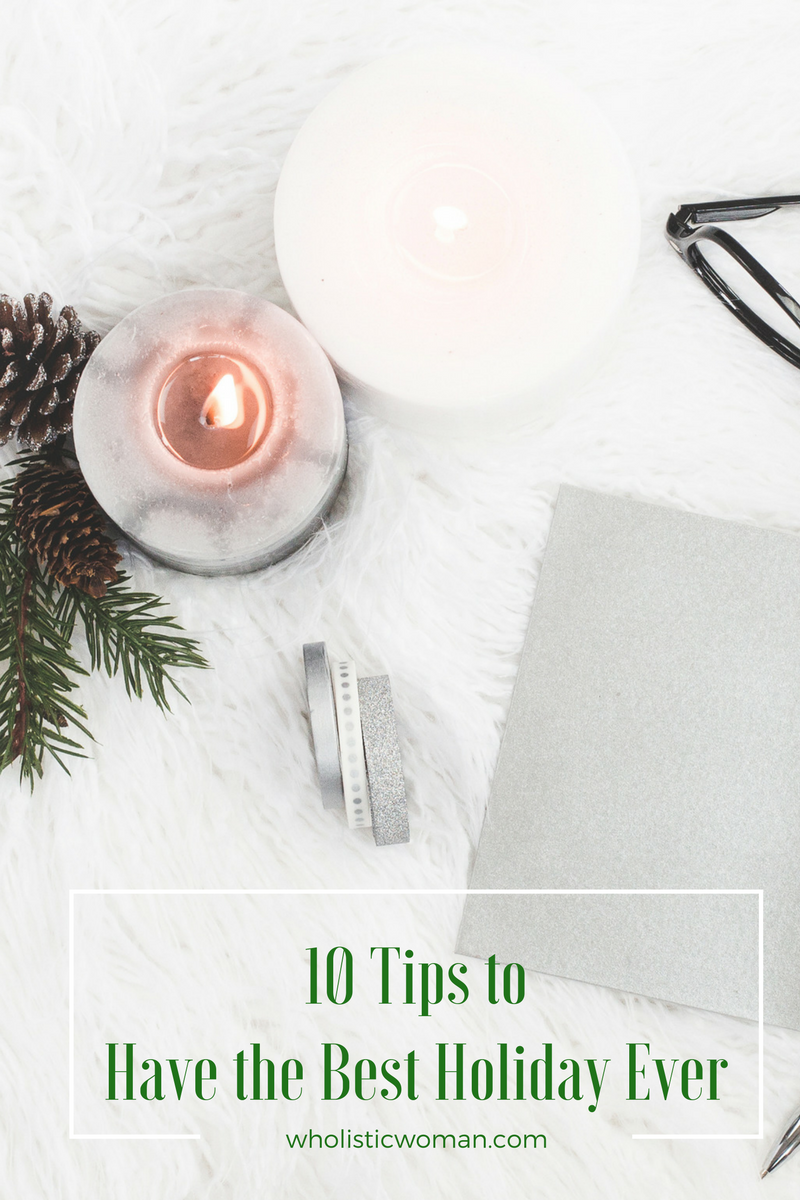 It's supposed to be a time of peace and joy, but it can sometimes seem like the season of consumerism, unrealistic expectations, and stress. And if you're trying to be healthy? UGH! If you're stressing about having the best holiday ever, take a deep breath and read the following 10 tips for having a great holiday season.
1. Forget about having the best holiday ever. 
It will never live up to the expectations that you see on TV. Never. Not even if you hire Martha Stewart as your personal assistant. But that's OK. Pick one or two things that are meaningful to you and your family. Focus on those. The rest can slide.
2. Remember that there really are starving kids in Africa.
I've seen them. My mom used to tell me to eat my dinner because "there are starving kids in Biafria." I thought she was mispronouncing Africa. Turns out there really used to be a country called Biafria. Remembering that we have so much in a world where so many have so little, helps keep things in perspective. Incorporate family giving (of time, talent, or treasure) to a favorite charity sometime during the holidays.
3. Alcohol. Lots and lots of alcohol.
DH and I discovered this one year when it occurred to us that since neither of our families are against drinking (well, except one of my sisters who married a Baptist, but she doesn't mind us drinking in front of them), why not bring a keg of his hard apple cider to the Christmas parties? It was a huge hit and took the edge off. Somehow we were able to not take certain unnamed family member's snarkiness so personally.
4. Make a list. Then, make the real list.
You can find TONS of checklists throughout the internet. You can also just sit down and write out everything that you want to do. Then, laugh out loud, give yourself a reality check by assigning realistic times to those items, bearing in mind that everything takes twice as long as you think it will and that you have to allow for last minute parties that always come up. Then, cut it in half. Prioritize.
5. You can't please everyone all the time.
A lot of stress around the holidays comes when you are trying to fit in too much family time on all the important days. One Christmas we found ourselves eating a dinner on Christmas Eve with DH's Dad, huge lunch with my family on Christmas day, and then later that same day driving an hour to have yet another large dinner. In addition to gaining a few pounds, we gained a new perspective–this was nuts! So now we still have Christmas Eve with his Dad, but alternate Christmas Day with my family and his mom. The family that doesn't "get" us on Christmas Day gets us on another day near Christmas. And that seems to work just fine. Yes there was pouting in the beginning, but we set our boundaries and stick to them.
6. Share the workload.
Potluck is a marvelous thing. In fact, I thought it was a normal way to split up the main meal until my husband was flabbergasted our first year together when I asked him what his mom would like me to bring for Thanksgiving dinner. Many hands make light work, and especially if you all live in the area, why not share the cooking? The host usually cooks the bird (for obvious reasons), but there's no reason others can't split up the side dishes.
7. Hire a cleaning service.
It might seem like a splurge, but chances are there are some people who could use the money a lot more than you could, and they just might be cleaning people. I have not done this yet, but every year I tell DH I'm going to. Suddenly he pitches in.
8. Respect different love languages.
If you've read about the 5 love languages, you know that everyone prefers to show and receive love in different ways. These include words of affirmation, touch, acts of service, gifts, and a couple more that I don't remember at the moment. I discovered right away that while DH and I have gifts at the very bottom of our list, it is very high on my mother-in-law's. So DH and I don't exchange presents, and back when we were still on speaking terms with my MIL I tried really hard to act appreciative when she insisted on an entire day of shopping right before Christmas and then proceeded to get additional gifts because she loves to see a huge pile of presents under the tree. I try very hard not to talk about consumer culture and environmentalism.
9. Don't overdo the decorations.
It leaves scars.  When DH was growing up, they had a Christmas tree in every room of the house. To this day, he refuses to put one up and really doesn't care if I decorate or not. So I usually put up a few small things and call it a day. If I had kids, it might be different, although my favorite tradition was decorating the tree with my parents. Even if my Dad wasn't home from work yet, we would save out "his" special ornaments to place on the tree until he arrived. Our house never did look like the Griswold's, and that was perfectly fine by me. If your  neighbors go overboard, you can always mention that it's much  more environmentally friendly to not use so much electricity.
10. Let leftovers be leftovers.
There will be all sorts of posts the day after Thanksgiving about what to do with leftovers. Rather than clip recipes and try to think of how to disguise turkey one more way, why not give yourself a break and eat them as . . . leftovers. If you really want some easy ideas, check out this post from last year, "In Defense of Leftovers." And if your family doesn't want to eat them, remind them that there are starving children in Africa.
What are some of your tips for having "the best Christmas ever?"