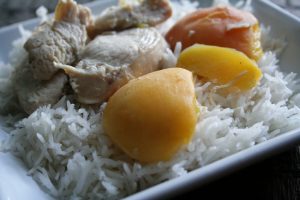 My first time cooking in three weeks, and since it was chicken, I knew DH wouldn't say "it would be great with chicken." I was floored when he said "it needs some greens."
This recipe is adapted from Simply in Season. I'll bet you thought I had given up on that book! Now that summer is here (with the produce I need for most of the remaining recipes) I should be able to get back to checking off the recipes. As is the norm these days I changed up some of the ingredients. For starters, I wasn't able to find apricots so I used peaches instead. So, without further ado, here is what I'm renaming
Peach Chicken
Ingredients:
4 peaches, ripe (sliced and pitted)
1 Tbsp butter
salt and pepper
4 chicken breasts
1 green onion (sliced)
1 pinch ginger
1/2 C water
2 Tbsp peach preserves
1/2 tsp grated lime zest
toasted almond slices (optional; I forgot and it tasted fine)
rice or couscous for serving
Directions:
Melt butter in a large frying pan. Add the peaches, cut side down, and cook over medium heat for 5 minutes. Meanwhile, cut the chicken into slices. Turn the peaches and let cook for a few more minutes. Remove to a plate.
Add the chicken to the frying pan. Sprinkle with salt and pepper. There should be enough leftover butter, but if you need to you can add olive oil if it starts to stick. Cook until most of the pink is gone.
Push the chicken to the outer sides of the pan and add the green onion and ginger; saute' a few minutes while you mix up the water, preserves, and lime zest. Add the preserve mixture to the pan and simmer for 10 minutes so the flavors blend. Make sure the chicken is cooked all the way through.
Serve over rice or couscous, topped with the almonds.
The Verdict: The flavor was AMAZING. Not too overpowering with peachy flavor but it added a nice sweetness that went well with the ginger and onion. When I was making it, I thought hmm, how odd that it doesn't have anything green in it. DH made the same observation, and while we were eating dinner we brainstormed. Perhaps we could have added bok choy? Or substituted the lime zest for some fresh lime basil (which I have growing in a pot outside and am not sure what to do with). Or I could have just made some sauteed kale to use as a side dish.