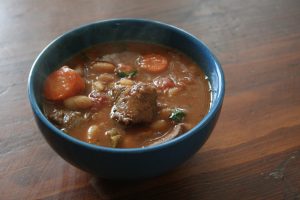 I've been enjoying reading Katie from Kitchen Stewardship's Everything Beans Book. When I saw this recipe for beef and bean stew, I knew that would be a perfect weekend recipe.
Beef and Bean Stew a la Tuscany
Source: The Everything Beans Book (affiliate link)
Ingredients: (or at least what I used)
2 tbsp olive oil
1 C dried mushrooms
1 large onion (chopped)
3-4 cloves garlic (minced)
3 lb venison roast (cut into 1-2″ chunks)
3 C bean broth
3 Tbsp tomato paste
1 15-oz can diced tomatoes (I used Italian spiced)
4 C cooked white beans
3-5 carrots, sliced
3 C green beans (I had some frozen from last summer in my freezer just waiting to be used up!)
dash of salt, pepper, and Italian seasonings
fresh chopped parsley
Directions:
Saute' the onion in the bottom of  large soup pot until soft; add garlic; then add the beef and brown well.
Add everything else except the parsley; bring to a boil and then lower heat to a simmer, cover, and let stew for 2 hours (or use a crock pot for 4 hours on high or 8 hours on low).
Just before serving, sprinkle in the chopped parsley. Top with freshly grated Parmesan cheese.
The Verdict: I LOVED this stew! DH loved it too. The broth was extremely rich, not sure if it was because I used the bean water or because of the dried mushrooms.
This post shared at I'm Lovin' It, Fight Back Friday, Food on Fridays, Friday Potluck, Foodie Friday , Grocery Cart Challenge and Monday Mania