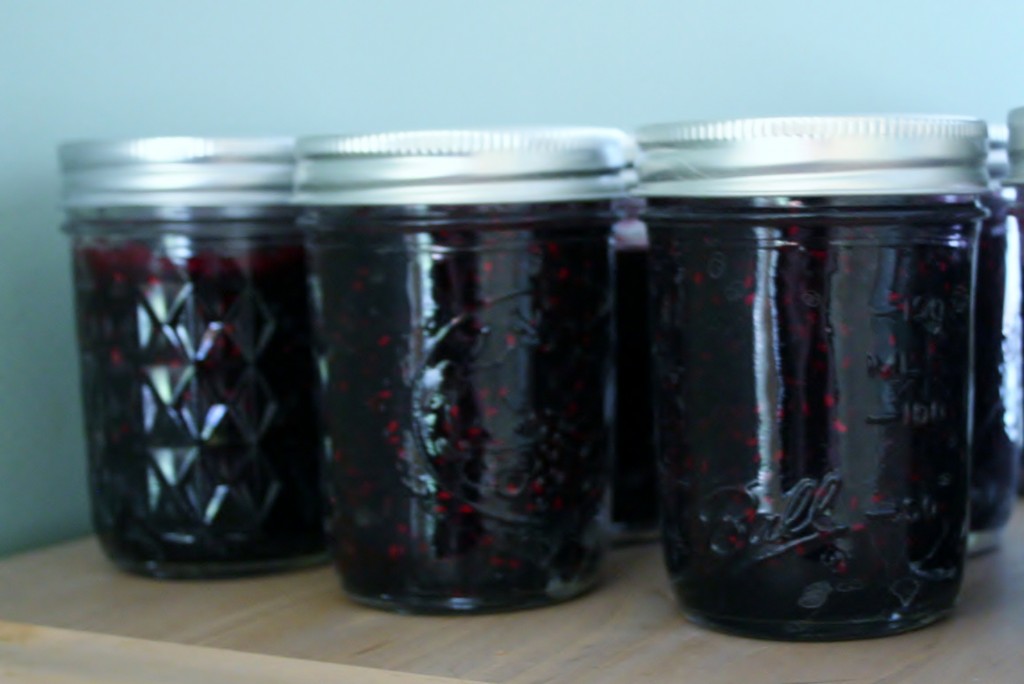 DH doesn't like jam, but this recipe was in Simply in Season so I had to make it. I'm glad I did! Blueberry Raspberry Jam is summer in a jar.
FOR PRINTABLE VERSION CLICK HERE: Blueberry Raspberry Jam
Source: Simply in Season
4 cups fresh blueberries
4 cups fresh raspberries
2 Tbs lemon juice
2 Tbs water
1.75 ounces pectin
5 1/2 cups sugar
1. Rinse berries and remove stems.
2. Combine berries, lemon juice, water, and pectin in a soup pot. Place over high heat and bring to a hard boil (continues boiling when stirred), stirring often.
3. Add sugar and stir constantly until mixture returns to a boil. Boil for exactly1 minute. Ladle the jam into hot, sterile jars to within 1/4 inch of top. Seal with sterilized lids and process in a boiling water bath for 10 minutes.
Servings: 80
Yield: 10 half pints
Nutrition Facts
Serving size: 1/80 of a recipe (1 ounces).
Percent daily values based on the Reference Daily Intake (RDI) for a 2000 calorie diet.
Nutrition information calculated from recipe ingredients.
Amount Per Serving
Calories 62.65
Calories From Fat (1%) 0.55
% Daily Value
Total Fat 0.07g <1%
Saturated Fat 0g 0%
Cholesterol 0mg 0%
Sodium 1.39mg <1%
Potassium 15.66mg <1%
Total Carbohydrates 16.13g 5%
Fiber 0.63g 3%
Sugar 14.74g
Protein 0.13g <1%
Recipe Type: Canning
The Verdict: I almost didn't get to make this recipe until next year; blueberry season was really short this year in Michigan. I managed to snag some though and made this recipe. In the past I thought that blueberry jam was too sweet, bland. This is the perfect mix of tart and sweet. Plus I really like the raspberry seeds–makes it seem authentic. Oh wait, it is! Between this and the strawberry freezer jam I made earlier this summer, I should be all set.
This post shared at Seasonal Sunday, Homemaker Monday, Mingle Monday, Mmmm Dessert, Made by You Monday, Tip Me Tuesday