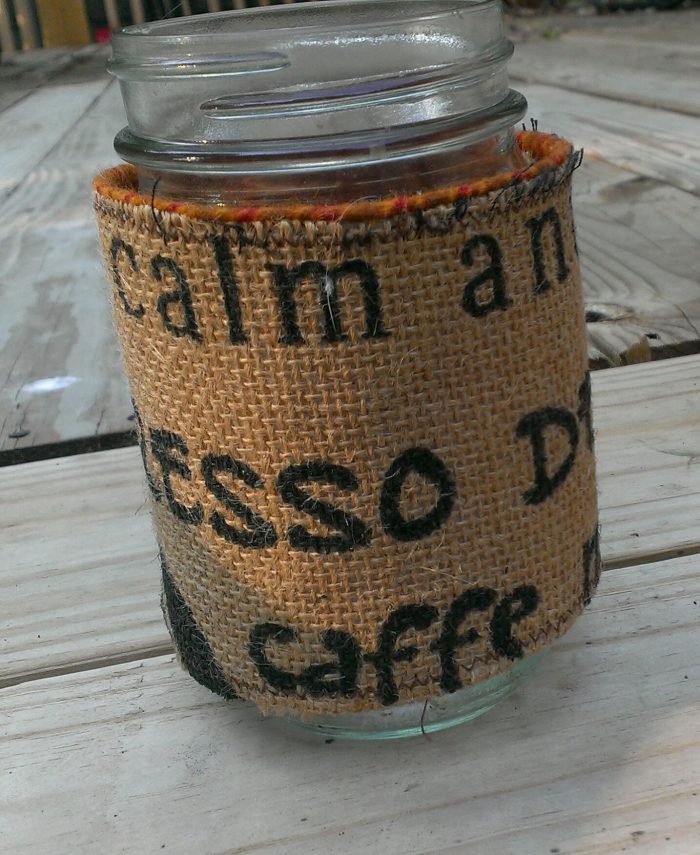 Now I remember why "5 minute sewing projects" take me all afternoon.
I went to a quilt show with my mom last weekend, so I had some fabric to play with. I decided to make this mason jar cozy that I pinned more than a year ago. I bought some coffee fabric especially for this project, because I like to put my homemade iced coffee protein drink in a quart jar, and in the summer it sweats quite a bit (from the condensation).
Note: If you just want the tutorial, click on the link above. She does a great job! But if you want to see what sewing projects look like at my house, keep reading.
So yesterday I took the day off so I could clean the house, work on the garden and go for a run and get my craft on. Of course, I went to my Pinterest board and went through all the mason jar cozy pins, just to make sure this was really the one I wanted to make. Then I did a Google search to see if there were any other ideas out there that I hadn't found yet. I came back to the original pin and took a look at the directions. Fusible fleece? Hmm, what's that? I went through my stash and found some high loft fusible fleece (I think I was going to make this project last summer. Oops.) Score! But then I was wondering what else I had in my stash, so I found myself going through a pile of well labeled fusibles, batting, and whatnot. While I was doing that, I came across some fabulous coffee themed burlap that I had forgotten about. I decided to use that as one of my fabrics instead of the one I had purchased. Back to the computer to make sure I could actually sew with burlap.
I sat down and was led astray searching for other coffee related projects since I now had coffee fabric I wouldn't be using for the cozy. A Keurig coffee cover perhaps? Oh wait, wouldn't it be more green to use burlap from the basmati rice bag that I saved? Where is that, anyway? Maybe if this turns out I will dig it up. FOCUS! I finally found a great post about sewing with burlap and I decided to go ahead and give it a go.
I gathered all the supplies and sat down with my Chromebook open to the tutorial. Hmm. It was written for a pint jar, and I need one for a quart jar. I decided to wing it, not being able to find my rulers or measuring tape. I ended up using a ribbon and a magazine to measure it out. I cut kind of wonky, so it was disappointing not being able to find my rotary cutter.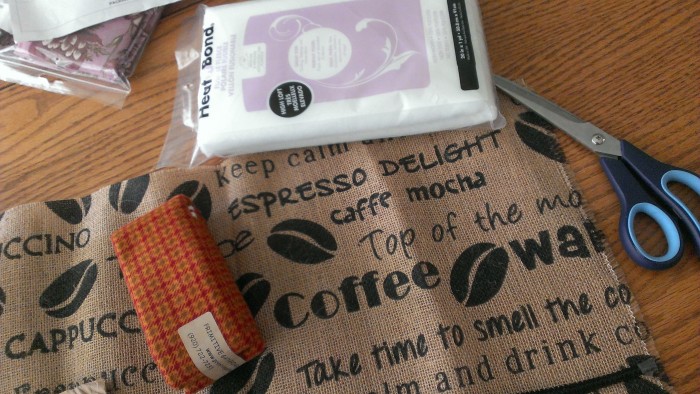 I fused the burlap to the fleece, then sewed the coordinating fabric wrong sides together using a zigzag stitch. 3/4 of the way through my bobbin ran out of thread. I decided to test it and flipped it right side out, only to realize that zigzag was not a great way to make smooth seams. So I ripped it all out, during which the burlap started to shred. Oops. I reloaded the bobbin and re-sewed it using a straight stitch this time. It turned out much better, except that there was a spot where the burlap had shredded beyond the fusible, making a spot that wasn't quite attached. I fixed it as best I could when I did the top stitching.
I went to wrap the cozy around the jar to see where I needed to sew the velcro. Aaaaaaack! What's that they say?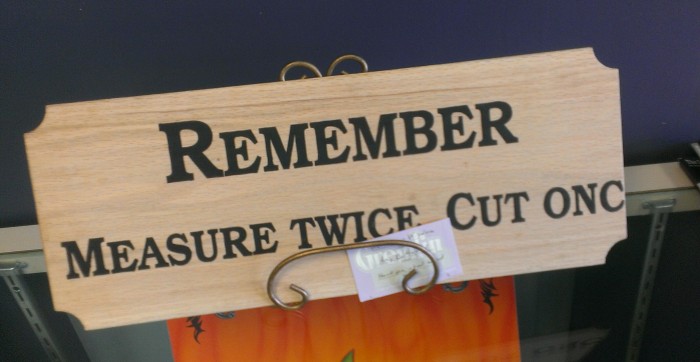 Turns out I'd made a pint jar cozy after all.
I briefly considered digging out my old espresso machine that lives somewhere in the basement, along with my sewing books. I decided something stronger was in order.
Overall, it looks shabby (chic!). I learned something. It is never going to turn out as nice as it does in the craft blog tutorials. Well, maybe for you, but I am going to be content with a lop sided cozy that looks like a fourth grader did it. Because you know what? If I wanted it perfect, I'd buy it from the store ;-)~
How about you? Are you a Martha Stewart or a Martha Mishap? Share your stories in the comments below!
This post shared at Made by you Monday