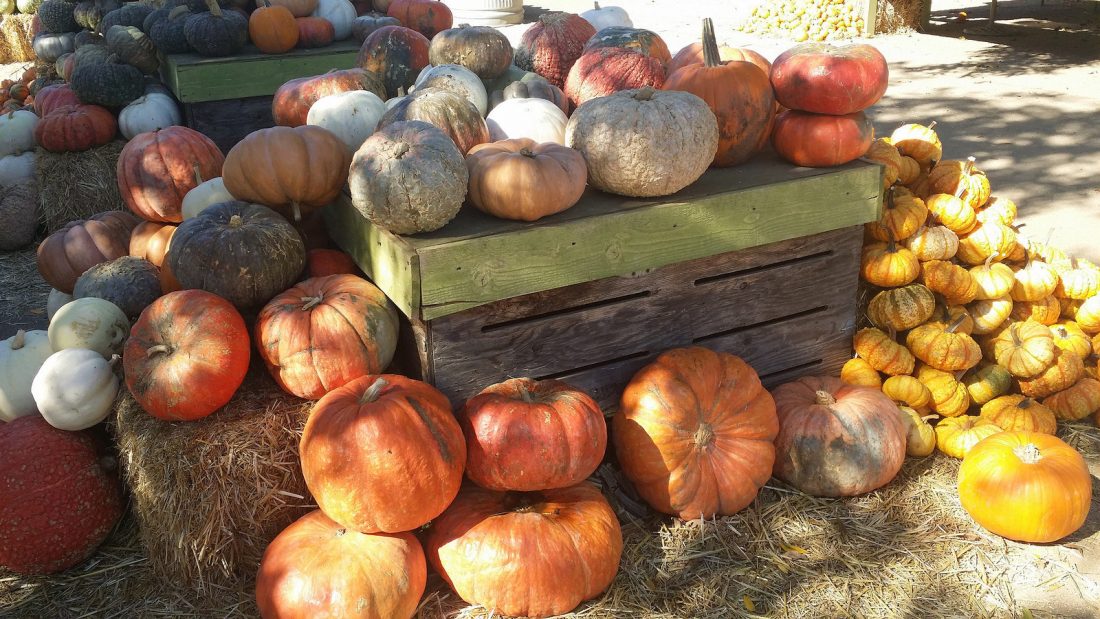 Delicata, butternut, acorn . . . these are just a few of the squash I've been receiving in my CSA from Groundswell Community Farm the past few weeks.
Recently a friend posted an article on Facebook that talked about how there really aren't "pumpkins" in your canned pumpkin.
According to Epicurious, "Libby's Pure Pumpkin—the quintessential American canned pumpkin brand—is responsible for 85% of canned pumpkin sold in the world. When we think of a pumpkin, we usually imagine either the rotund, bright orange specimen that we buy up at Halloween to carve into a jack-o-lantern—which, while edible, isn't good for cooking—or its smaller, tastier cousin, the sugar pumpkin. But instead of those pumpkin varieties, Libby's grows a proprietary strain of tan-skinned Dickinson squash. And although Libby's does refer to its fruit as "pumpkin," in appearance, taste, and texture (not to mention species) it more closely resembles squash. In fact, its closest high-profile relative is butternut squash."
I don't know about you, but that fact that the pumpkin used in canned pumpkin is a different strain of winter squash doesn't bother me a bit! However, it is super easy to make your own puree. I love to cook squash in the slow cooker. It only takes a few hours on low and it's much easier to cut after cooking.
There are so many types (Groundswell grows 16 varieties of winter squash and three kinds of pumpkin!). If you find one you like and aren't sure what it's called, check out this visual guide from Epicurious.
Why squash?
According to MSU, squash are super healthy!
Squash are in the Cucurbitaceae family, which includes cucumbers, melons, pumpkins and gourds.

Almost every part of the squash plant is edible, including the leaves, tendril shoots, stems, flowers, seeds and fruit.

Squash comes from the Narragansett Indian word "askutasquash," translated roughly to "eaten raw or uncooked."

Squash is a good source of minerals, carotenes and vitamin A, with moderate quantities of vitamins B and C.

Winter squash provides the greatest percentage of certain carotenoids.

Winter squash has shown potential in cancer prevention.
How to store
If you find yourself with more squash than you can eat at once, you can easily store them for later. According to gardeningknowhow.com, keeping winter squash in a temperature of 50 to 55 F. (10-13 C.) is the optimum range for most squash. Good ventilation is also necessary.
The length of time the fruit will keep varies by variety.
How to eat
Looking for squash inspiration? Here are some of my favorite winter squash recipes.
Where to buy
Real Simple lists winter squash as one of the top 10 organic foods that are worth the money. If you're in West Michigan, consider supporting our sponsor, Groundswell Community Farm CSA.
If you want to make sure you have a nice variety of root vegetables this winter, consider joining the Groundswell Community Farm winter CSA! Katie says,
Sign up HERE for our popular Winter CSA.  Winter CSA gives you 7 extra weeks of veggies from November 1 & 2 until December 13 & 14.  Sign up early–unlike our summer CSA, the winter shares almost always sell out!
Holland, Tuesdays from 5 – 6pm at Baker Lofts, 217 E. 24th ST, Holland Mi 49423 .  Use the S. entrance on 24th St. between Columbia and Lincoln by the event center.

Grand Rapids – Wednesdays, 5-6pm @ Baxter Community Center, 935 Baxter St SE, Grand Rapids, MI 49506   Please park in the lot north of Baxter St, then walk across the street to the greenhouse.
Winter CSA is a festival of root crops (potatoes, carrots, beets, parsnips, celeriac, onions, garlic, leeks), cooking greens (kale and chard) and a good dose of salad fixings (spinach, lettuce, salad greens, radishes, herbs) and some other goodies like winter squash & Brussels' sprouts.