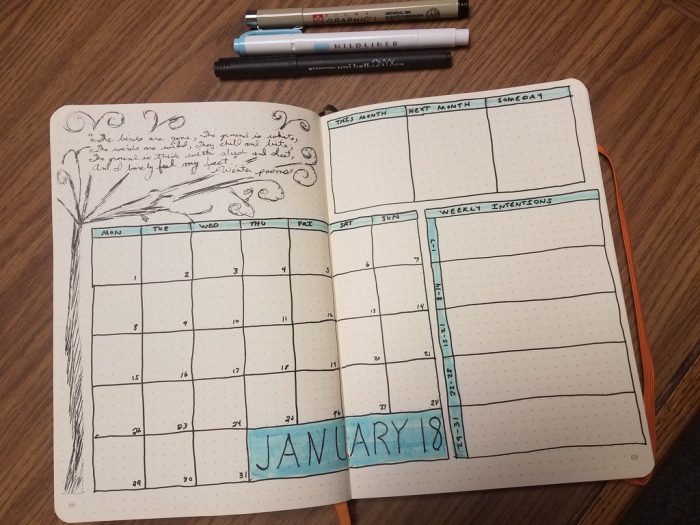 I've been adding a bit more whimsy to my planner, with monthly themes. I've always loved to cook with the seasons and want to celebrate them in other ways, too.
That's why I'm excited to partner with viral holiday website National Today to share the ultimate 2018 holiday celebration calendar. Below, you'll find some of my favorite holidays in each month throughout the year — so you can plan ahead to join the party!
Whether you are a blogger or social media maven looking for inspiration, curious about all the days you hear about, or looking for an excuse to indulge, National Today gives some fun holiday history, facts, and helpful deals to help you celebrate in style.
Here are some of my favorite holidays in the year ahead. Remember to mark these holidays on your calendar, and cheers to a 2018 full of celebration!
Celebration of Life Day (January 22)
Celebration of Life Day is a great excuse to make a list of everything in our lives worth celebrating!
National Chocolate Cake Day (Jan. 27)
Because who doesn't love an excuse to eat chocolate cake?
Chinese New Year (Jan. 28)
Another chance to choose more realistic New Year's intentions.
National Pizza Day (Feb. 9)
Link holiday name to: https://nationaltoday.com/national-pizza-day/
Pineapples on pizza, yes or no? The debate rages on. (I'm team pineapple, DH not so much)
Valentine's Day (Feb. 14)
Link holiday name to: https://nationaltoday.com/valentines-day/
Let's be real, isn't all of February pretty much Valentine's Day?
Singles Awareness Day (February 15)
For those loud and proud independent ladies and gents.
National Pancake Day (Mar. 7)
I love pancakes! Here is a post I wrote with some of my favorite pancake and waffle recipes.
International Women's Day (Mar. 8)
Did you know that women are most affected by poverty?
National Day of Unplugging (March 8)
Because who doesn't need to unplug?
These are the worst days in April (April Fool's, they're the best).
National Beer Day (Apr. 7)
I'm so hoppy we get to celebrate this day.
National Sibling Day (Apr. 10)
Love or hate them, you're stuck with them! (My sisters are pretty awesome if I do say so myself)
Earth Day (Apr. 22)
I'm going to be hugging plenty of trees today.
Arbor Day (Apr. 28)
If you missed Earth Day, here's another opportunity to connect with Mother Nature!
May Day (May 1)
In this case, not a phrase of doom, but a joyous celebration!
Cinco de Mayo (May 5)
Celebrate, but don't appropriate.
Mother's Day (May 14)
Consider this your official reminder to call your mother.
Memorial Day (May 29)
Did I hear the word barbecue?
National Best Friends Day (Jun. 8)
Now that "bestie-moons" are a thing, I know exactly what I'm doing to celebrate.
Father's Day (Jun. 18)
I'm looking forward to all the dad jokes today.
Summer Solstice (Jun. 20 and 21)
Spend a long day outside with friends!
National Kissing Day (Jun. 24)
Who will you be kissing today?
Independence Day (Jul. 4)
If you didn't get a barbecue on Memorial Day, here's your chance.
National Ice Cream Day (Jul. 16)
We all scream for ice cream!
National Cheesecake Day (Jul. 30)
Do it for the grahm.
International Beer Day (Aug. 4)
Do you like dark or light beers?
National Friendship Day (Aug. 7)
We're so lucky to celebrate all types of relationships in August — not just significant others.
National Dog Day (Aug. 26)
You officially have permission to show your friends 25 dog pics in a row.
This month truly contains the most important day of the year: National Coffee Day. Bless the three cups a day that keep me running!
Labor Day (Sept. 4)
Find out some of the most exciting activities to fill your day off!
Fall Equinox (Sept. 22)
Give thanks for the longest day of the year, and get your sweaters ready as the days start getting shorter.
National Coffee Day (Sept. 29)
Link holiday name to: https://nationaltoday.com/national-coffee-day/
Ah, the nectar of life — the wonderful liquid that keeps America sane.
Columbus Day (Oct. 9)
Also called Indigenous Peoples' Day.
Boss's Day (Oct. 16)
We spend every day with them, but have you stopped to think about what makes them so special?
Sweetest Day (Oct. 21)
Learn about this little known candy holiday, and spread the celebration beyond the Midwest.
Halloween (Oct. 31)
Trick or treat, smell my feet!
Veteran's Day (Nov. 11)
On Veteran's Day, we commemorate those brave soldiers who fought for our freedom.
Thanksgiving (Nov. 23)
Do you actually know how this classic holiday started? Its origins might surprise you.
Small Business Saturday (November 24)
Let's here it for local!
Cyber Monday (Nov. 27)
If shopping in stores stresses you out, shop without pants on with some of National Today's featured promotions.
Giving Tuesday (Nov. 28)
This little known holiday encourages people to give to their favorite charities.
It might be the end of the year, but you can still fit in lots more holiday celebration before the New Year!
Winter Solstice (Dec. 21)
Link holiday name to: https://nationaltoday.com/winter-solstice/
Did you know Winter Solstice is the shortest day of the year?
Festivus (Dec. 23)
Link holiday name to: https://nationaltoday.com/festivus/
It all started with a Seinfeld quote — "A Festivus for the rest of us!"
Christmas (Dec. 25)
Link holiday name to: https://nationaltoday.com/christmas/
One of America's most treasured holidays, you'll find ideas to make the celebration even more special here.
New Year's Eve (Dec. 31)
Link holiday name to: https://nationaltoday.com/new-years-eve/
Which sparkly outfit will you wear to celebrate?
What is your favorite holiday? How do you add an element of celebration every day?