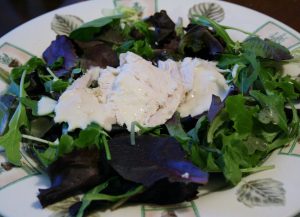 You might be wondering what I did with the no-poach poached chicken yesterday; wonder no more!
This is heavily adapted from the book Salad as a Meal by Patricia Wells. See, it was supposed to be a Chicken Salad with Green Beans, Tahini-Lemon-Yogurt Dressing, and Cilantro. Except I forgot to thaw the green beans, and by the time the chicken was done I didn't feel like dealing with it. So I just put the chicken on some greens and made the dressing.
Ingredients:
2 cloves garlic, halved
1/4 C tahini
1/2 C plain yogurt
2 Tbsp lemon juice
1/2 tsp salt
Directions:
Mince garlic in food processor or blender.
Add remaining ingredients and puree to blend. Taste for seasoning.
Use immediately or keeps in the refrigerator for up to 1 week.
The Verdict: It really could have used the cilantro, because I found it rather bland. Not offensive at all, just . . . could have used more. Then again, DH and I are flavor fiends. But it has potential. Will experiment more with this recipe when the salad greens from the CSA start coming in thick and fast.
This post shared with I'm Lovin' It, Finer Things Friday, Frugal Friday, Fight Back Friday, Friday Potluck, Grocery Cart Challenge, Ultimate Recipe Swap