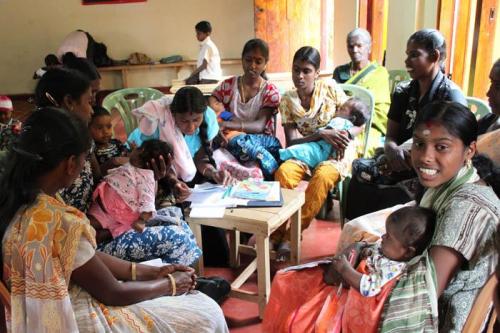 As you'll recall, as part of my goal to raise awareness about global poverty on this blog, I've decided to use this space to promote the 58: Global Impact Tour. This month focuses on Compassion International's child survival programming in Sri Lanka.
Compassion International was allowed into Sri Lanka in 2010 and has since seen its Child Survival Program (CSP) grow to 19 projects around the country, helping 700 mother-child pairs with a range of issues related to child survival. The CSP program provides healthcare to pregnant mothers and mothers of infants, training them in proper nutrition and food preparation. The CSP program also teaches mothers income generating skills, so that they will be better equipped to support their families. In the tea plantations, literacy and education, especially regarding health and nutrition, are especially rare. The Child Survival program works to provide mothers with this key education, so that their families are happy, healthy and able to be self-sustaining.
To learn how you can make a difference, visit http://my.live58.org/tour today to join the global fast.
Disclosure: This post has not been compensated in any way, however I do work for one of the organizations that is part of this initiative.