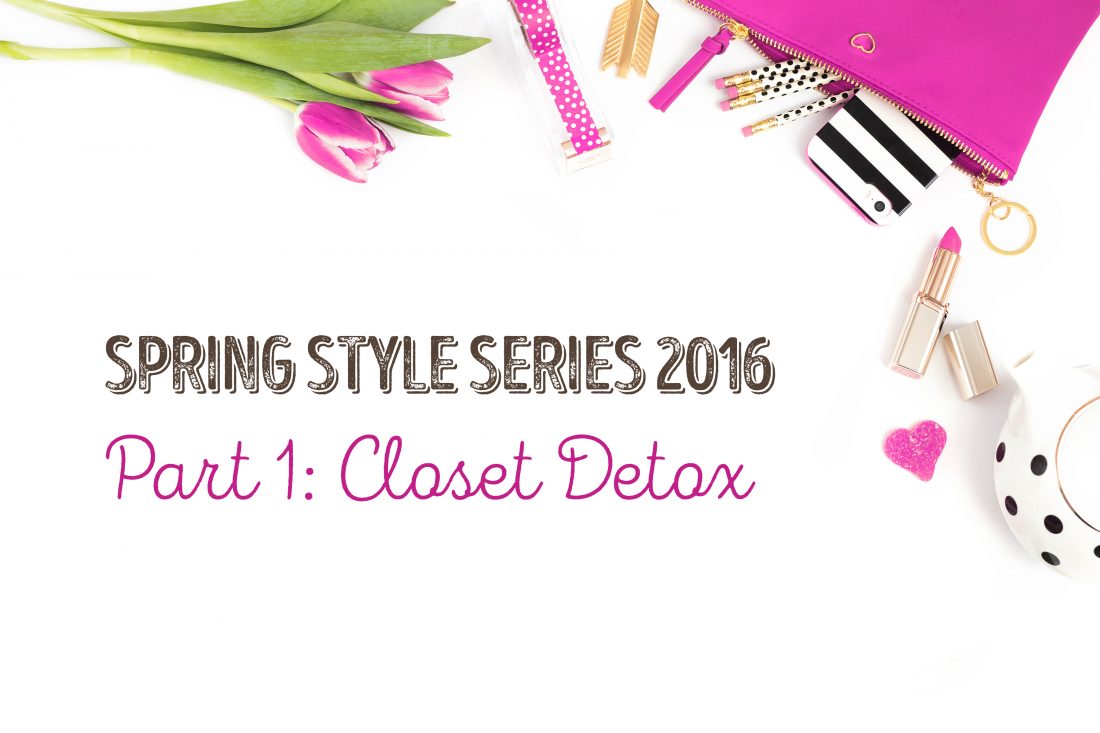 Hello and welcome to Fashion Friday, a new feature I'll be sharing over the next few weeks. I'm not a "fashion blogger" per se, but I do love to express myself creatively through clothing, fashion, and style. I find myself doing a lot of research and thought I'd put my findings out there so you don't have to Google it yourself.
Here in West Michigan we keep getting teased by the weather. One day it's snowing and single digits, the next it's 50 degrees and everyone is wearing shorts. In anticipation of warmer weather ahead, it's time to get those closets in condition for spring!
Rather than rush out and buy all those fun styles in the stores, it's important to first do a closet detox. That way you can start fresh and know what you already have. It's best if you can catch up on laundry and do this project over a weekend when you have time to do it all at once.
Step 1: Dig out any items you put away last fall
If you put anything in storage last fall, now is the time to dig them out and give them some fresh air. For me this includes strappy sandals, summery fabrics, light jackets, and sundresses. For now we are going to focus on clothes, but don't worry–we'll get to shoes and accessories in future posts!
If they are wrinkly from being in storage, go ahead and give them a wash so they get a fair chance. Then, pick each one up individually and ask yourself
does it fit?
is there obvious sign of wear and tear?
do I want to wear this when the weather gets warmer?
If it fits and is in good condition and you love it, go ahead and put it back in the closet. If something is no longer your style, or doesn't fit any more, thank it for its service and donate it. Better to have only items you love taking up room in your closet!
Step 2: Assess current wardrobe
Now is the time to take a hard look at what is currently in your closet. You will want to ask yourself the same questions as in step 1. This can be hard because we gain or lose weight, but might not notice if something is now too loose or tight. The toes on a favorite pair of boots might only be somewhat worn. But this is the time to put it out of its misery. Have it repaired or cleaned, or discard it. Spring is a time for fresh starts!
Step 3: Clean the closet itself
Dust off those shelves, wipe down the walls. Refresh any sachets. Get rid of any bent or ugly hangers.
Step 4: Put away the clothes you will use in the upcoming season
Pack away anything you won't be wearing this spring/summer. For example my Uggs wool peacoats are definitely not fit for spring. Anything you WILL be using in the upcoming season put away neatly in your closet. Begin to think about what you might need, what holes might need to be filled. But we are not shopping yet. Congratulate yourself on detoxing your closet!
For some additional reading on closet detoxing, and some teasers about upcoming spring fashion trends, check out my Pinterest board!
Follow Wendy Hammond's board Spring Wardrobe Tips 2016 on Pinterest.