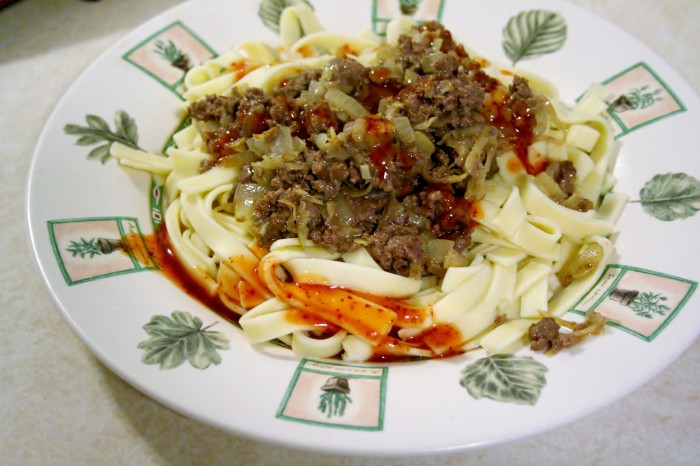 I'm always looking for ground beef recipes, and I came across a recipe for samosas. As I said on my Facebook page yesterday, I think that "deconstructed samosas" sounds much nicer than "spiced hamburger that I was too lazy to stuff into little homemade dough packets and cook separately so I'm serving it over noodles," don't you?
I love real samosas. I've had them in India, Africa, and of course at many potlucks and restaurants. I really liked the spices used to make the hamburger mixture, so I decided to give it a go. Now, if you want to be more authentic, rather than serving these over noodles you would make a dough and form little triangles and fry them separately. Which is great for appetizers or company but not so practical for a quick weeknight meal.
Now, when I get samosas in a restaurant, I love trying different dipping sauces. Wouldn't you know it, I happened to have some Thai Sweet Chili with Kaffir Lime Dipping Sauce from World Foods on hand. So I sprinkled it on top of the finished dish and it set off the spices beautifully.
Adapted from Extending the Table: A World Community Cookbook
Ingredients
2 onions, finely chopped
1 lb ground beef (can also use ground venison)
1/2 tsp salt
1/4 tsp pepper
1 tsp ground ginger
1/2 tsp ground coriander
1 tsp ground cumin
1 tsp curry powder
1 medium potato, grated
1/2 tsp ground cardamom
sprinkle of red pepper chili flakes
noodles
Instructions
Prepare noodles according to package directions.
Mix all ingredients in a large frying pan.
Cook until the beef is cooked through.
Serve over noodles and serve with dipping sauce.
https://www.wholisticwoman.com/deconstructed-samosas/
Now, don't be alarmed at the number of spices. Before you get going, take a small bowl and measure everything out ahead of time and you'll be fine.
The Verdict: DH and I LOVED this, and the Thai Sweet Chili with Kaffir Lime Dipping Sauce wasn't nearly as spicy as it smelled. I liked the sweetness it added to the other spices that were in the hamburger mixture.
Disclosure: I received a free sample of the dipping sauce from World Foods as part of the Fusion Taste Team. All opinions are 100% my own.
This post shared at Frugal Friday