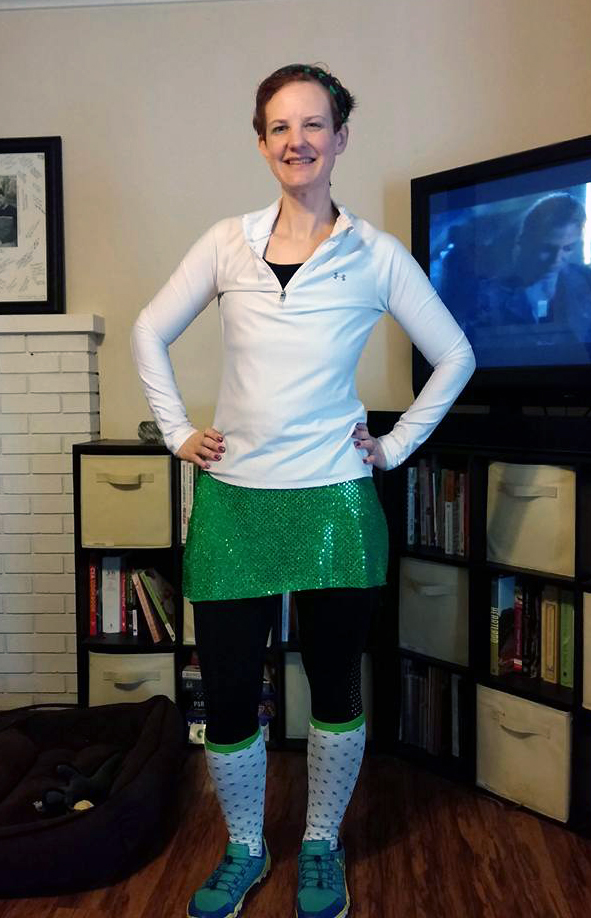 Today's #AddJoy challenge: Find and wear something sparkly!
In just a couple of weeks I'll be running the Irish Jig 5K. I am hoping to come in under 30 minutes. This will be a stretch for me but I think it's doable. I'm also looking forward to dressing up a little bit. I saw some awesome (but spendy) St. Patrick's Day themed running gear online, but I decided to do a little DIY version instead so I can spend more money on other races.
Google turned up a few sparkly skirt tutorials here and here, but I decided it was too much measuring and did my own thing based on skirts I've made before. Since I travel to developing countries for my work and occasionally need to have floor-length skirts, I've learned to make a simple A line skirt fairly quickly.
What you'll need:
a yard or so of fabric of your choice. The sparkly fabric is fun and quite popular.
enough elastic to go around your waist
sewing machine, thread
How I did it:
First, I took my elastic and snugly wrapped it around my waist, adding an inch for overlap. I cut it to size.
Then, I folded my fabric in half with the selvage on top (that's the part that doesn't have the sparkles on it.)
I folded the elastic in half and placed that on top.
Using a yardstick, I eyeballed an A line shape. The farther out you go, the more flowy the bottom. You'll want to be sure you make the skirt long enough – it's easier to cut off if you make it too long than to add more if you make it too short 😉
Sew the sides, wrong sides out.
Fold the top of the waistband down far enough so that it makes a little channel big enough to fit the elastic in.  Then sew the channel. Rather than reinvent the wheel, check out this elastic waistband tutorial.
Voila!
I decided to dress it up a little with some lucky clover socks from Amazon and a bandanna from the fabric store. I can't wait to have fun at the 5K!
So, how has my training been going? Not spectacularly awesome. Last week was that time of month when I just felt blah, no energy, and yuck. However, I did manage to get in a two mile speedwork session with the treadmill, 3 miles on the track, and 11.5 miles outside on Saturday.
I managed to do a 5K PR during the long run somehow, even though it was pretty slippery out the second half. It was actually kind of fun running in the snow, and when I went to take a selfie I was shocked at how much had stuck in my hair! It's supposed to get warm this week though, so it might have been the last snow run of the season. I never did get my cross country skis out this year–it was either no snow or snow but way too cold.
This week I'm back on the training wagon and the schedule calls for:
Monday: Run 4
Tuesday: Run 7
Thursday: Run 9
Saturday: Run 16
My tattoo should also be healed early this week so I am going to start adding in swim and bike sessions.
Do you like to dress up for races? What's something sparkly that you enjoy wearing?

This post shared at The Weekly Wrap