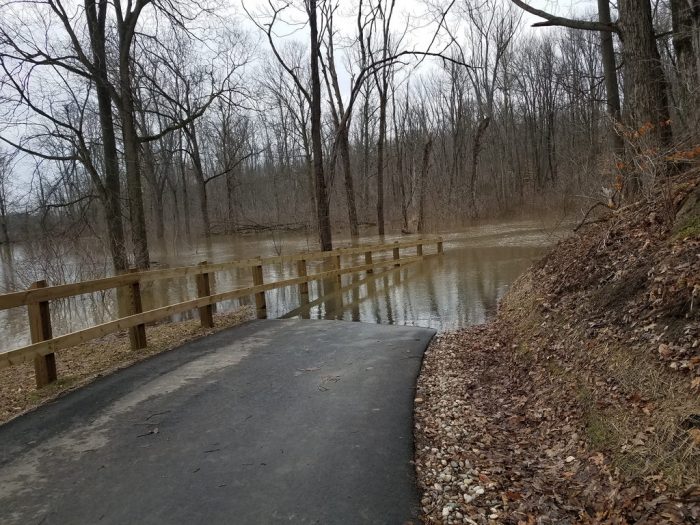 Now that we are in the spring freeze/thaw cycle, many of my favorite trails are closed. I have been running on pavement, which has NOT been good for my calves, hips, and ITB. I have had to get my roller out and go back to stretching. Which I should to anyway, but when I'm running trails I can let it slide a bit because of all the different motion vs just pounding the same muscles continuously.
We have also had a TON of rain over the past couple of days so I'm not sure when the trails will be runnable again. Luckily the race I'm doing next weekend (WTF – Winter Trail Festival Half Marathon) is on a trail that drains really well, so it should be nice to run on.
I had my last swim lesson on Monday. I'm sad because I LOVED it and the next session won't fit into my schedule.
I also started a new diabetes prevention class on Mondays, which is weekly. The other two that I teach are on Tuesdays (weekly for another few weeks, then it goes to monthly) and Wednesday (just a couple more months left of monthly sessions). So it's going to be busy a few weeks until the Tuesday night goes to monthly. It really makes it hard to get up in the morning to run when I work all day at my normal job and then teach a class for a couple more hours. But it is super rewarding to see people lose weight, decrease their insulin, and feel better!
With all of this going on, I'm a bit behind my monthly mileage goal. But I am confident that I'll be able to make it up later in the year and still reach the 2018 in 2018 goal.
Here's what my stats looked like last week:
Monday: 45 minute swim class
Thursday: 3 miles before work
Saturday: 14 miles around the dog park and the ravines. I was desperate for some nature! The trails weren't too flooded for the most part.
Sunday: 7.5 miles on sidewalk. It was super windy. It is also different getting used to doing back to back longer runs. As I prepare for the double marathon (52 miler) in June this will be important.
How was your week? What's the weather like where you are?
For more fitness inspiration be sure to check out these running link ups: The Weekly Wrap hosted by hosted by HoHo Runs and Wendy from Taking the Long Way Home and Tuesdays on the Run with Patty, Erika, and Marcia!