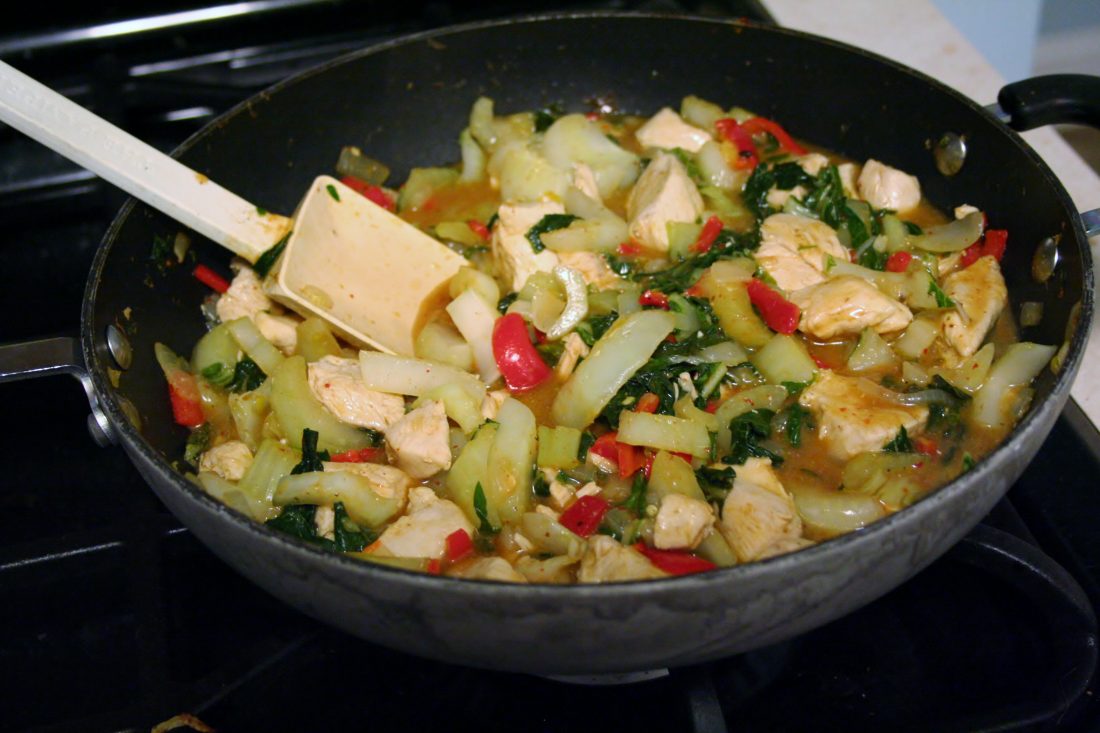 Remember when I posted about being part of the Fusion Taste Team? Well, I received the product samples last week and I have been having fun making supper ever since.
Now, to appreciate this feat, I need to explain a little about my life these days. DH is working 12 hour days, which means he doesn't get home until 6:30 PM. I work 8-5, so I have a little more time in the evening, but I was gone for a few weeks traveling for work so I had no groceries to speak of. THEN, I was reviewing a book when I came across a simple idea for using seasonal vegetables: Start with a grain, stir fry whatever vegetables you have on hand, add a little meat and seasoning, and there you go! Since DH and I both love Asian food, I was reminded of the product samples I had received and figured that would be a great way to get dinner on the table this past week.
On my lunch hour I picked up some meat (I had gone to the farmers market last Saturday so I had some vegetables on hand). When I came home from work, I turned on Pandora, started the rice cooker, and got out the knife and cutting board and improvised the following recipe:
Ingredients
1 1/2 pounds boneless skinless chicken breast, cut into bite size pieces
salt and pepper to taste
Asian stir fry oil (you could use any oil, but I really like the kind that has some seasoning in it already)
1 large onion, chopped
2 cloves garlic, minced
1 large red sweet pepper, chopped
2 large green sweet peppers, chopped
1 large bok choy, chopped
1 jar Cambodian Pineapple Lemongrass Stir Fry Sauce (if you don't have this, you can use a stir fry sauce of your choice)
Instructions
Prepare rice, bulgur, couscous, quinoa, or whatever else you'll be serving with your stir fry.
Brown the chicken in oil in a large stir fry pan.
Add onions and cook until softened.
Add garlic, the remaining vegetables, and stir until just softened.
Add the sauce and simmer for about 20 minutes.
https://www.wholisticwoman.com/grain-veg-meat-sauce-fast-and-tasty-seasonal-weeknight-supper/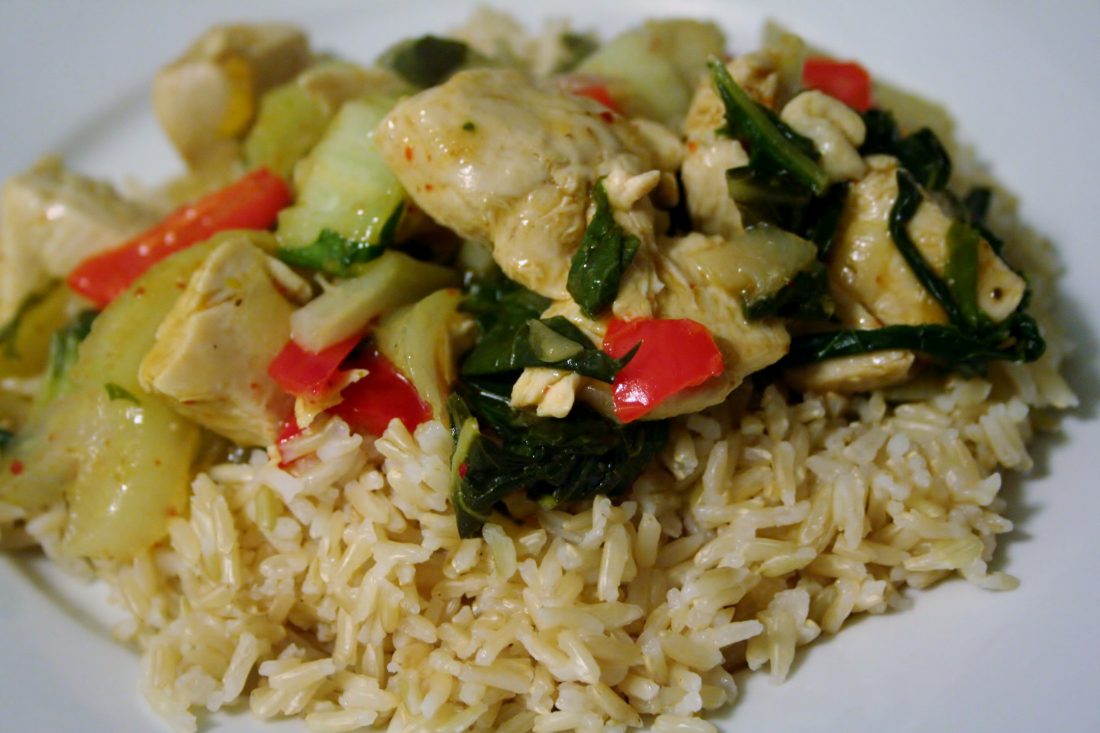 The Verdict: I loved the Cambodian Pineapple Lemon Grass sauce. It was very sweet so I should have probably added some hot pepper in the stir fry, but DH ate a second helping AND took the leftovers for lunch the next day so I know he liked it too. I served this over brown basmati rice which also helped to cut down on the sweetness with its nuttiness.
The next evening I decided to try this same technique only with beef. Here's the recipe I came up with: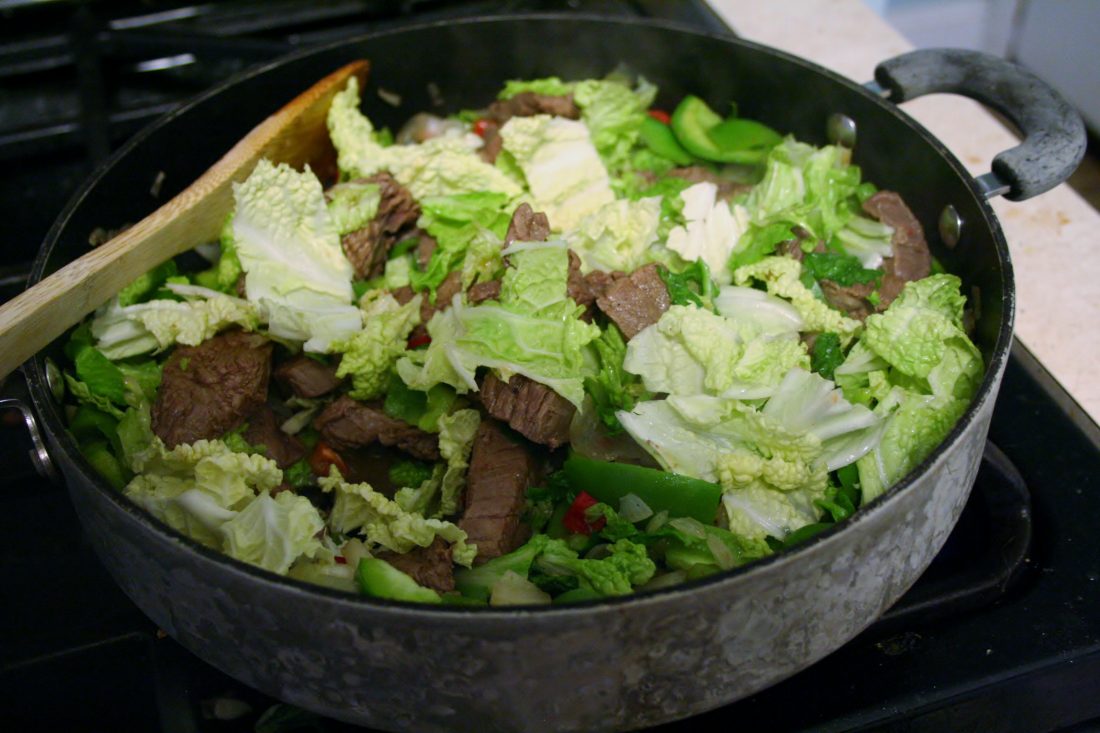 Ingredients
1 1/2 pounds sirloin steak, cut into bite size pieces
Asian stir fry sauce
1 large onion, chopped
1 large sweet red pepper, chopped
1 large green pepper, chopped
1/2 a head of Napa cabbage, chopped
1 jar World Foods Malaysian Rendang Curry Cooking Sauce
Rice or something else to serve with it
Instructions
In a large stir fry pan, brown the beef in a bit of oil.
Add onion and peppers and cook until softened.
Add cabbage and sauce and simmer about 20 minutes.
Serve over rice.
https://www.wholisticwoman.com/grain-veg-meat-sauce-fast-and-tasty-seasonal-weeknight-supper/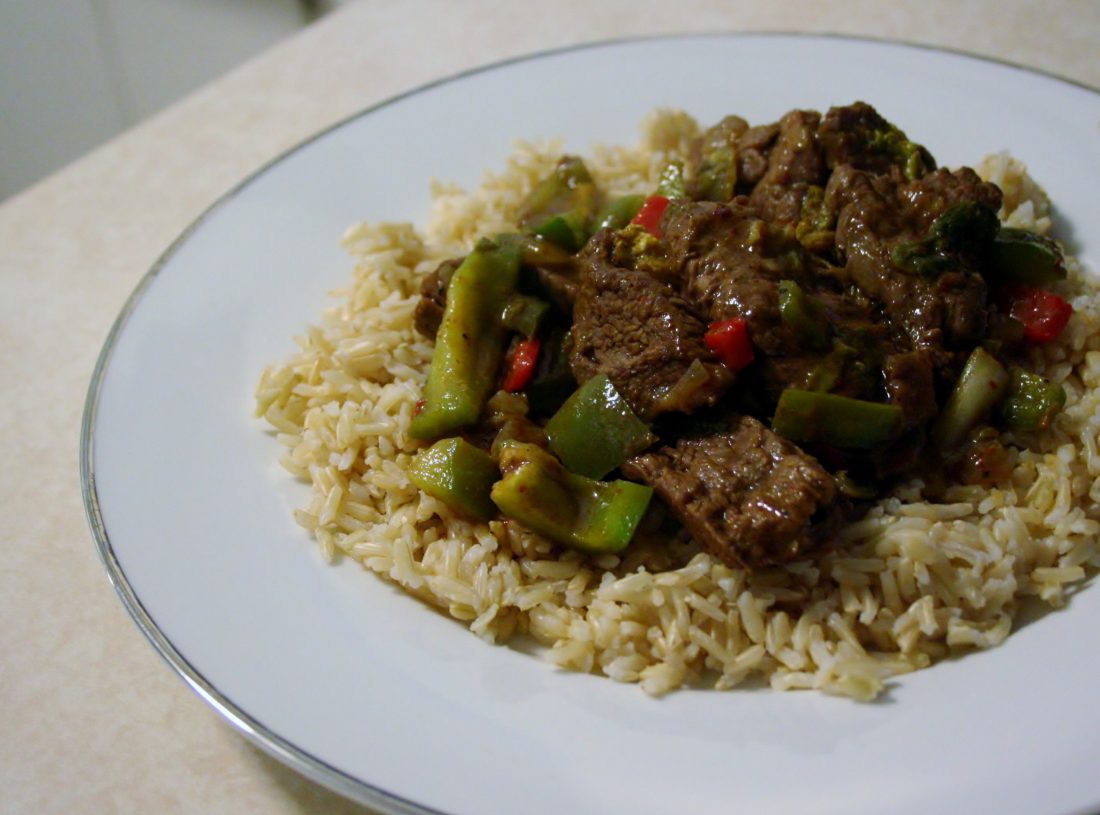 The Verdict: Once again it was a hit. The flavors were spot on with the beef, and best of all I had dinner ready when DH came home. I am thoroughly enjoying the convenience of having jarred sauces ready to go, especially for Asian dishes because there are usually so many spices in them.
Disclosure: I received the sauces to review from World Foods. For more information about the sauces visit http://www.worldfoods.com.my
This post shared at Simple Lives Thursday