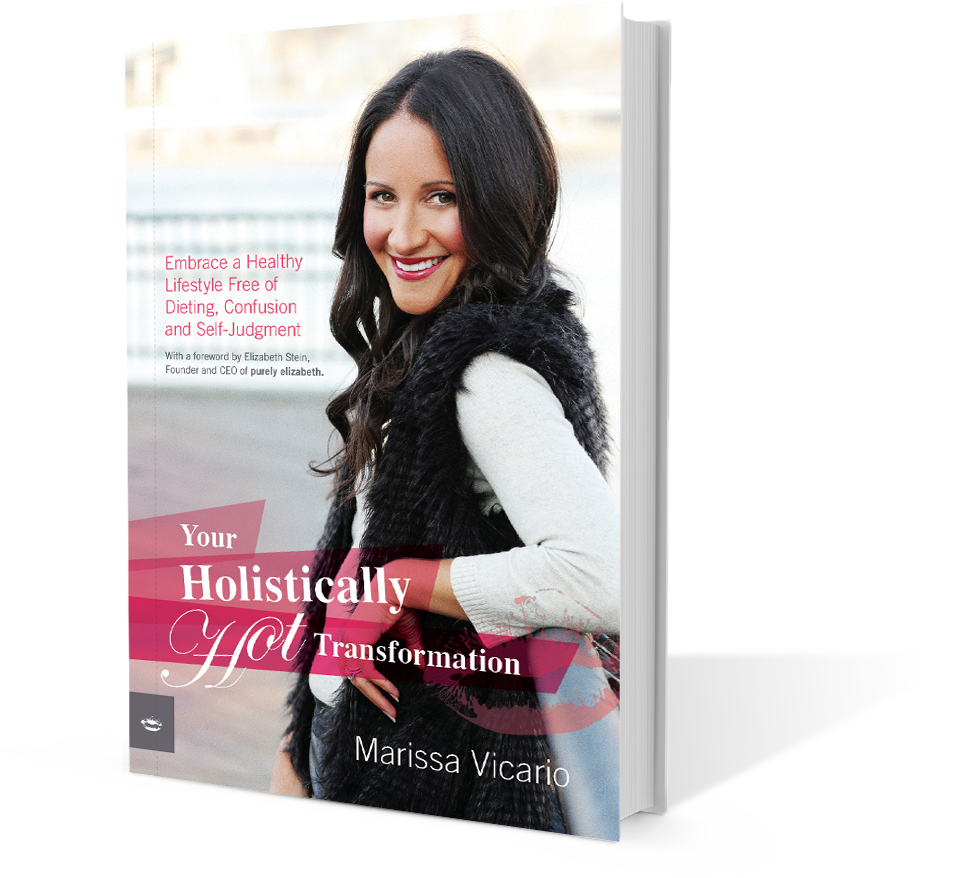 For the longest time, I struggled with bad weight loss advice. So it does my soul good to find like-minded individuals who take a more holistic (or as I like to say, wholistic) approach to wellness. One of these individuals is Marissa Vicario, who recently released Your Holistically Hot Transformation.
Author and award-winning, board-certified Integrative Health and Nutrition Coach, Marissa Vicario, wasn't always as healthy and happy as she is today. There was a time when her diet had more macaroni and cheese and G&T's than broccoli and green smoothies. It wasn't until she hit rock bottom that she realized something had to change. In that moment she vowed to make her physical, mental and emotional well-being a top priority.
Your Holistically Hot Transformation follows Vicario's wellness journey from unfulfilled corporate professional to purpose-driven women's lifestyle aficionado committed to teaching women how to trust themselves to make slimming, nutritious and energizing choices without resorting to fad diets.
Inside you'll find advice for making healthy living a habit, tips for stocking a healthy kitchen, guidelines for understanding the hunger and fullness cues your body sends, simple and creative ideas for self-care and a sprinkling of fast, fool-proof recipes and motivational mantras.
Marissa agreed to a little Q&A with me for Wholistic Woman:
Your title is Holistically Hot. Does that mean this is only for people interested in becoming a bikini model?
Not at all! Holistically Hot refers to being healthy, fit and balanced – whatever that means to you! Every woman deserves to look and feel her absolute best and my mission is to show you that it's possible to achieve whatever you want for your health and wellness without dieting and deprivation.
We are constantly bombarded with health and nutrition information in the media. It's tempting to just give up, and hard to know who or what to believe. Why will your book be any different?
What makes me different from many coaches is that I don't promote one way of eating over another. I lay out what you need to know in a relatable and gentle way. For me, it's about giving people hope that it doesn't have to be confusing or complicated and then offering the tools and recommendations to help them get there. In some cases, you do have to try things out on your own and see what works for you. Everyone is different and that's the beauty of this world we live in. There is no one book that has all the answers, but hopefully mine is the one that helps you make more sense of the information and apply it to your own life in a way that works for you. 
Let's be honest, I'm a busy person. Is there really any hope for me?
Of course there's hope! Being "busy" is the #1 challenge most of my clients have, but it's not an excuse to not put yourself first and make your health a priority. Your Holistically Hot Transformation offers tons of hacks for busy people to make living a healthy lifestyle more attainable and accessible, but I'll be honest, you do have to make it a priority. I find we prioritize what's most important to us. Healthy doesn't just happen without a little effort on your own behalf.
I've read about a million books. How do I make this one stick?
I think when something truly resonates with you in a way that you can relate, then it will stick. This book is designed with small "Put It Into Action" tips at the end of each chapter. Start there. Start applying those little recommendations in your own life. Making small changes that build on each other over time is the best way to get lasting results and create a healthy lifestyle. Be gentle with yourself, but consistent and don't try to do everything all at once. Master one or two lifestyle changes and then move on to another. 
Here's a preview of her book just for you! Grab it FREE on Kindle June 11-15