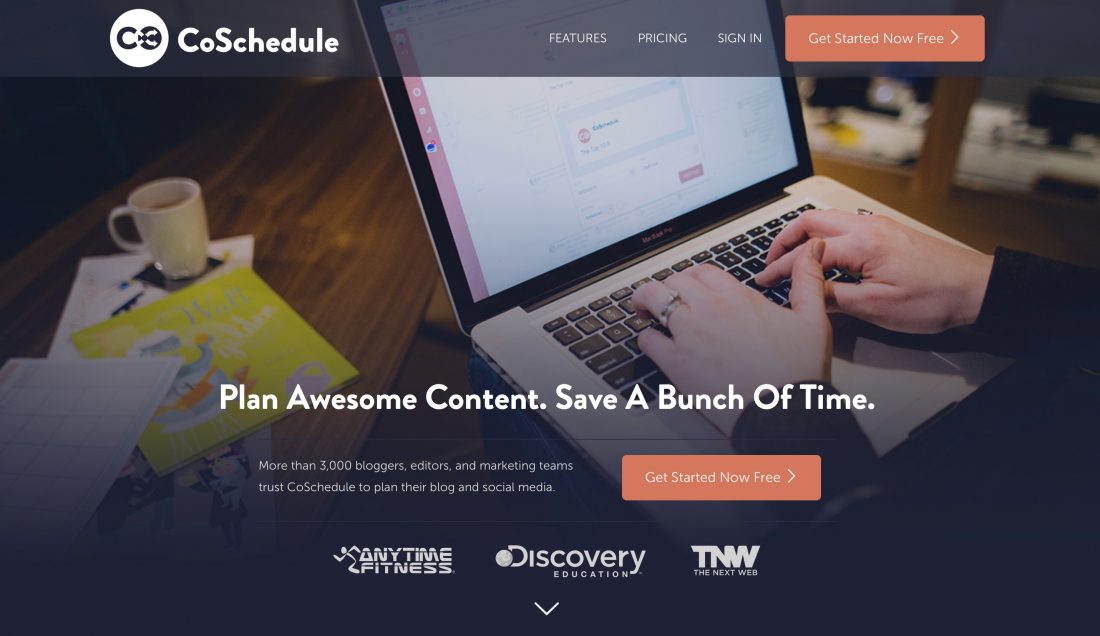 Note: This post contains affiliate links
So, you may have noticed that I'm in the midst of giving Wholistic Woman a makeover! For the past year or so I've been spending a lot of my spare time as co-owner of EatGR. It's been quite a trip, launching an Indiegogo campaign and website. But things are mostly underway over there, and it's time to turn my attention back to my first love, my own blog.
I've been re-inspired, especially after the awesome Eat, Write, Retreat conference that I attended in Chicago. Not only did I get tons of ideas for food blogging, but I was introduced to tools to make it easier to fit keeping up with two blogs (not including EatGR) into my already busy life. By divine providence, my roommate ended up introducing me to CoSchedule, which is an awesome tool that only gets awesomer the more I play with it!
I've been pinning articles about how to make an editorial calendar FOREVER. One of them was probably even this one from CoSchedule! I've tried doing them before. I tried paper copies. It's a drag to carry them around from work to home (sometimes I work on my blog on my lunch hour). I tried Google Calendar, since I use it all the time for work, but for some reason I just couldn't get into a groove with it. I even tried an editorial plugin for WordPress thinking that it would help to have everything in my WordPress dashboard. Unfortunately it was really clunky.
But then . . . my roommate at Eat, Write, Retreat introduced me to CoSchedule! It was like  . . . awesome. I don't know how else to describe it.
Yes, it's a beautiful calendar. See?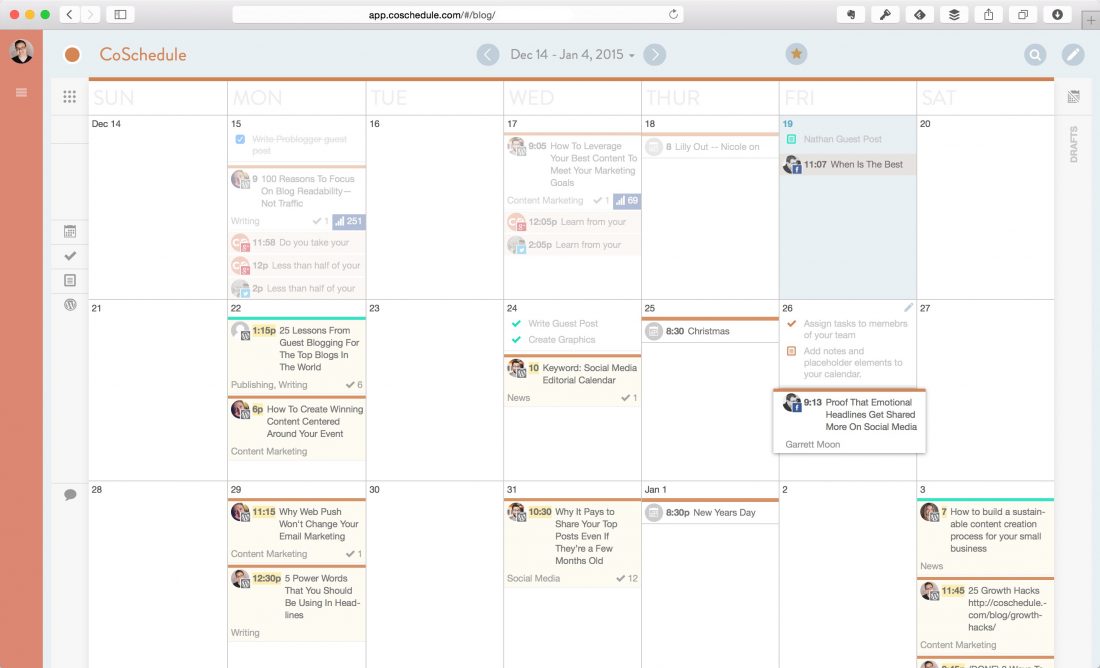 I can drag and drop post drafts and ideas around at will! And if I'm not sure where I want to put something there's a handy dandy draft "bucket" on the right sidebar. Oh, and I can toggle between both of my blogs! (Wholistic Woman and Eat Local West Michigan). So I can concentrate on scheduling. THEN when I'm ready to actually write, I just click on the draft or post I want to work on and it gives me the option to hop on over to work on it in WordPress.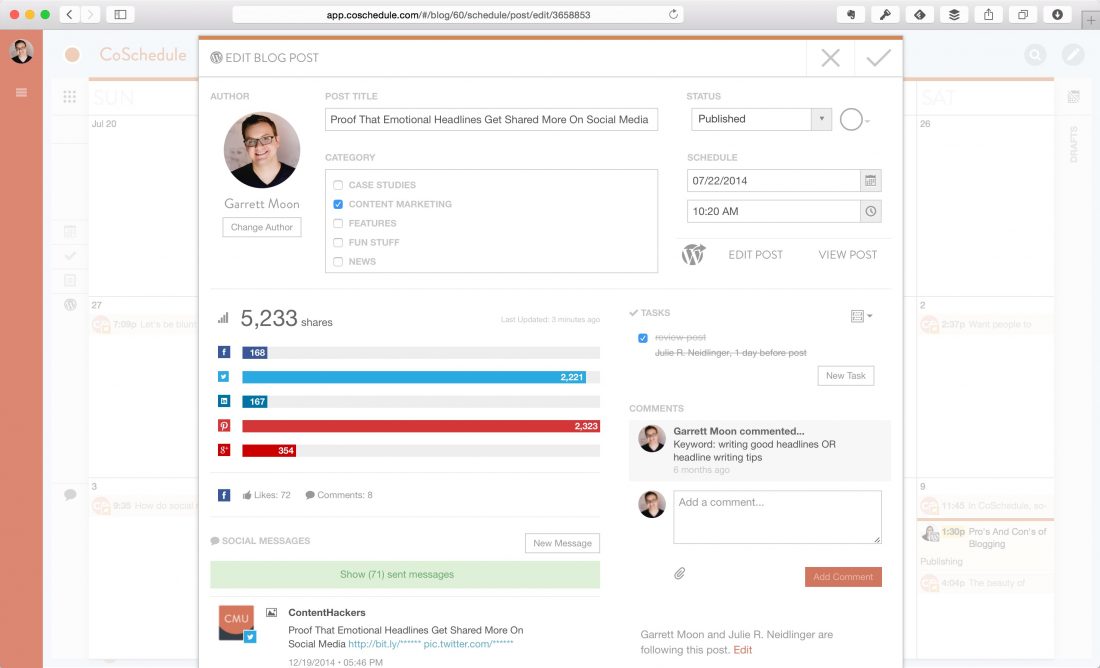 Disclaimer: These are not my screenshots. I don't have nearly that many shares. But here's hoping!
OK so the calendar function in and of itself is worth the price of admission. But it gets better. You can actually promote the posts through your social media accounts. LOVE. It gives you tips for doing so and makes it SUPER easy to schedule them. It sets up day of post, week of post, etc. And the best part? If you've already scheduled a post and set up all the social media shares, and then have to switch the date for some reason, it AUTOMATICALLY UPDATES all of those shares that you had set up. This came in really handy for my other blog when the radio program I was promoting ended up changing the air date.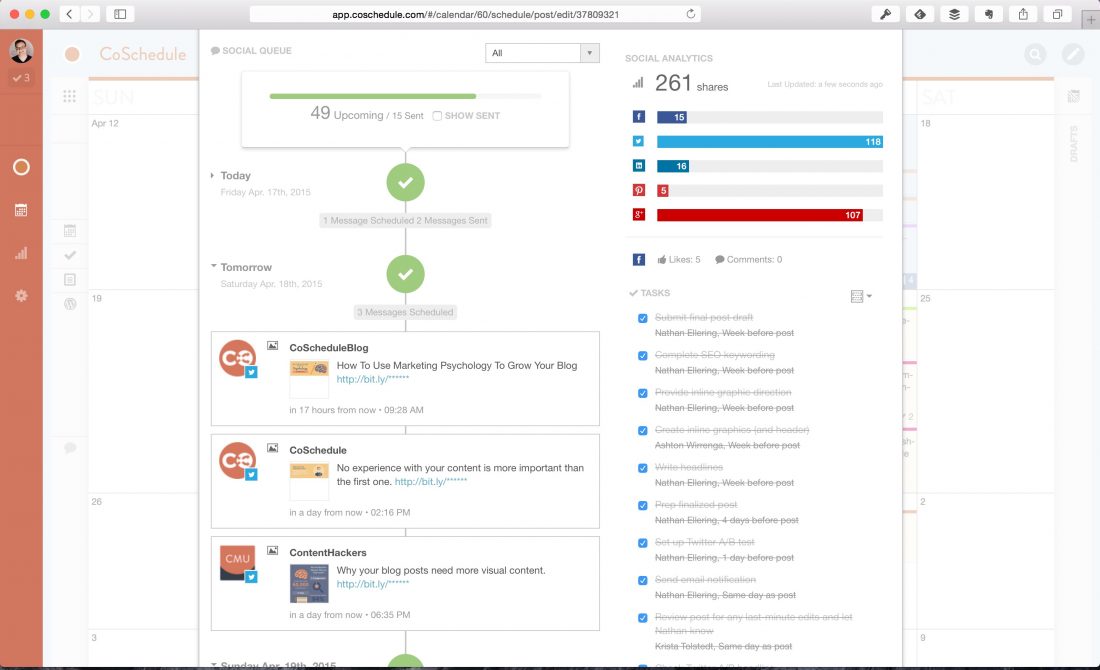 It also provides analytics, which is great. If you scroll back up to the screenshot of the calendar, you can see that it shows your planned social media messaging too! If you notice that you need some more messages, the analytics are great for discovering content that you'd like to re-promote.
Oh, and one more cool thing–it integrates with BUFFER, my other favorite blogging tool! You can set your social shares to go to Buffer and it is added to the queue on the day it's scheduled. You can also use CoSchedule as a place to keep your blogging and marketing to do list, although I haven't done as much with that as I should.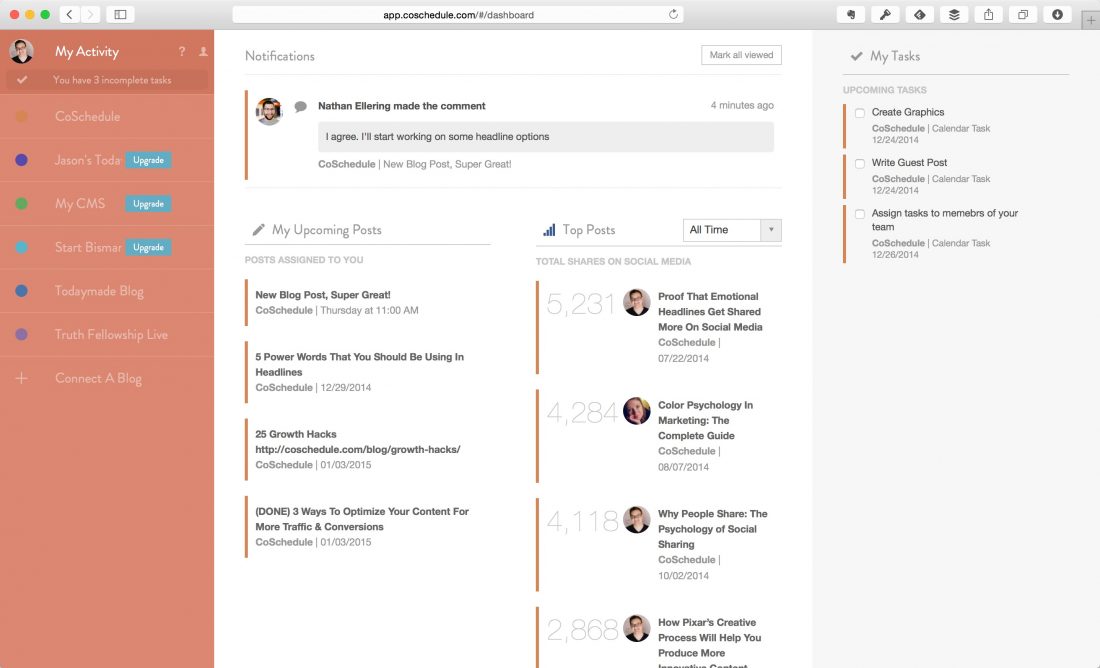 If you're more of a video person, this video overview may be of interest:

Finally, just today I discovered ANOTHER cool use for CoSchedule. My roommate showed me briefly how you can connect Evernote to CoSchedule in order to draft posts in Evernote and then pull them up in CoSchedule, convert to WordPress, and away you go. At first I was like yeah, that's neat, but I really don't use Evernote for creating blog posts. But this morning when I was going through my email box I thought, I need to come up with an easier way to deal with all these pitch emails I get. If you've been blogging for any amount of time, you know the ones I'm talking about. The news releases and product ideas and whatnot. Some of them get deleted right away, others I think would be interesting but who has time to deal with that and remember what ones to go back to? WELL, I happened to remember that CoSchedule works with Evernote. So I thought hmm, maybe there is a way to forward emails to Evernote and then it would get saved into CoSchedule as a draft and I can look in the draft bin whenever I need to fill in some editorial spots. I looked into how to do that and it seemed like kind of a pain. And then when I was in my email box I saw the little Evernote Elephant in my corner and said to myself hmm, I wonder if I can just use the web clipper tool on my email? Sure enough, it worked!
I was going to write up a little tutorial, but then I found this article on the CoSchedule blog and realized it does a way better job than I could ever do. Now, in the article, it suggests forwarding emails to Evernote. I tried that and couldn't get it t work. Plus you are limited to 5 on the free plan of Evernote. The web clipper works just fine on emails though! **Note, this only works for Gmail right now.
So now that I've discovered these new productivity tools, you'll be seeing a lot more of Wholistic Woman. If you're a blogger or create content, you might want to check out CoSchedule!