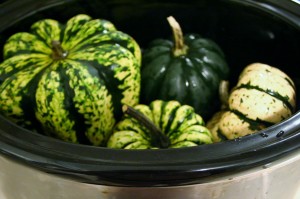 I love winter squash, but I don't always have time to roast it. So I searched the internet and discovered that you can cook it in the slow cooker! Here's how:
Simply place as many squash as will fit inside the slow cooker. If using a large squash, you can cut it into pieces.
Add a few tablespoons of water to prevent it from drying out.
Cook on low for 3-6 hours.
You can serve it from the shell or scoop out the seeds and stringy bits and puree it in a food processor. Much cheaper than already canned, and so tasty! You can do a large batch and then freeze the leftovers.

This post shared at Kitchen Tip Tuesday, Works for Me Wednesday
Looking for more simple, in season recipes? Consider: