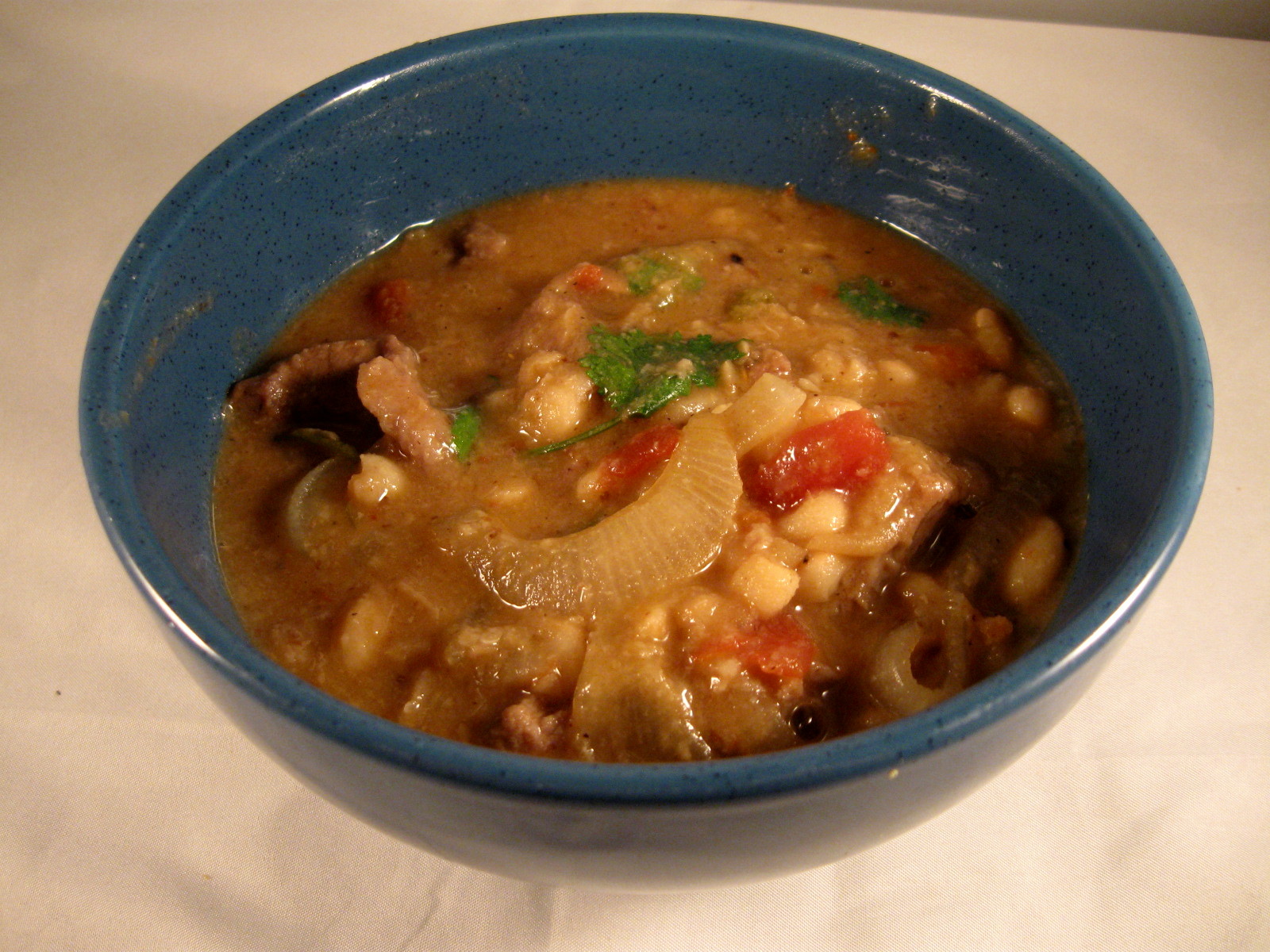 I used beef instead of lamb for this recipe, and it turned out great! One more down for Simply in Season .
FOR PRINTABLE VERSION CLICK HERE: Italian-Style Lamb Stew
1 1/2 lbs lamb or beef
1/4 cup flour
1/2 tsp salt
1/2 tsp pepper
1 medium onion (sliced)
2 cloves garlic (minced)
1 1/2 tsp fresh rosemary finely chopped
1/4 tsp dried chilies
2 cups canned tomatoes (I used a can of tomatoes with chilies because that's all I had)
1/2 cup white wine (I used Barefoot Chardonnay)
1 1/2 cups broth
2 cups cooked white beans
2 Tbs fresh parsley, chopped (I substituted cilantro since I thought it went better with the chilies)
salt and pepper to taste
1. Cut lamb or beef into 1 inch chunks, and toss with flour, salt, and pepper in a bowl. Brown in a large Dutch oven with 2 T oil. Remove meat and set aside.
2. Add the onions and garlic and saute' until soft. Then add rosemary and chilies and stir 1 minute.
3. Add tomatoes (drained, but reserve the juice), cook 2-3 minutes. Add white wine and bring to a boil. Then add the broth and reserved tomato juice and bring to boil again. Add meat and cook for 1 hour with lid ajar.
4. Stir in beans, parsley, and salt and pepper just before serving. Serve over cooked pasta topped with parmesan cheese, or serve in bowl with crusty bread to soak up the juices.
Servings: 6
The Verdict: DH LOVED it! I did too. We think the diced tomatoes with chilies was a great ingredient substitution and might even prefer it that way. It went great with a loaf of Italian Parmesan Bread that I had frozen. It was almost as good as fresh baked!
Nutrition Facts
Serving size: 1/6 of a recipe (13.7 ounces).
Percent daily values based on the Reference Daily Intake (RDI) for a 2000 calorie diet.
Nutrition information calculated by Living Cookbook Recipe Management Software
Amount Per Serving
Calories 382.18
Calories From Fat (30%) 114.92
% Daily Value
Total Fat 12.78g 20%
Saturated Fat 5.06g 25%
Cholesterol 68.04mg 23%
Sodium 563.86mg 23%
Potassium 1074.63mg 31%
Total Carbohydrates 28.99g 10%
Fiber 5.65g 23%
Sugar 3.42g
Protein 33.83g 68%
For more Real Food ideas check out  Real Food Wednesday
This post also linked to  WanderFood Wednesday
and the Ultimate Recipe Swap