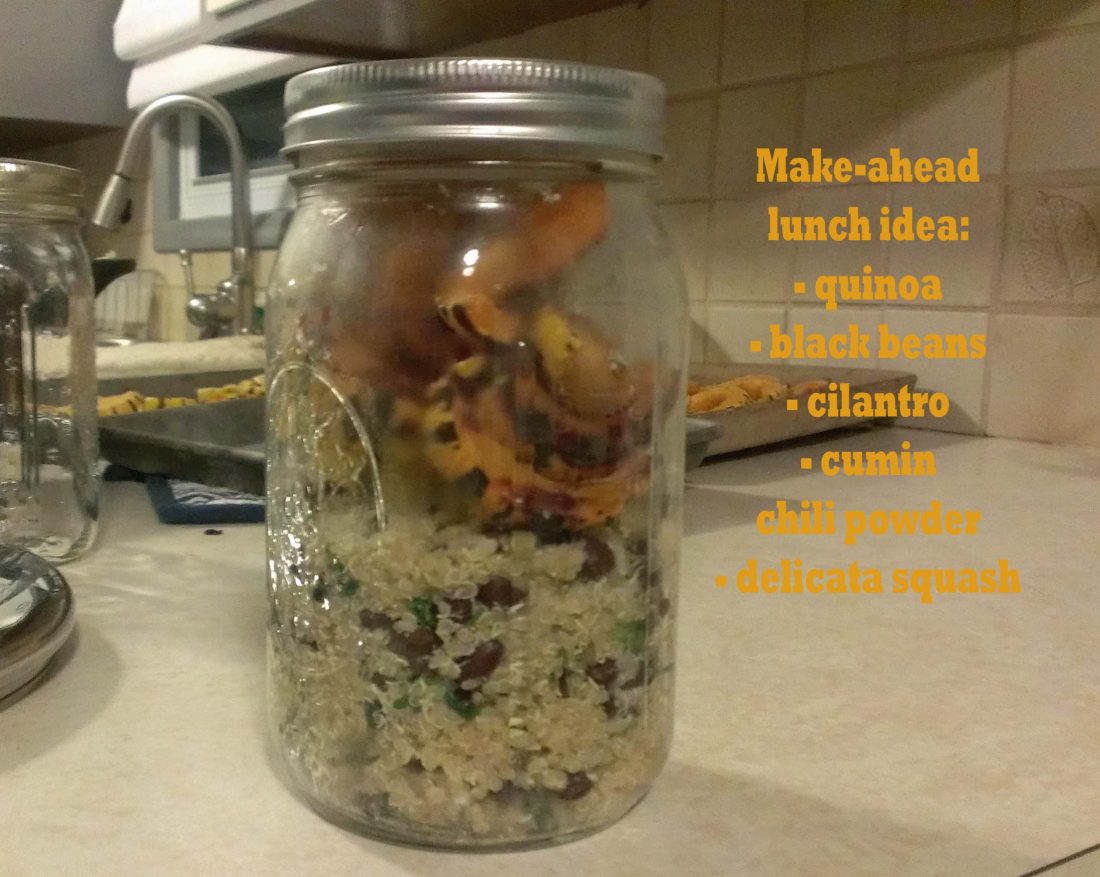 Remember last summer when I took an Empower Your Eating class? I was doing great – lost 15 pounds without counting calories and eating what I wanted. But somehow, I lost my sense of mindfulness. So I have started seeing coach Laura one on one. The latest challenge that we tackled: LUNCH.
In my ideal world, I would have time to make a nutritious, all local, all organic lunch from scratch each and every day. In the real world, I found myself without leftovers for lunch so I would either A) find something out of the snack drawer at work, such as a Snickers bar, or B) head to the nearest drive through or restaurant. Neither of these are very healthy nor particularly satisfying. (and, in the case of the latter, sort of pricey).
So, Laura suggested that I choose meal to make ahead for the whole week – allowing myself to go out to a "good" restaurant once a week. This sounded good. She even gave me an excellent lunch matrix chart so I could mix and match components.
Last night I gave it a try. My husband said it looked so good that he asked me to make enough for his lunches too – which is great, because he goes out to eat way too much for lunch too!
Without further ado, I thought I'd share my first creation:
Quinoa & Black Beans with Delicata Squash
Ingredients:
quinoa

black beans
cilantro
cumin
chili powder
delicata squash
Directions:
Cook quinoa according to package directions. Or, combine 2 cups of water for each cup of quinoa in a large pot; bring to a boil; cover and simmer until soft, about 15 minutes.
Cook black beans (or use canned, I won't tell).
Roast the delicata squash (I like to cut it in half, scoop out the seeds, then cut into 1/2 inch slices. Roast at 425 degrees for about half an hour, stirring every 10 minutes).
Combine quinoa, black beans, cilantro, cumin, and chili powder (adjust ratios to your personal tastes). Layer in a jar with the delicata at the top.
The Verdict: Very tasty, and I love that I was able to use up the delicata squash that had been sitting in my garage for awhile. And, I loved being able to just grab my lunch and go in the morning!
Do you have any wellness tips? Feel free to link up below!
This post shared at Kitchen Tip Tuesdays