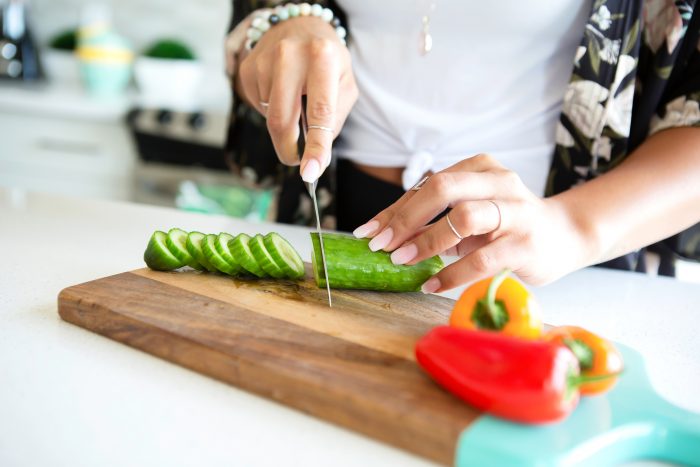 Weekly meal prep and planning is fairly common, but you might have wondered about planning for a whole month at a time.
Last weekend I gave Once A Month Meals a try. When I've written before about meal prep, it was in the context of weekly meal prep and planning.  That's the model that many of the meal planning subscriptions use, and it does make sense–most things store for about a week, and it is pretty doable in a couple of hours.
However, I don't always have time on the weekend to prep for the week. Between long runs, races, and family time it can be challenging to find a couple of hours for prepping. So I thought I'd try the once a month approach. Here are a few things I learned with my experiment:
Meal prep for a month really is more work than prepping for a week.
I know, duh, right? Once A Month Meals suggests NOT starting with a whole month's worth of meals at one time. They offer "mini menus" so you can get your feet wet, so to speak. I figured I'd skip that part because I have used several other weekly meal prep menus (linked above). I dove right in to the 15 recipe menu which included breakfasts, lunches, and dinners.
In the past, I was able to get weekly meal prep done in a few hours. However, prepping for a month took me three different multi hour sessions. Although Once A Month Meals offers a suggested order of steps, for me it made more sense to do recipes by main ingredient. For example, there were a few recipes that required cooked chicken. Since I knew it would take me a couple of days to get through them all, I made all the chicken recipes so they could go in the freezer right away.
I definitely recommend doing weekly meal prep a few times before attempting do to a whole month. You will learn different shortcuts and get a better idea of the containers and storage space required. Speaking of which . . .
Once a month prep requires a lot of containers, prep and storage space.
Again, kind of obvious, but I didn't realize the implications until I was balancing trays of meatballs on a toolchest in the garage while rummaging through my cupboards for long lost freezer container lids.
Here is what you will want to do before a monthly meal prep session (it is also good to do before a weekly session, but it's even more important because you are dealing with a larger volume)
clean out and organize your freezer. You will need all the space you can get. Be ruthless and throw out those bags of mystery meat (I could have sworn that I labeled everything!) and freezer burned half bags of peas. Get in the habit of doing this monthly.
clean out and organize your refrigerator. You will need the room for storing prepped ingredients that are waiting to be added to the final dish, as well as room for thawing before they are eaten. Since you will need to restock dairy and fresh fruit/vegetables every week, it's a good idea to have a set time to do this each week.
clear off your counters and table. FlyLady calls these hot spots. As aforementioned, you will want every square inch of prep space, so put away anything that isn't being used.
organize your containers. While it is possible to freeze most things in freezer bags, I find using freezer containers a lot more environmentally friendly and easier to stack. But my plastic container cupboard has a mind of its own and it is good to find all your containers, match them with their lids, and take stock of your glass jars and lids as well. Since cooking for a whole month at a time requires a lot of them, it's good to have them ready to go.
Side note, living in a cold climate is awesome because the garage provides an additional "refrigerator" where things can go temporarily to cool off before putting in the freezer.
Planning is key for a successful monthly meal prep session.
The nice thing about Once a Month Meals is that it does a lot of the planning for you. They pick the recipes (although you can substitute), provide a shopping list, a prep list (chopping, etc.), a cooking day order of steps, list of containers needed, recipe cards, and printable labels for the freezer containers. It is a HUGE timesaver. However, even if you use a service like OAMM, you still need to set aside time for the following, preferably BEFORE cooking day.
choose recipes.
go through pantry, freezer, and refrigerator to identify groceries and supplies that you need. You might want to have needed groceries delivered (I LOVE Shipt).
come up with a plan of attack, being realistic about the amount of time that things will take.
print labels and recipes so they are ready to go.
While more work, once a month prepping offers more reward.
So was it worth it? Yes!!! Even though it took a lot of work, it was so nice to be able to pull out breakfast and lunch to take to work in the morning. And evening meals are a breeze, especially for things that just need to go in the instant pot or slow cooker. DH and I didn't eat lunch out at all, which saves money and is so much healthier than the drive through. Best of all, this weekend I was able to just grab more fruit, chop some veggies for snacks, get out the items that need to be thawed, and we're good to go!
Here's what's on the menu this week
All items from the Winter Paleo Freezer Menu Vol 3.  However, I've linked to their original source below. Note that I really don't assign specific days to the items, because we often get two nights' worth of the dinners. We try to use leftovers whenever possible. And some nights, after a long run that goes late, we just have a snack before bed.
Breakfasts:
Italian Chicken Sausage Egg Bake (I used spicy pork breakfast sausage instead of chicken sausage)
Lunches:
Creamy Crockpot Lemon Kale Soup
Dinners:
Ham and Roasted Root Vegetables
Paleo Green Bean Casserole with Turkey
How about you, are you a once a month or a once a week prepper?
This post shared at Menu Plan Monday
Note: This post includes affiliate links