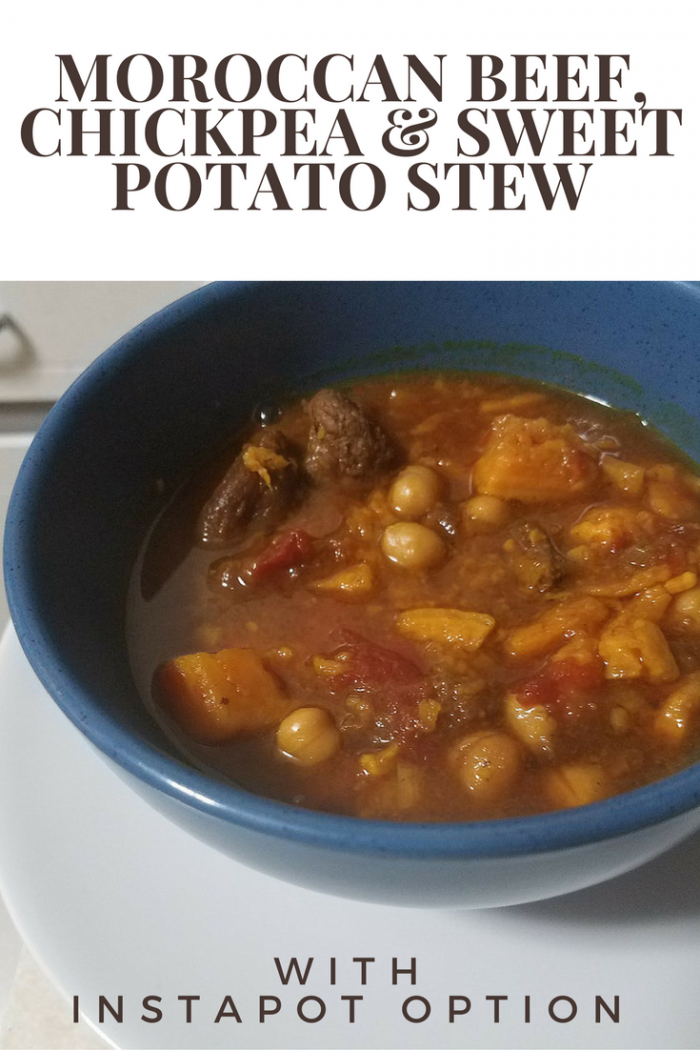 I have to admit, I had no idea I would love my Instapot this much! It had been so hyped up. I already had a pressure cooker I rarely use. But when DH offered to buy it for me on a whim when it was on sale at Amazon, I decided to give it a try. I'm glad I did!
Unlike my stovetop pressure cooker, this one keeps track of time for you when it comes to pressure so you're not waiting around the stove ready to start the timer.
I found this recipe for Moroccan stew in Clean Eating, and when I saw the 4-6 hour slow cooker time I knew I'd try it in the Instapot. I am gone 8-9 hours for work, so unless I made it on a weekend, 4-6 hours just wouldn't work.
Check out the recipe below. Here's how I adapted it for the Instapot. Note that I used canned chickpeas, but you could very easily make them in your Instapot up to a few days ahead of time.
Instead of using a nonstick skillet, go ahead and use the saute function in the Instapot! Heat the oil and brown beef (I substituted venison) as directed. Transfer to a bowl for a moment while you do step 2.
In the Instapot instead of a skillet, follow the original step two directions, which is basically browning the onions and spices and then adding broth to get the bits up off the bottom. This is very important in the Instapot! Sometimes if you leave stuck on bits it has as hard come coming to pressure because it thinks something is burning.
Add the meat back to the pot, add remaining ingredients, close the lid, close the pressure valve, hit "stew" and voila!
I skipped the mint and zest. I did add sour cream though 😀
Source: cleaneatingmag.com
Ingredients
2 tbsp

olive oil divided

1 lb

sirloin beef trimmed of fat and cut into ¼-inch-thick strips

3 cloves

garlic minced

1

yellow onion coarsely chopped

1 tsp

each ground turmeric and ground cumin
1?2 tsp each ground cinnamon and ground black pepper
1?4 tsp red pepper flakes

3 cups

low-sodium beef broth divided

2

sweet potatoes peeled and cut into 1½- to 2-inch chunks
1 1?2 cups jarred or boxed unsalted diced tomatoes, with juices
1 1?4 cups dried chickpeas soaked in water for 24 hours (TIP: If you don't have time to soak chickpeas for 24 hours, boil them
1?3 cup sliced dried unsweetened apricots
Sea salt to taste

Zest

1 lemon
1?4 cup lightly packed finely chopped fresh mint leaves (NOTE: Chop just before serving.)
Directions
In a large nonstick skillet on medium, heat 1 tbsp oil. Add beef and cook until browned and cooked through, about 3 to 5 minutes. Transfer mixture to a 4- to 6-qt slow cooker.
Return skillet to medium and heat remaining 1 tbsp oil. Add garlic, onion, turmeric, cumin, cinnamon, black pepper and pepper flakes and cook, stirring constantly, for about 3 minutes. Add 1 cup broth and stir, scraping up browned bits in bottom of skillet with a spoon. Transfer to slow cooker.
To slow cooker, stir in remaining 2 cups broth, potatoes, tomatoes, chickpeas and apricots; cover and cook on high for about 4 hours. Season with salt.
Just before serving, combine zest and mint. Top chili with mint mixture.
Powered by

The verdict: This was SUPER delicious! I love the flavors. And with the Instapot it went together super fast. Perhaps an hour and a half including prep time.