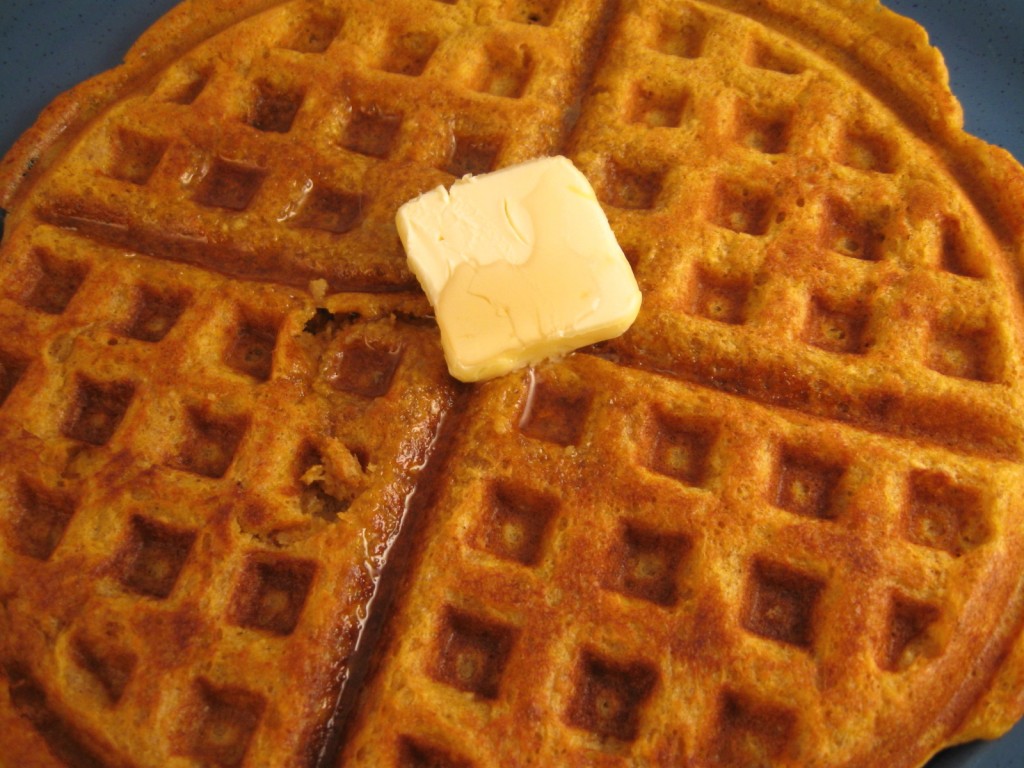 Ever have one of those days when everything goes wrong? This morning I woke up to discover that I had a flat tire. Why not just put the spare on? Well, because the spare was in use because a different tire went flat over the weekend. And for some reason my car has odd tires and it takes a couple of days for the new ones to come in. So I took a vacation day while DH went to get the tire fixed on his lunch hour.
Then, I went to make dinner tonight, only to discover I only had one cup of lentils left and the recipe (which you'll see later this week when I get more lentils) called for two.
So, I asked DH to pick up some sausage on the way home, 'cause I was going to try the Nutty Sweet Potato Waffles from Simply in Season. Unfortunately my night didn't improve. I'll write the directions, with my actions, below.
Ingredients:
1/2 C butter
2 C sweet potatoes, mashed
6 eggs, beaten
2 C milk
1 C whole wheat flour
1 C rolled oats (finely ground in blender)
1 C pecans (finely ground)
2 T baking powder
2 tsp salt
Melt 1/2 C butter and set aside to cool. So far, so good. I luckily had enough butter. Interestingly, DH had bought butter that had 1/2 sticks instead of whole sticks. Weird. I was also reminded that I need to try making butter again one of these days.
Cook and mash 2 C of sweet potatoes, stir along with 6 eggs (beaten) and 2 C milk into the cooled butter. I pulled out my Betty Crocker and found out that in order to cook sweet potatoes, you need to poke them and stick them in the microwave for 8-10 minutes. I only had two sweet potatoes left so I hoped it would equal out to 2 cups. Meanwhile I got out the eggs–only to discover that I had exactly 6 left. Whew. So I beat those and added the milk. I went to get the sweet potatoes out of the microwave – I put set it for 5 minutes because our microwave is powerful and it worked out perfectly. They were nice and done. I stuck them in a bowl and got out the masher. Hmmm. That doesn't look like 2 cups. I measure. Nope, it was only 1 1/2 cups. Never fear, I found a can of pumpkin and added 3/4 C of that.
Stir together 1 C whole wheat flour, 1 C rolled oats (finely ground in blender), 1 C pecans (finely ground), 2 T baking powder, 2 tsp salt. I got out my handy food processor and ground the rolled oats. That was actually kind of fun. Then I ground the pecans. Hmmm. I wonder if you can make pecan butter? The oil had made it into more of a finely ground pecan paste. Oh well.
Sift together into the sweet potato mixture. Mix until combined and bake in a hot waffle iron.
The verdict: The batter made 8 waffles as promised. They were VERY filling but so very, very tasty. I could taste the sweet potatoes and spices. I wanted to sprinkle some cinnamon and nutmeg and whipped cream on top but DH said he thought they were just fine. It took a bit of work to make these, but when I think that it didn't contain any white flour, I'm pretty impressed. So these are a good brinner recipe, or breakfast when you have time to actually make a breakfast instead of dashing off to work.