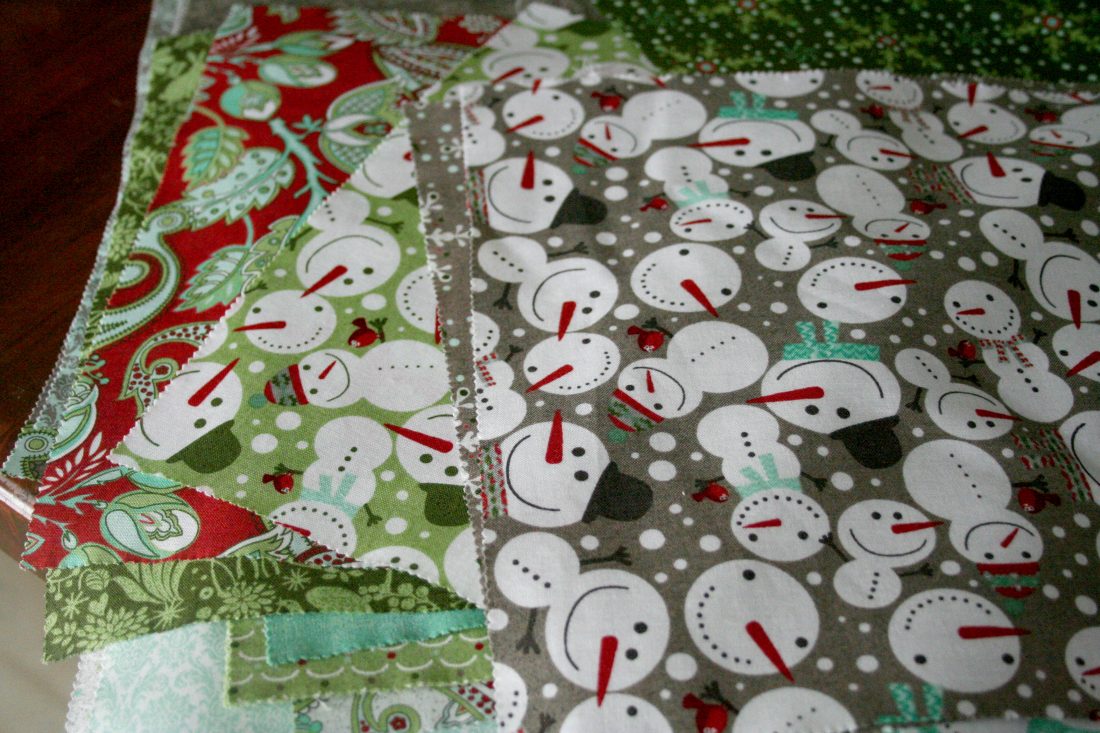 My mom is a quilter, bless her heart. While I would love to be able to finish one someday, my sewing projects to date have been along the lines of napkins, reusable bags, and elastic waist skirts. But in the interest of a mother-daughter outing, I went with her to a quilt shop.
I discovered a couple of things: One, fabric is super cute! I felt like a kid in a candy store. Two, fabric is super expensive! But then I discovered these little pre-cut bundles. Already coordinated and demanding to be made into something for the holidays.
I thought about buying a book like Fresh Fabric Treats: 16 Yummy Projects to Sew from Jelly Rolls, Layer Cakes & More — With Your Favorite Moda Bake Shop Designers
(affiliate link), but then I remembered the little thing called Pinterest. I knew that would be the better route because projects that I would have time for would not require difficult instructions.
So then, when I was looking at online patterns and in some of the crafty books I already own, I realized I had no idea what the dimensions were of the squares I had purchased. You quilters and crafty types are probably laughing at me right now. Duh. How could I not know that a layer cake is a set of 42  ten-inch by ten-inch (10″x10″) squares?
Moda (the fabric company that seems to have the biggest selection and cutest selections–which, by the way, they did not pay me to say but if anyone from Moda is out there feel free to send me free stuff) has a handy chart showing the other measurements of things like jelly rolls, charm packs, fat quarters, fat eighths etc. on their website. Be warned, though, that they are not cheap. For example, a 12 pack of fat quarters will run you around $30. But when I go to the quilt shops I usually see the larger sets of 26 for $80 or so. If you are just getting some fabric to play around with it seems to me that the layer cake and individual fat quarters (18" x 22″) are the best bet.
So far my favorite is the layer cake, since it's within a decent price point, is already coordinated (I can be pretty sure it will look good if I mix patterns), and the size will fit in the new Silhouette Cameo Electronic Cutting Tool
 (affiliate link) that I ordered for myself for Christmas. Which is great because I am the worst cutter in the world. I'll blame it on being left handed but preferring right handed scissors.
In summary, here are the three primary benefits I see to buying the prepackaged precuts:
an assortment without having to decide between tons of gorgeous fabrics that are already coordinated
cut into a manageable size, so it's easy to store
having an assortment on hand lends itself to creativity when you have an unexpected hour or so to do a project
Do you do any sewing/crafting with fabrics? What are some of your favorite fabric lines?  Any favorite crafting blogs I should check out?