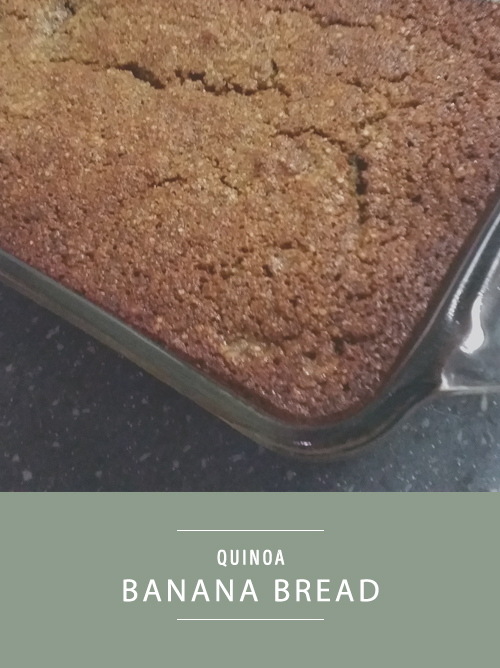 Now that we've reached our goal weight and exercise regularly, DH and I have added some treats back into our diet. It has been fun getting back into the kitchen, and one of the things I've wanted to explore is bread baking. I feel like sometimes the recipes just don't turn out right and I'm not sure if it's me or the recipe. So I've decided to join Bread Bakers, a group that has a monthly theme. This month's theme was Ancient Grains, and I looked through my cookbooks and stumbled upon Quinoa Banana Bread.
A few notes about the ingredients:
This can be made gluten-free.
I searched high and low for quinoa flour, and only after trying at three different stores did it dawn on me to make my own. Duh. So I simply took some uncooked quinoa and ran it through my spice grinder.
The recipe calls for melted virgin coconut oil, but I substituted olive oil.
I tried a new way of cooking quinoa that worked great. It's called the pasta method. Basically you cook it as if it were pasta–fill a pot halfway with water, bring to a boil, add quinoa, and cook for 10-13 minutes. Then strain it and let set for a few minutes. Fluff with a fork.
The recipe suggested adding 2/3 cup of chocolate chips, but I was feeling healthy  and added 2/3 cup of chopped walnuts instead.
The Verdict: DH and I LOVED this! The texture and flavor were excellent. It made a quick breakfast, and I felt good about getting in some protein from the quinoa.
More great ancient grains bread recipes!
This month's BreadBakers' theme is Ancient Grains, hosted by Robin at A Shaggy Dough Story. Ancient grains are generally accepted to mean grains that have remained largely unchanged/un-hybridized over the last several hundred years, which means NO MODERN WHEAT. Here's what our creative bakers came up with.
#BreadBakers is a group of bread loving bakers who get together once a month to bake bread with a common ingredient or theme. You can see all our of lovely bread by following our Pinterest board right here. Links are also updated after each event on the #BreadBakers home page.
We take turns hosting each month and choosing the theme/ingredient. If you are a food blogger and would like to join us, just send Stacy an email with your blog URL to foodlustpeoplelove@gmail.com.
This post also shared at Tasty Tuesdays and Works for Me Wednesday