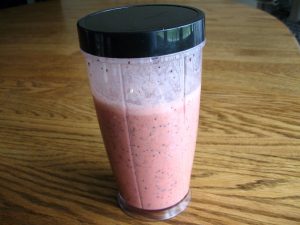 The original recipe in Simply in Season is for raspberry vinaigrette dressing, but since I have some strawberries on my counter I thought I'd give it a try using them. Then I brought it to my parent's house (along with some of the abundant lettuce we received from the CSA) for Sunday dinner.
In a blender, blend the following until smooth:
1/2 C maple syrup
1/2 C oil
1/3 C lemon juice
1/3 C strawberries
1 tsp dry mustard
1/4 tsp salt
1/4 tsp pepper
Then add the following and pulse briefly:
1 Tbs red onion
2 Tbs poppy seeds (optional)
The Verdict: Everyone loved it, but I thought it was a bit on the sweet side to use with the butter lettuce. I think this would work well with just about any fruit.
This post shared at Slightly Indulgent Tuesday, Kitchen Tip Tuesday