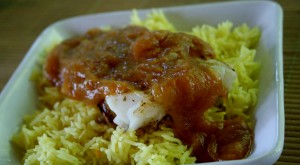 I've been told that people appreciate hearing about when things don't go well in the kitchen, that it makes food bloggers seem more real. I'm pretty honest about how things turn out, and whether it's the recipe or operator error. So in the spirit of full disclosure, I am sharing with you my most recent epic fail in the kitchen.
I am still on my quest to discover savory rhubarb recipes. I found this recipe for rhubarb sauce with fish online from Mark Bittman's food column. Since Bittman has never steered me wrong, I was excited to try this recipe. DH bought some cod and I went out and bought some saffron–which is something I've never cooked with, but which I've always wanted to try.
Note: Saffron is super expensive, but you only need a little bit.
DH was skeptical at the outset. But, putting faith in Bittman, I made the sauce (1 lb rhubarb, 1 pinch saffron, 1/3 C sugar, cook on low for 20 minutes) while DH grilled the fish. I also decided to throw a pinch of saffron in the rice cooker to make saffron rice.
DH was right. The sweetness of the rhubarb sauce was a bit much for the fish. I ate it anyway. DH scraped off the sauce and ate the fish.
On the bright side, the saffron rice was delicious. If you happen to have saffron on hand, I highly recommend putting just a pinch in with your basmati next time you make rice. It turns it a pretty yellow, and adds a nice flavor without being overpowering.