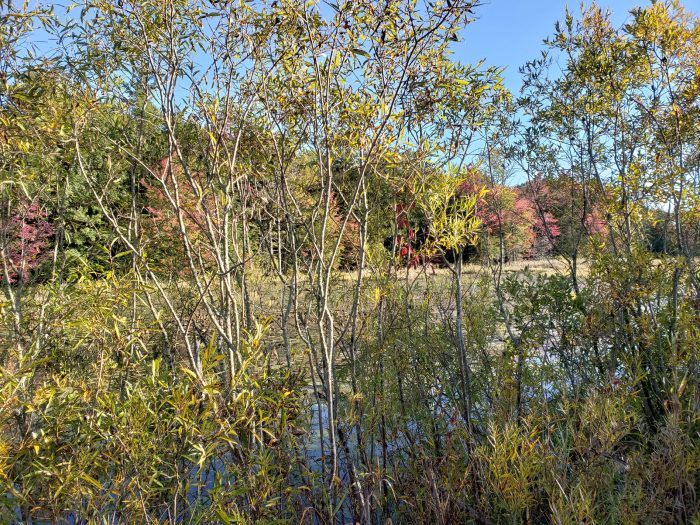 The past two weeks have been fairly inactive. I have had a lot of stress going on in my personal life, and in addition I have spent a lot of time going to various appointments for my side pain.
I started out at the physical therapist. He was worried it might be an abdominal aortic aneurysm. So I went to my primary care doctor, who said it probably wasn't that, but it might be kidney stones so she ordered an ultrasound to rule out both of them. They were both ruled out, so next step was a CT to rule out a hernia. Turns out I do have a small hernia by my belly button, but she doesn't think that is the cause so she then referred me back to . . . the physical therapist. Just gotta laugh at this point.
Meanwhile I have been visiting a chiropractor, getting massage therapy, and resting a lot. I do feel much better and think it has to do with a form issue. Really, my form does kind of go to crap after about 30 miles. It's probably a good thing I'm taking this next year to work on shorter distance and triathlon.
Even though I haven't been "training" a lot, I did do two really fun races!
Hungerford Half Marathon
The Hungerford Half Marathon in Big Rapids, Michigan on September 28 was a nice change of pace from my usual mountain bike trail course races. It was an interesting combination of road, two track, seasonal road, and some sandy spots. The leaves have started to change and since it wasn't a technical course where I had to watch for rocks or roots I was able to really enjoy it. Two of my friends who are training for a 50 miler used it as a training run and it was fun to see them at the finish line.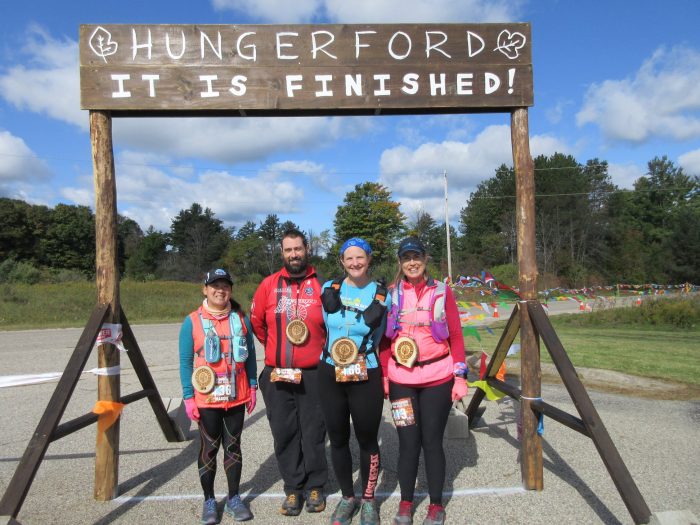 It was a strange feeling only running 13.1 miles. At about the 11 mile mark I realized that I was almost done! So I kicked it up a notch and passed about five people.
It was pretty cold for this time of year (40s when we started, 50s at the end). But as I mentioned, the course was beautiful and I'll probably run it again next year. The aid stations were great, the medals gigantic and unique. My only complaint was there wasn't much of a post race atmosphere, as we had to go to an offsite brewery for our post race beers (Crankers Brewery).
Hart Hills Classic Gravel Road Race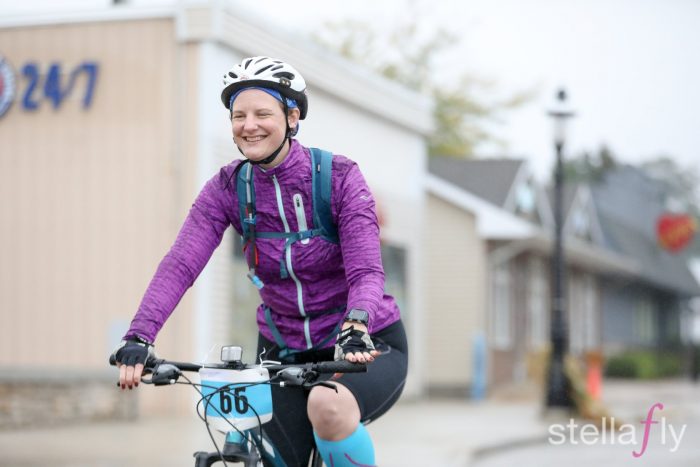 This past weekend I participated in my first ever bike race–Hart Hills in Hart, Michigan. I have not ridden a bike in 9 years, so I am not exactly sure how DH convinced me to sign up for 25 miles of hilly gravel. I did get the bike out on Thursday and took it for a spin so I could reacquaint myself with how to shift, and to make sure I could find all my gear (helmet, shoes, gloves, etc.)
I was on a mountain bike. DH used his gravel bike. There were also a lot of fat bikes out there because it had rained and poured the night before, plus was drizzling before the race even started. I decided to wear my running lightweight rain jacket.
I lined up at the back of the pack because I knew it would be a miracle if I finished. Even my coach, when I asked him if I should consider doing this, had asked if I could get sagged out if I needed to.
The roads were mostly hilly dirt roads, so muddy it was like riding through alpeanut butter. I managed to catch up to a couple of people when we walked our bikes up the hill. It's funny, when I dismounted to walk up the hills I figured it would be easy since I'm a trail runner. Nope. My legs felt so weird after riding, that when I tried my power hike I just couldn't make it up like I normally do. I'm sure walking in MTB shoes didn't help.
Another interesting thing about bike racing is that I felt like my heat rate was really up there, but I was able to recover on the descents. When I looked at my Garmin data I was shocked to see that I was mostly in zone 2 for the whole race.
With about two miles to go I realized that I was gaining on the woman I'd seen ahead of me the whole race. I decided to try to pass her. About a mile left I passed her, saying "On your left." I pedaled as fast as I could to keep my lead, but right before the finish line she said, "on your left." Somehow I managed to pedal even faster and passed her at the last second (I beat her by two seconds, to be exact). That was pretty fun and DH teased me about finally finding my competitive streak.
The best part was when they did the age group awards. Since I was almost last (except for the woman I passed at the last minute) I figured I didn't get anything. We went inside the bar & grill at the finish line and I prepared to change into a dry shirt. Imagine my surprise when they came running in to find me so I could claim my age group award. Turns out I got second! The one who got third was . . . the one I passed. She gave me the stink eye when I climbed on the #2 spot.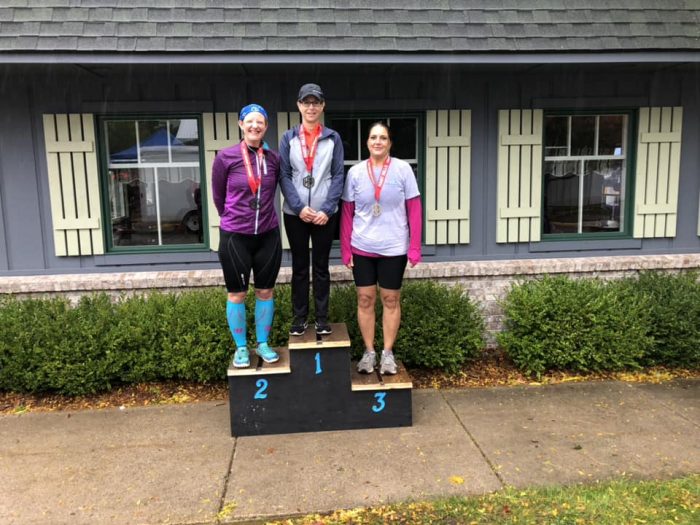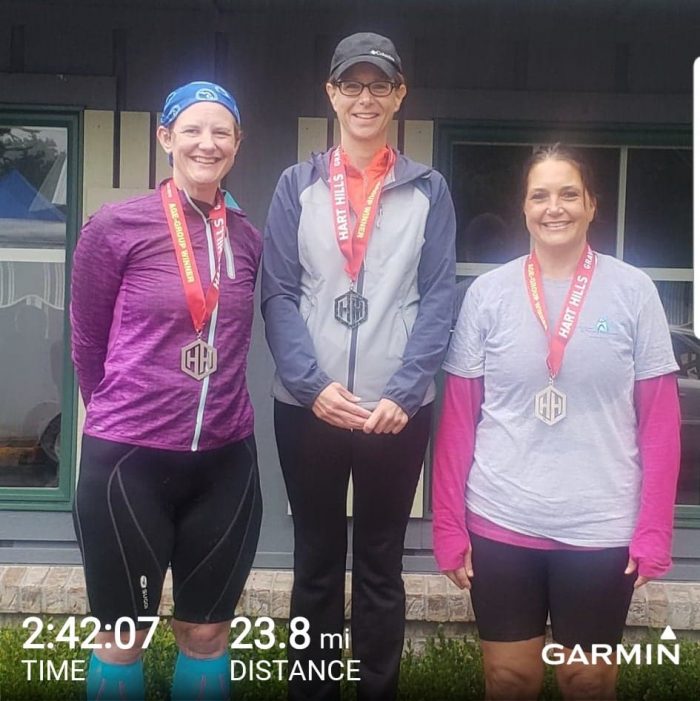 Overall it was a super fun face, very beautiful and a great atmosphere. I might try this bike race thing again, even. Although I still love trail running, bike racing is a different kind of exhausting and uses different muscles. Good thing I like it, because I'm still hoping to do a half ironman next year!
Have you tried anything new recently? Was it as you expected?
For more fitness inspiration be sure to check out these running link ups: The Weekly Wrap hosted by hosted by HoHo Runs and Wendy from Taking the Long Way Home and Tuesdays on the Run with Patty, Erika, and Marcia!