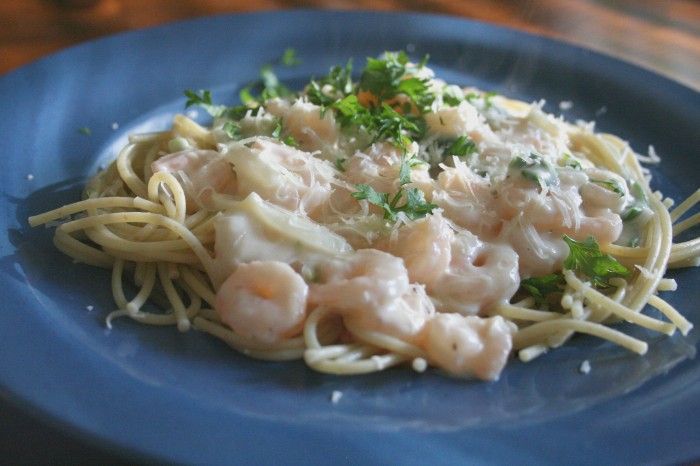 This recipe goes together quickly and tastes great, making it perfect for a weeknight dinner. Add a glass of Chardonnay for a special touch!
DH and I are super busy in the summer, which means not a lot of time to cook. It's times like this that I resort to semi-homemade cooking. Even though I can make everything from scratch, doesn't mean I'm going to. I figure it's still better than takeout!
So when 14 Hands Winery asked me to develop a summer recipe that would pair with their wines, I knew right away that I wanted to do something fast and easy. You don't have to save wine for special occasions; DH and I have been known to drink a $30 bottle of wine with $5 pizza!
And so, this recipe starts with boxed pasta. If you want to spend more time on this, you can make your own pasta. I'm sure it would taste better but as I mentioned, I was going for speed here.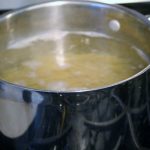 Hint: DO salt your water when making pasta. I used to skip this step, thinking it was a waste of time, but I found that it does make a difference in taste. It adds a lot of flavor. So now I ALWAYS do this.
Next, I decided to use a bell pepper from my garden, add some onion because you can't go wrong with onion, and then some heirloom garlic that I picked up at the farmers market a few weeks ago. I LOVE this garlic – it's a bit sweeter than your run of the mill stuff.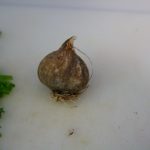 After sauteeing the vegetables to make them soft, I briefly considered adding tomatoes or beans, since they were also sitting on my counter. In the end I decided to keep it simple and not add either of those.
Then I added the shrimp to the vegetables and heated them through and added jarred Alfredo sauce. You can make your own Alfredo sauce if you'd like, but I've been cheating a lot this summer and jarred works fine by me.
I decided to finish it off with some parsley snipped from my garden, and some freshly grated Parmesan cheese. Here's where you shouldn't cut corners–the stuff in the shaker can is no comparison to freshly grated!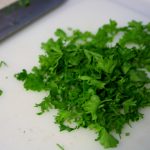 Now, to choose a wine. The fine folks at 14 Hands Winery sent me a selection to try, and I have enjoyed every single one that I've sampled. None were too sweet, which is a common complaint that DH and I have of wines. I looked online and was pleasantly surprised to discover they are very affordable (under $15) and available at our local Meijer. Score! I think this will become my go-to wine when we don't have any on hand from our winery visits.
I decided to go with the Chardonnay to pair with this dish, since it's a traditional choice for seafood and creamy sauces. There's something fun about having a nice glass of wine with a dinner that didn't take long at all to make.
The Verdict: I can always tell when DH likes something because he goes for seconds before I've even finished my first helping. He LOVED this dish, and so did I. He did tease me about using jarred sauce but you know what? Life's too short. Which is why having a lovely glass of Chardonnay with my husband on a weeknight with jarred-sauce-and-frozen-shrimp-and-boxed-pasta dinner suits me just fine. Cheers.
Ingredients
1 package frozen shrimp
1 package angel hair pasta
1 sweet bell pepper, chopped
1 small onion, chopped
2 cloves garlic, minced
1 jar Alfredo sauce (or make your own Alfredo sauce from scratch)
2 Tbsp parsley, chopped
Parmesan cheese, grated
salt and pepper to taste
Instructions
Thaw shrimp according to package directions.
Cook pasta according to package directions.
In a large skillet, saute peppers and onion in a splash of oil until soft. Add garlic, stir until fragrant.
Add shrimp and Alfredo sauce. Salt and pepper to taste.Lower heat to simmer and let it warm up while the pasta finishes cooking.
Serve sauce and shrimp over noodles. Top with parsley and Parmesan cheese.
https://www.wholisticwoman.com/shrimp-alfredo-easy-peasy-version/
Disclosure: This post sponsored by 14 Hands Winery. All opinions are my own.
This post shared at Works for Me Wednesday